Hi, I'm Stephanie, the campervan-loving mama behind PopTop TreeHouse! Here you'll find all my tips and tricks for camper life, as well as my adventures in the Pacific Northwest. 
For me, my camper brings 2 of my favourite things together: family and nature. 15 years ago, my desire to own a camper van started to manifest. Throughout the years, I kept my eye out and waited for the right camper van to catch my eye. I waited and I waited but nothing! 
Then one summer, I lost my mother and it made me realize that life was too short to keep waiting…so I made the leap and went searching for a van.
Here's the thing, I had never camped before. Like ever. But as an avid outdoor enthusiast, I was definitely up for the challenge. I scoured online until I found my future home on wheels: a 1995 Dodge Caravan GTRV conversion. 
Why PopTop TreeHouse?
The pop top is truly the greatest feature and is the start of this blog's namesake! My kiddo loves the outdoors. He's the kind to not blink twice at going outside on a rainy day or to splash around in the mud. For the past couple of years, he was asking about getting a treehouse. Living in the city, I knew we didn't have the room. I also feared I would build it and he would use it for a week and then be done with it.
When we got the camper van and popped up the top for the first time, immediately my son migrated to the top, smiled, and said, "It's my treehouse."
I knew he was right. When you're up there, you're surrounded by nothing but the trees. All it takes is for us to pack up, drive into the woods, and pop the top. And thus, PopTop TreeHouse was born!
After our first trip, it was clear how happy my son and I were. We wanted it to just keep on going! We spent the summer of 2019 in our PopTop TreeHouse as much as possible. Being able to go out in the caravan with my son gave me the much needed love from family and nature I needed to begin healing after the passing of my mother.
Meet the Van
After driving around for one summer, I quickly realized that van people are a community. Everywhere we go, people want to stop and talk about the van. We started getting so much interest, we even joked that we need a pamphlet to hand out to answer all the frequently asked question.
So I did one better, I started this blog to share our van, adventures, and the camping knowledge we have gleaned as a newbie van camping family.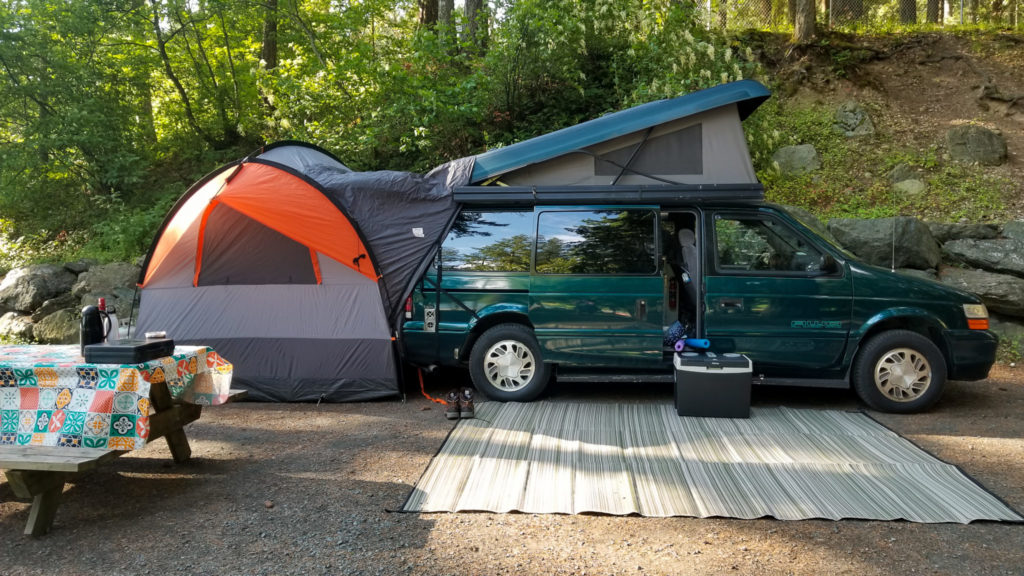 Let's get to it, shall we?
Our unicorn van is a 1995 Dodge Caravan GTRV Conversion with a V6 engine. It has the "Westy" conversion package, which means it has all the bells and whistles that a Westfalia Vanagon or Eurovan had, but with a V6 engine and All-Wheel Drive! It's not quite as tall or as long as a true Westy, but that Dodge Grand Caravan engine sure drives like a dream. For an older vehicle, it drives better than my newer Honda CR-V.
Inside, it truly feels like a camper van. The passenger seat swivels around to face the back bench seat where you can put a table in to have meals inside the van. There are all the kitchen amenities as well, a fridge, sink, and two burner propane cooktop, plus lots of storage. There is also a sink that can use either our onboard water tank or can utilize shore water when available.
For sleeping, there is a pop top bed above that can either fold into a double bed, 2 smaller bunks, or left open for more headspace. The back seats also fold down to make another double bed. Of course there are curtains on every window for privacy (including a removable snap on curtain for the windshield), and interior LED lights and red lights for night use. 
A portable table can be used inside or outside. The captain's passenger seat turns around, and together with a bench, makes for great indoor dining on rainy days. 
Attached to the back, we have a tent that provides us with a little extra room to change, store items, and provide a portable loo for those midnight bathroom breaks. 
The van is set-up with propane which runs a furnace, outdoor BBQ, and propane fire pit. I have also yet to use the furnace as I prefer summer camping, but I have it ready just in case.
Overall, we have it set up to use all the amenities we could need while keeping things pared down and simplified.
Have a question about our van? Feel free to contact me or check out my camping basics to learn more.