There is nothing like camping to get upfront and personal with nature, but if you haven't camped before, you will need a list of what to take on a camping trip. Today, let me break down all the camping necessities you will need for a successful camping trip.
While camping is stripping down and reconnecting with nature, there is still an incredible amount of things we need to get by! Food, shelter, water, warmth, and fun are all things we need to prepare for. Making a list of what to take on a camping trip is SUPER handy and a must before you head out.
Getting ready for camping will depend on who is going, what type of camping you'll be doing, how long you're going for, and what you'll need while you are there. Camping can be a bundle of fun for the whole family when everything you need is taken into consideration. So let's start packing!
Where to Get Your Camping Necessities
When you're first getting started with camping, the amount of gear you need can be overwhelming. To start off with nothing means you are going to need to collect quite a bit of equipment. While I suggest investing in good quality stuff from the get-go that will last you many years of camping trips, I know the reality is many of us can't afford such high-quality equipment all at once.
Hit up your local thrift stores for as much gear as you can find. From rain boots to camping dishes to maybe even a tent, there might be some hidden gems at a fraction of the price. You can also find a ton of useful items at the dollar store for when you're first getting started, everything from fire roasting sticks to paper plates.
Over the years, I have slowly upgraded my equipment, but I definitely have stuff from when I first started camping!
Tent Camping Necessities
If you're a beginner camper, chances are you are starting off in a tent, unless you immediately invested in a trailer or van. Regardless, a tent is a great thing to have on hand for yourself or extra campers. When shopping for a tent, the primary thing you will be looking for is how many people need to fit. You will also want to make sure it comes with a removable fly and tent pegs.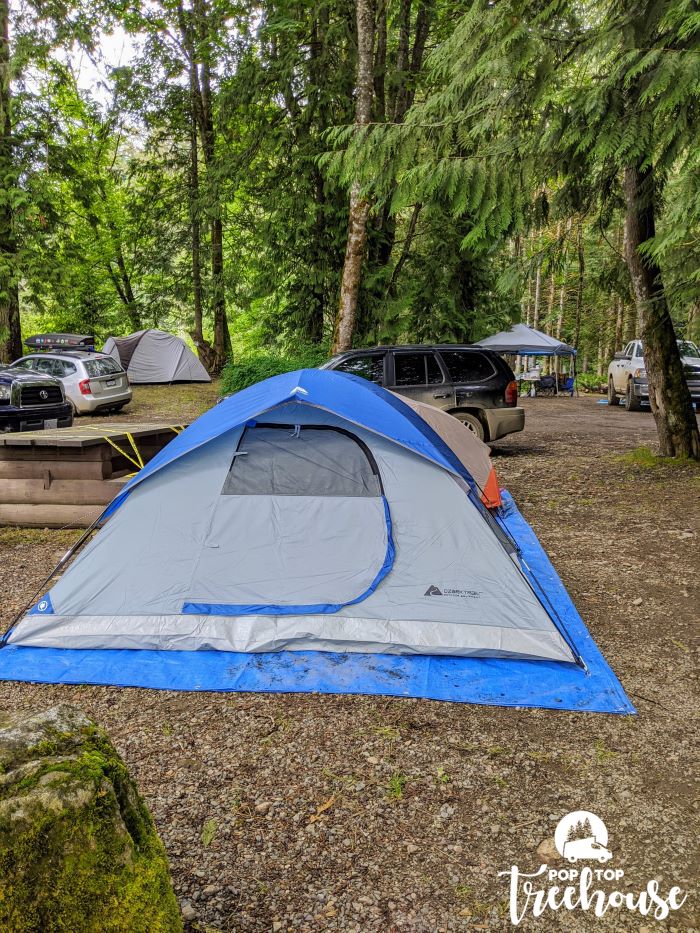 Sleeping bags are always a must-have. Some people use blankets, but in my experience, even warm summer days can have cold nights that require sleeping bag snuggling. An extra blanket for the fireside and a pillow also can't hurt to pack. Depending on how comfy you want to be, there are camp cots that fold up to a cartable size (comfy but bulky), foam that can be rolled up (lightweight but thin), and tied or a blow-up mattress (comfy but the air can get cold while sleeping).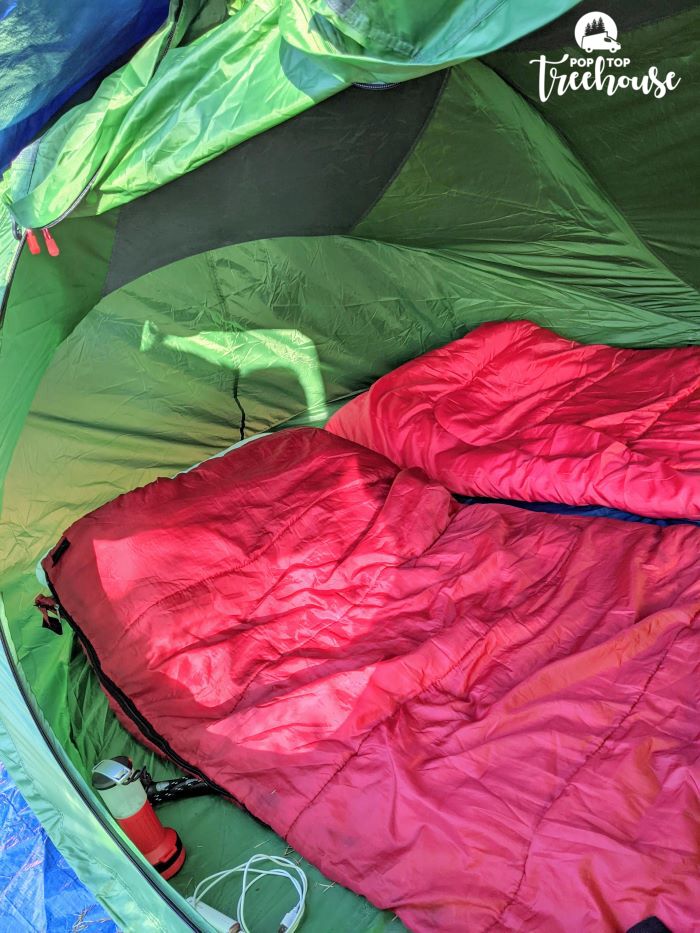 No matter the weather forecast, it is a good idea to take a few tarps with you. I can't tell you how many times I have camped and expected sunny skies and still get an unexpected storm. Tarps can be tied to trees over your tent to give you shade from the sun or keep you dry through a rain shower.
A rope will not only hold up your tarp, but you can also take clothespins and use it for a clothesline as well.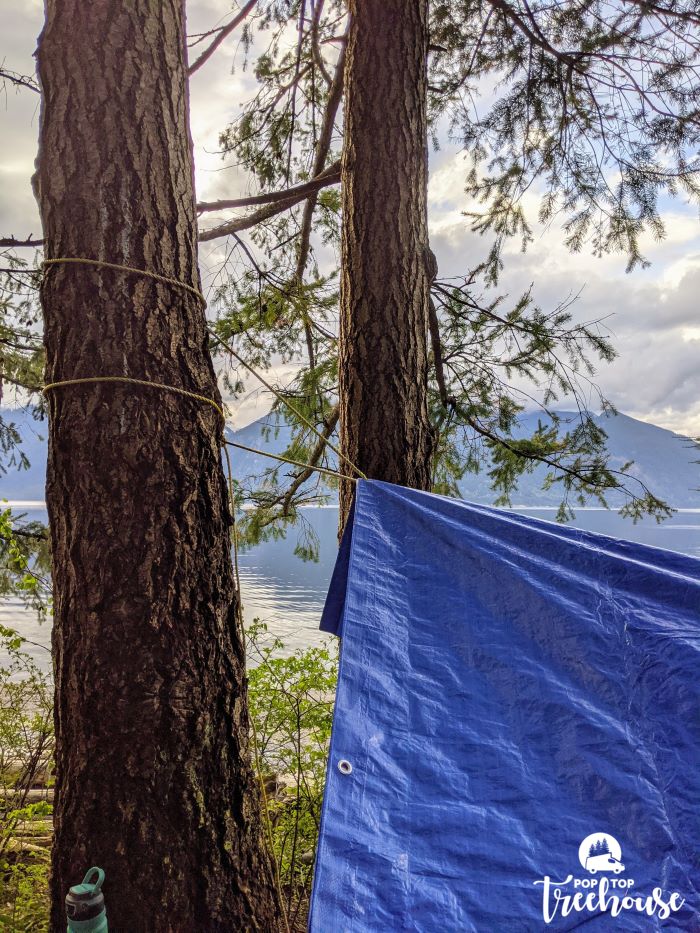 Cooking and Clean Up Essentials
After a hike, you want food. While hanging out in the tent during the rain, you want food. Gathered around the campfire, you want food. Sensing a pattern here? I don't know what it is, but I swear food tastes 10x better when you're out camping.
Camp cooking can be tough to pack for. What I like to do is make my meal plan and grocery list first. This way, I can also write out what utensils and equipment I will need to bring when it's time to go camping. I will have everything I need and don't have to lug out unnecessary stuff to the woods. This is especially important for tent campers who are short on space or new campers who don't have a ton of camping specific cooking equipment yet. Cut vegetables and prepare food as much as possible beforehand to save time and space!
Now that you have your list, gather your cooking gear! You may need pots, pans, can opener, a knife, scissors, tongs, cutting board, etc. You should also ask yourself how you are going to cook. If you are cooking with a camp stove, bring propane too. If you are cooking over the fire, ensure your equipment can handle the heat and also isn't something nice from home.
A few coolers will come in handy for keeping your perishables in and your drinks cool. Unless you want to spend your time doing dishes, paper plates are the answer to a dish free weekend. Some use plastic cutlery, but I have a set of utensils specifically for camping.
Make sure you take plenty of garbage bags to put them in. Take some barbecue utensils if needed and lots of paper towels for quick clean-ups and serviettes.
Toilet Necessities
You may be roughing it, but you still need your daily hygienic items. Pack a hairbrush and shaving accessories. Deodorant is a must on any camping trip, especially when there are many confined to the same sleeping quarters. Pack toothpaste, toothbrushes, dental floss, mouthwash, shampoo, and hair conditioner. Also, pack some towels and face cloths for showering and swimming. Put in a mirror, preferably one that can't break; if you have teenagers, this is essential.
Not every place you camp will have amenities. Toilet paper and hand sanitizer are good items to have on hand regardless of where you choose to camp, bathrooms in parks sometimes run out when you need it the most. If you are camping in the wild and not in a campground, you will need toilet paper and a small shovel.
First Aid Kit
Tweezers, nail clippers, and band-aids are often the things I wish I had packed and forgot. I like to include these in my camping first aid kit so I know they will be there in case I need them. It's also a good idea to include some antibacterial soap, Tylenol, a thermometer, and any prescription medication that you may need.
First aid kits usually include anything else that you may need while you're camping. Try to include some lip balm for those chapped lips, insect repellant for pesky mosquitoes, and sunscreen for lazy summer days.
Camping Necessity Odds and Ends
Now that we can sleep, eat, and stay clean, these last few camping necessities are the ones that often get forgotten!
You will need dish soap, a dish sponge, and a bin to wash your dishes in. I also bring a water jug to not only fill up my drinking water, but to wash dishes with as well. Some parks offer laundry facilities and if you're lucky, you can bring laundry detergent and change to wash your clothes.
Flashlights and batteries are a must for camping as well as a lantern. It is also a good idea to bring some sort of multipurpose tool for things that may need fixing.
When it comes to the campfire, you will want to have a camp chair, roasting sticks, axe, matches or a BBQ lighter, and a fire starter such as newspaper.
All you have to add is food and clothes, and trust me, bring plenty. Fresh air tends to make people hungrier than usual and we often underestimate the weather. Bring something for warm, cold, and wet weather no matter the forecast.
Camping is a wonderful way to relax and enjoy a weekend, week, or a whole vacation. Remember to take enough of everything with you to make it that more pleasurable. Once you know what to take on a camping trip, the organization takes care of the rest.
Camping Necessities Checklist
On your first few trips, you are bound to forget a few essentials. Heck, even with a list and years of experience I still forget something every time! I hope that this checklist ensures you have all the camping necessities for a trip out to the park.
Save to your computer, download the PDF, or pin this checklist for later!