If you're on the lookout for a Dodge Caravan camper van, let me give you an idea about what to expect. I have a 1995 model that still runs like a dream. I get so many questions about my setup and what it's like to have a minivan camper van. So here's what mine looks like!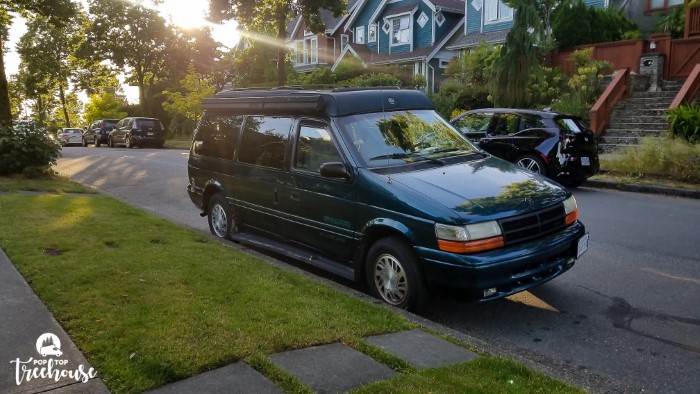 You wouldn't believe how many questions I get about my Dodge Caravan conversion when I'm out and about with it. From ferry lineups to gas stations, people will stop by and ask about our setup. I always joke that I need an informational pamphlet to pass out to the people with all of their questions.
It's one of the reasons why I started this blog. I saw just how big the van community was and how little others know about what life is like in a camper van.
I didn't know much about camper vans before I bought mine since I didn't grow up camping. So all the information I wish I found online, I'm putting on Pop Top Treehouse so other new campers can soak up my learning along the way.
Today, I'm bringing you a virtual tour of my camper van. I have a 1995 Dodge Caravan GTRV Conversion, which has done me well the past few years camping. It's a beauty, and I would recommend it to anyone who wants to get into camping.
Let me take you inside my Dodge Caravan camper conversion!
The Van Specifics
It took me a while to find my perfect van, but when I saw it, I knew it was the one. It's truly our unicorn camper van!
This Dodge Caravan GTRV has the Westphalia ("westy") package, meaning that it has the same properties as the Westphalia Vanagon or the Eurovan. It isn't as tall or as long as a Westy van, but the Dodge Caravan gives you the same experience.
The big difference, however, is the engine. Mine comes with a V6 engine and all-wheel drive. It may be an older vehicle, but it drives better than my newer Honda CR-V.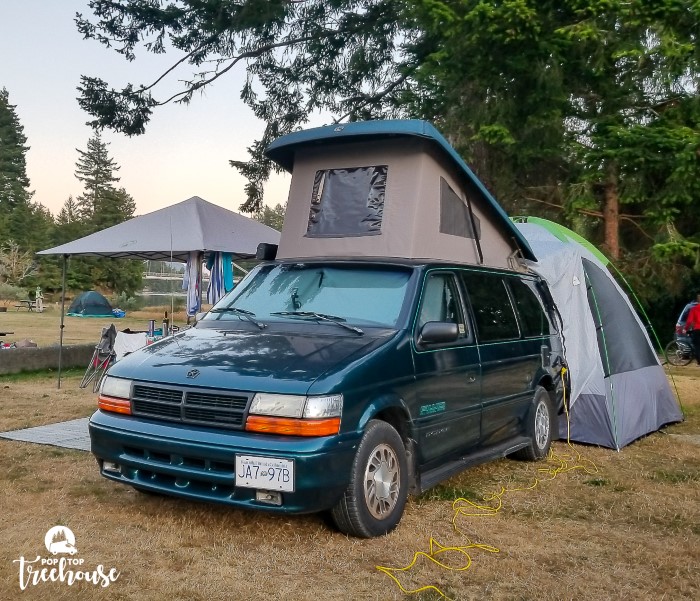 Sleeping Setup
Would you believe that you can fit two double beds in this Dodge Caravan camper? Since I've got Kiddo, I needed a van that could fit both of us comfortably. That's why the van's pop top roof was the perfect option (and this blog's namesake!).
The top can life up and unfold into a full double bed, or you can leave it folded for extra headroom. I keep it folded during the day and easily slide it out when it's time for bed.
Beneath it, the backseats fold down to form another double bed. I sleep down on the "bottom" bunk while Kiddo hangs out up top!
We also have curtains on every window for privacy as well as a removable snap-on curtain that goes over the windshield. We have plenty of privacy when it's time for some shut-eye.
Tent Attachment
Most times, I also connect a Napier SUV tent. This provides us extra room to change, store items, and hold a portable toilet for any midnight bathroom breaks. Of course, it can also hold a bed if Kiddo brings friends or if we want some extra sleeping space.
The tent fits perfectly on our Dodge Caravan camper, and it's still going strong in its fifth season. It's got a few snags here and there, as any tent would.
The seal is quite good, too, keeping out rain and bugs when it's sealed properly. It hooks onto the hatchback area with some clips, and it's really easy to attach and set up.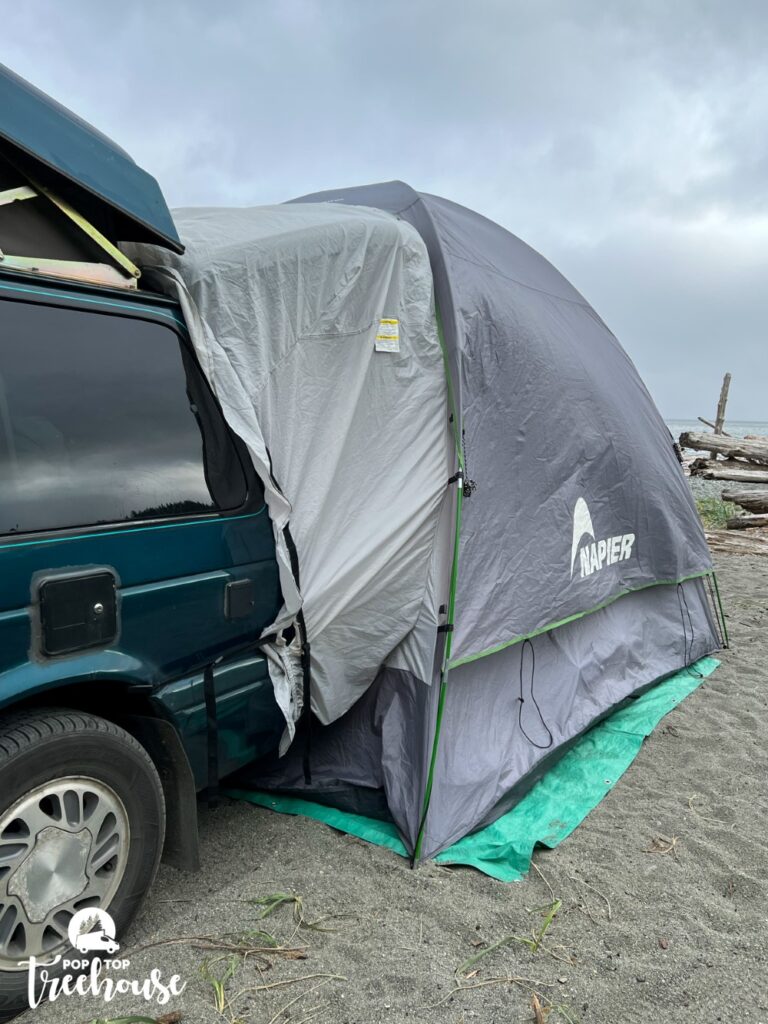 Eating
The Dodge Caravan conversion came with a fully equipped kitchen. There is a fridge and space for a two-burner propane cooktop. However, I took that out since we use an outdoor stove, and it gave us more kitchen storage in its place. There's also a sink that can also use an onboard water tank or connect to a water hookup.
The van also has a portable table that you can set up inside or outside. Since we usually have the bed in the back, we mostly eat outside. But it's a nice option when we take the camper out for day trips during the cold season.
The passenger seat can swivel around, and there's also a bench for lots of seating inside to sit around the table and play card games or have a meal on a rainy day.
Inside, there are also interior LED lights to keep things bright, or red lights for night use.
Heating
The van is equipped with propane that can heat a furnace and an outdoor BBQ or our propane fire pit. We rarely use the furnace as we are summer campers, but it's nice to know it's there in case we need it.
With the SUV tent, we also have some options for keeping the hatchback open. On cool nights, we can close it or keep it open on warm nights for better air circulation.
Dodge Caravan Camper Storage
The kitchen has lots of storage, which is where I store a majority of my small camping gear year-round. There's also storage under the seats, and the front seats can hold extra stuff when the backseats are folded down into the double bed.
We use the SUV tent for extra storage, mostly to dump our clothes and bags. But it's not necessary. It just gives us some extra space and comfort.
And that's my Dodge Caravan camper conversion! What do you think of my setup? If you have any questions about the van, feel free to leave a comment below.
More Camper Van Tips