Being able to get up and go is such a privilege. Some of my favourite camping trips have been impromptu weekend road trips where I decided to pack up and leave the very same day. What I love most about car camping is how easy and affordable it is. I don't have to worry about picking up the trailer from storage or needing a ton of gear to go camping. It keeps things simplified which is exactly my kind of trip. Here's the low down on everything you need to know before you head out to nature on four wheels.
What Is Car Camping?
Among campers, "car camping" has two very different definitions. The first is packing all of your camping gear into your car, driving to your campsite (rather than hiking), and setting up camp outside of your vehicle. The second is simply setting up camp inside your car and sleeping there.
Whether you choose to do the first or second type, car camping is a convenient way to take a camping trip! Both offer plenty of options and can result in an enjoyable time away from home. Here, I'll focus on the different ways you can do the second type of car camping, sleeping in your vehicle, and how to make your trip as successful and comfortable as possible.
Car Camping Options
This type of car camping is ideal if you don't want to deal with a ton of gear or you know you'll arrive at your campsite at night and don't want to set up a tent in the dark. It's also a great option during inclement weather, as your car will protect you from the elements. Or, for some, it can be a single night before they set off backpacking into the backcountry. It is extremely versatile!
Even with this simpler form of camping, there are still choices to make, and things to prepare. If you're going to sleep out of your car, you'll want to have the right vehicle.
Make Sure You Have a Good Vehicle
Not every vehicle is ideal for car camping, mostly because of their size. If you have to sleep in the backseat and are an adult of average to above-average height, you'll feel stiff and sore the next day. Not to mention if you're the type who likes to sprawl, you're definitely going to feel confined!
The best vehicles for car camping are SUVs, minivans, and hatchbacks with backseats that fold down or can be removed. Many of these spaces will be comparable to a full-size bed or larger, offering plenty of space for two people and maybe even a four-legged friend to sleep comfortably.
Or Buy a Rooftop Tent
Rooftop tents solve plenty of car camping conundrums. Perhaps you packed for a long trip and don't have room to sleep inside your car. Or maybe you need room for more people than can sleep comfortably inside your vehicle. It's possible you don't want to set up a traditional tent because the ground is soft and muddy, uneven, or covered with gravel. A rooftop tent solves all of these issues!
Rooftop tents attach to your car's roof rack. They unfold easily and can be accessed by a ladder that extends down from the tent. While they are fairly easy and convenient to set up, rooftop tents are large and heavy, some weighing over 100 pounds. Make sure that your roof rack can handle that much weight. If not, you should invest in a sturdier one.
You can choose between softshell and hardshell rooftop tents. Softshell tents are less expensive because they weigh less and are more like a traditional tent. While hard shell tents cost more, they offer higher durability and protection from the elements.
How to Car Camp Successfully
Once you know where you're going to sleep, there are plenty of things to do to make sure you have a safe and comfortable night. Jot down these tips for car camping successfully.
Choose the Right Spot and Get Permits
While car camping allows you to get up and go, it doesn't necessarily allow you to get up and park anywhere. Do some research before you leave to make sure you have a legal spot to park and sleep overnight, especially in a national park. There are both free and paid locations for car camping, so find a spot that you can enjoy! You can also camp and park on U.S. Forest Service roads overnight. Just display any required passes or permits and park out of the way so you're not blocking others. Keep an eye out for "No Camping" signs so you don't end up with a fine for parking and sleeping in the wrong spot.
Set Up Camp
Just because you're camping in your car doesn't mean you're limited to it. Find a level, shaded spot to park your vehicle and place a few pieces of wood under the front or back wheels if the ground is uneven. Set up items like camp chairs, a table (or cozy up by the picnic table if there's one), and a stove so you have an area to hang out outside of your car. Grab a book or a deck of cards and let nature sink in!
Prepare a Comfortable Bed
Who said camping was uncomfortable?? Wake up and feel fresh by laying down sleeping pads or an air mattress in the back of your car so you have a cushy place to sleep. There are even air mattresses that are designed to fill the nooks and crannies of the back of a hatchback or to fit over the backseat of a sedan, offering more sleeping room. If your car has room for it, futon mattresses are also an extremely comfortable surface for car camping. Even though you're inside a car, it can still get chilly at night. Bring an insulated or temperature-rated sleeping bag. And since you're camping in your car, you might as well bring your pillow from home for that extra little bit of comfort!
Pack Food in the Car
Pack a cooler with everything you'll need to eat on your trip. I recommend prepping some easy meals beforehand and loading up on snacks. You can cook on a camp stove, or if you're parking at an established campsite, you can prepare your meals over a campfire or at a camp kitchen. If you have a camp stove, remember to only use it outside the car. Bring enough dishes and utensils for everyone on your car camping trip. And pack a small bottle of biodegradable dish soap and a scrubber to wash up.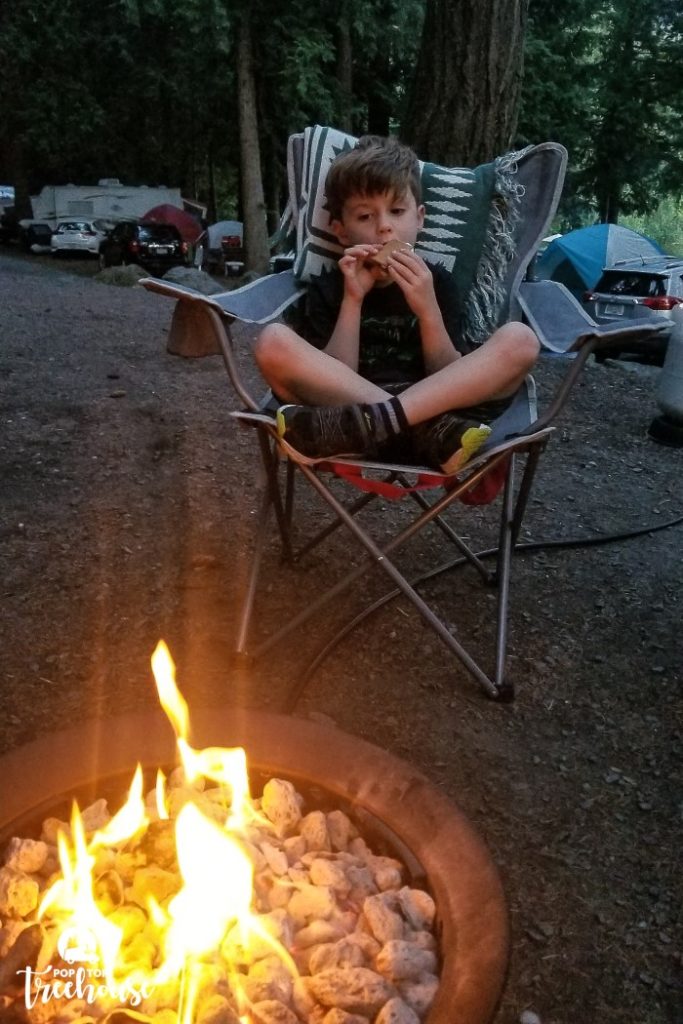 Stay Organized
A car is a small space, and it can be easy for the items you packed to get strewn around, cutting down on your sleeping space. So you don't wake up with a tube of toothpaste jutting into your back in the middle of the night, make sure you stay organized. Pack everything in labeled tubs with lids. And put each item back into its spot after you've used it. Bring bags with you to collect any trash you generate while on your trip and dispose of it when you get home or come upon a trash can. Always remember to leave no trace!
Pack Sources of Light
Having a flashlight is always a good idea, but lanterns and headlamps are just as important. Hanging lanterns from car hooks will illuminate the interior of your vehicle so you can read or play card games into the night. And a headlamp will come in handy if you need to leave your car to use the bathroom in the middle of the night.
Ventilate Your Car
If you've ever driven in the rain, you know how quickly car windows can fog up. Sleeping in the car can get pretty humid and chilly without proper ventilation. Cracking your windows or sunroof will provide you with fresh air and prevent moisture from building up while you sleep. Only open the windows enough so an animal or person can't get in. And to keep bugs out, cover the openings with inexpensive mesh.
Give Yourself Some Privacy
Hanging curtains will both block out the morning sun and provide you with privacy. Hang cords around the windows and behind the front seats, then drape curtains or some fabric over them. If you're worried about being woken by other campers (or if your camping buddy snores), pack some earplugs and put them in before you go to sleep.
Maintain Good Hygiene
Even if you're not at a campsite with showers, you can still maintain good hygiene while car camping. Trust me, small spaces can get pretty stinky quickly! Pack dry or no-rinse biodegradable shampoo to keep your hair clean. Hand sanitizer can go a long way and face and body wipes can keep the rest of you feeling fresh. If hygiene is especially important to you, you can even pack an outdoor shower for your trip.
Carry the Ten Essentials
In the 1930s, an outdoor adventure organization out of Seattle, The Mountaineers, developed a list of the "Ten Essentials". This list detailed ten items that people should take with them when going into the outdoors, in case an emergency arose. The first list consisted of a map, compass, headlamp or flashlight, first-aid supplies, sunglasses and sunscreen, fire starter, matches, knife, extra clothing, and extra food.
Since then, the list of Ten Essentials has evolved into ten systems rather than ten specific items. Although you're car camping, the Ten Essentials are just as important to have. Keep them in your car, and if you go on a hike or another adventure, take them with you.
The current list of Ten Essentials systems includes:
Navigation
Headlamp
Sun protection
First aid
Knife
Fire
Shelter
Extra food
Extra water
Extra clothes
In case you are injured or your car breaks down in a remote area, the Ten Essentials can help you survive while you wait for help. Since they are systems rather than specific items, you can tailor them for your trip. For instance, for fire, you may bring a lighter and a camp stove rather than matches and tinder.
Car camping is an easy and convenient way to hit the road and explore the outdoors for a few days. And with the right preparation, you can spend the night comfortably sleeping in your car. If camping is brand new to you or you like spontaneity, car camping is one of the best places to start.
Save this Post on Pinterest