When buying a camper van, there are so many great reasons to go with a used one. After all, that's the route I took! My Dodge Caravan was a ripe 24 years old when I purchased it.
Of course, they're less expensive so you'll have more wiggle room when it comes to your budget. There are also many years of camping veterans ahead of you and you'll be able to read years of reviews from people who bought your van of choice in the past.
Many people decide to buy a used RV or camper van when they want to convert or modify it themselves as used models oftentimes need a little loving before they can get on the road again. Buying used can often times cut down on your environmental impact as well since you're giving it a new lease on life. I like to think I saved my old model from a life of rusting away on someone's property.
But there are also some risks when buying a used camper van. They'll have higher mileage and more wear and tear. And depending on how you buy it, you might not know everything about its history. If you're thinking about taking the used route, you've come to the right place. There is a lot to consider while shopping for a used van and it can easily become overwhelming. To make sure the rewards outweigh the risks, here are some things you need to inspect when buying a used camper van.
What to Inspect When Buying a Used Camper Van
1. Van's History
History is our best friend. The more we know about the vehicle's past, the more we can predict about its future! When buying a used camper van, you want to get as much information about its history as possible to ensure that the vehicle is safe and you're not being scammed. The National Motor Vehicle Title Information System has a list of approved providers for history reports. They can help you learn about a used camper van's previous seller history, title history, pricing data, insurance reports, damage and theft history, junk and salvage information, and odometer discrepancies.
And, because there are frequent recalls on automobile parts, it's important to know if a used camper has had all of its recall repairs. The National Highway Traffic Safety Administration provides an online database that allows you to search a car's VIN and learn if it hasn't been repaired as part of a safety recall in the last 15 years.
2. Engine
We would get nowhere without a good engine! A used camper van's engine is one of the most important things to inspect, as they are complicated and expensive to fix. Make sure the camper van has a healthy engine by going through this checklist:
Stop and take a listen: a telltale sign of a bad engine is concerning noises when it's running.
Check for leaky engines: look for oil leaks where the camper van has been parked, as well as around and underneath the engine.
Radiate knowledge: look at the radiator at the front of the engine to make sure that it's intact. You'll know it's old if it's beginning to fall apart at the bottom.
Timing is everything: the timing belt is expensive to replace, so it's important to check. Timing belts should usually be changed every 60,000 miles. You can look for a sticker on the engine or in the service book to see when it was last changed. If the camper will need a new timing belt soon, you can use this as a negotiating point.
Don't blow a gasket: check carefully for blown head gaskets as they are also expensive to fix. You can take off the oil filler cap to look inside the engine head and also take the oil dipstick out. White residue on either is a sign of a blown head gasket.
3. Transmission
The main thing to look out for in a transmission is leaks. To check the transmission, inspect the gear box. Make sure that there isn't a dark black patch with oil actively leaking. On a rear-wheel van, you can also check the rear differential for leaks.
4. Bodywork
While a vehicle does not have to necessarily be pretty to suit your needs, it is a good idea to take a complete look at the van. Inspect the van's bodywork for rust and wear and tear. You should look at the roof, inside the wheel arches, underneath the edges of the floor, and all around the doors.
If you see any dents or anything suspicious that the seller did not point out themselves, bring it up to ensure you get the full story of the van's history. Always be sure to wear your detective hat!
5. Chassis
The chassis is the base frame of the camper van. While you may not want to get down on the ground, it is necessary to check out the chassis. To check for rust on the chassis, get underneath the van and prod it with a stick or pole. If you notice any crumbling or if the stick leaves a pit, there is likely a destructive level of rust. If everything looks good to go, brush yourself off and give yourself a pat on the back for being thorough.
6. Tire Wear
Closely inspect the tires for signs of uneven wear as this can indicate problems with the camper van's alignment. Also, check the wheel arches for rust.
Additionally, a new set of tires can be pretty expensive. Ask how new the tires are and give the tread an inspection. If they need to be switched out soon, you can factor them into the price negotiation. Don't pay for something that doesn't have value!
7. Price
Sometimes it can be hard to know if the listed price is fair or not. Do as much research as you can beforehand and see if you can find similar listings to the camper van to compare with. Also, remember that you will need to put money into it for repairs and renovations after you purchase it. Look on the inside to double check the electrical systems are working properly, there is no water damage or soft spots, the propane or heating system is functioning, and that the water heater is up to speed (if it has one).
The final price is much more than what you purchase the camper van for!
You can also make sure you're getting a fair price when buying a used camper van by entering its information into the Kelley Blue Book site. This tool can help you negotiate the best price by knowing the car's true value.
8. Get a Professional Mechanical Inspection
If you're not mechanically inclined and feel overwhelmed by all of the things to inspect when buying a used camper van, don't worry! Vehicles are complicated creations that keep many secrets from the average driver. A used van seller should allow you to take the vehicle to your own mechanic to get it inspected so you don't have to worry about missing something major. When it comes down to it, peace of mind quickly outweighs the expense of an inspection.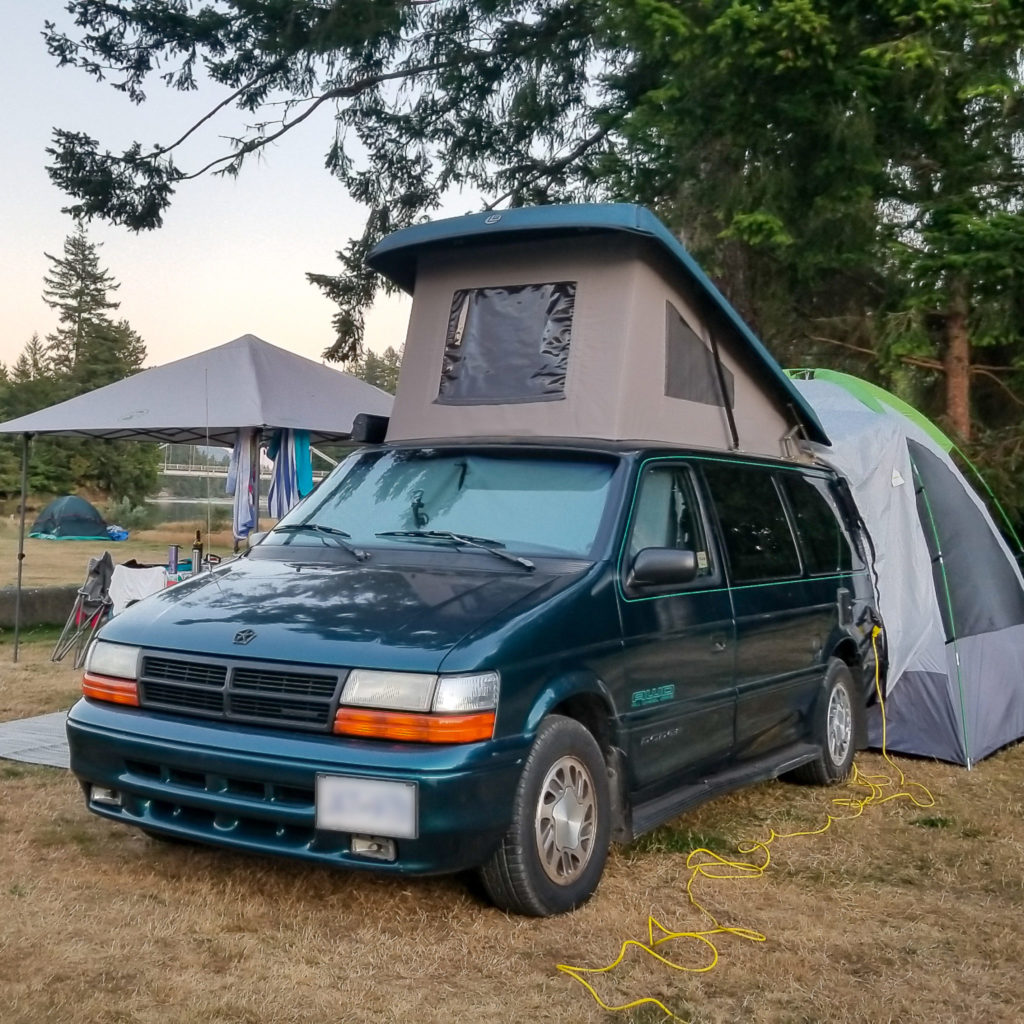 A Note on Camper Van Sellers
Buying a Used Camper Van Privately
It's common to find used camper vans for sale privately, especially on Craigslist and other classifieds websites. While you might feel uncertain about buying a used van privately at first, if you know what to look out for, it's a great way to find a deal.
Check the seller's credentials, and take a witness with you to oversee the RV purchase. If there's an issue with the camper van later, a witness will be helpful. You should also save the original advertisement for the used camper van (if it's online, take a screenshot). If you find later that the van's condition isn't the same as what the seller advertised, you should contact the seller or the police, if necessary.
You should also do the background work of ensuring that the van actually belongs to the private seller. There are several ways to do this. You can take the VIN number to your local Department of Motor Vehicles (DMV) to fill out a form requesting information about is the previous owner. The DMV will only be able to give you this information if you're transferring the car into your name or if there's a criminal matter involved. You can also take the license plate number to your local police department. Like the DMV, the police department can only give you information about the owner if you're purchasing the car or if there are concerns about a theft or safety issue.
If you found a model you absolutely adore but are still wary about purchasing used, another option is to hire a private investigator. Licensed private investigators are legally allowed to search public records for automobile ownership information. Additionally, there are online public records databases like LicensePlates.net where you can use the van's license plate number to search for its owner for a fee. However, this may be excessive for many prospective used camper van buyers.
I found my model on Craigslist and after a thorough inspection, test drive, and many questions later, I took the plunge and purchased it. When it comes down to it, purchasing a used camper van follows the same procedures as buying any used item; do your research, bring a friend, and always trust your gut!
Buying a Used Camper Van from a Dealership
Although buying a used van from a dealership is usually more expensive than purchasing privately, it provides greater peace of mind. Dealerships are required to inform you of issues with the vehicle. And they usually fix any problems themselves. Many dealers also offer their customers a warranty. So if there are major issues during the warranty period, the dealer will fix them.
However, it's still important to check out the dealers where you're going to look for used camper vans. Look at their reviews online to see reviews from past customers. And skip any dealerships that have unusually low reviews or regularly dissatisfied customers.
Bring a friend to the dealership too as they might notice or ask things you may have missed. And don't ever feel pressured into making a purchasing decision right away. Give yourself time to make sure you've found your one true camper van love!
Many of these dealership tips can also be applied to motorhomes, fifth wheels, and travel trailers.
Buying a used camper van is a great way to find a bargain that will get you out on your next road trip. Put in a little bit of tender loving care into your used van and it can truly be everything you ever wished for. I love mine for all its wear and tear and I truly don't think a new RV model would give me that same homey feeling. With these tips, I hope you also find a camper that you will cherish for years to come!
Save this Post on Pinterest