The more elegant and upscale sister of the Rice Krispie square, scotercheroos take it just one step further on the road of easy indulgence. Chocolate, butterscotch, and peanut come together in this mouth-watering and family-favourite treat.
Like cookies, these are some of the best desserts for camping since they are easy to grab on the go and require no dishes. Store them in an airtight container before you leave and they will remain fresh for up to 3 days.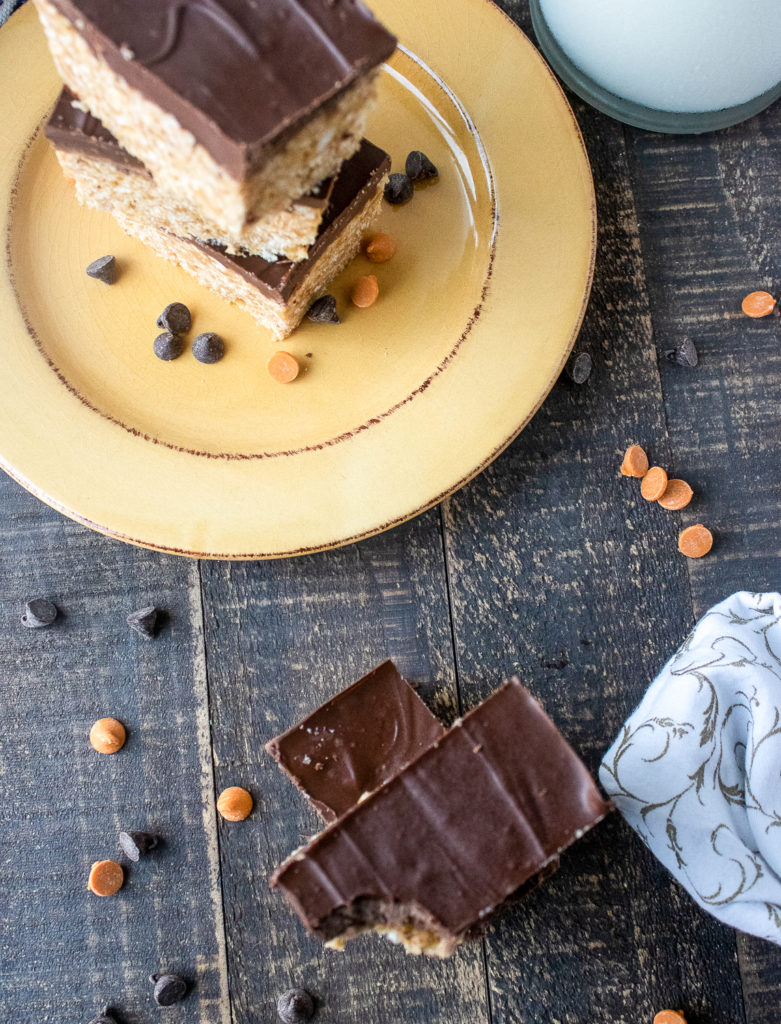 Baking Tip: once cooled completed and after you've cut these up into squares, freeze them! These treats are best used within the month so the rice cereal doesn't turn soggy. These dethaw in no time, ready to eat whenever you're ready to hit the road and camp.
Scotcheroos
Ingredients
1

cup

granulated sugar

1

cup

corn syrup

light or dark

1

cup

creamy peanut butter

6

cups

Rice Krispies

1

cup

semisweet chocolate chips

1

cup

butterscotch chips
Instructions
Line an 8" x 8" pan with parchment paper and spray with non-stick cooking spray.Set aside.

Heat granulated sugar and corn syrup in a large, heavy saucepan over medium heat, stirring continually, until mixture comes to a rolling boil.

Stir in peanut butter and remove from heat. Set aside.

Add Rice Krispies to a large bowl. Pour peanut butter mixture over the cereal and mix to combine.

Spread the Rice Krispies mixture evenly in the prepared baking pan. Set aside.

In the microwave, melt the chocolate and butterscotch chips in a large glass bowl (or two separate bowls, if preferred). Heat for 1 minute and then stir. Then, heat in 30-second intervals, stirring in between, until the chips are completely melted.

Pour chocolate-butterscotch mixture over the cereal mixture in the baking pan and spread out evenly. Refrigerate for 2 hours or until chocolate hardens.
Notes
To prevent lumps when melting the butterscotch chips, melt them in a separate bowl.
For a thicker chocolate-butterscotch topping, double the amount chocolate chips and butterscotch chips.
Save this Post on Pinterest