If you're anything like me, my eyes are glued to the weather app in the coming weeks before a camping trip. Every day I hope that the little storm cloud will change into a happy sun and boast good weather. Unfortunately, that isn't always the case. However, I never let a case of bad weather and rain ruin my camping trip. That's why it's important to learn how to camp in the rain.
You may get lucky and go a whole weekend without rain, but if you're going for more than a few days, chances are you'll encounter rain at some point during your camping trip. This guide will cover everything you need to know in case it starts raining on your camping trip or even if it is raining the whole time.
First things first…
How to Set Up a Tent in the Rain
If it rains on your wedding day, it means good luck. Let's say the same for camping! If you arrive at your campsite while it's raining and it doesn't show signs of stopping, you may have to set up your tent in the rain. Be sure to be in full rain gear before setting up your tent. Once you're wet, it's hard to get dry again while camping!
The goal here, of course, is to keep the inside of the tent as dry as possible. Get everything organized before you bring out the tent. Get the poles together, the peg mallet out, and try to keep everything under a tarp or shelter until necessary to bring out. Also, plan who will be doing what before you step out into the rain.
When selecting where you will put your tent, pay attention to where water is running and pooling. You want to place your tent on higher ground to ensure no water is collecting underneath your tent.
Set up the shell of your tent with the fly hanging over top. Make sure the outer part of the fly is facing the rain to ensure the inside is not getting wet. Once you have the shell of your tent set up, place it over top of a groundsheet. A groundsheet prevents water from seeping into the bottom of the tent. Do not put the groundsheet out before the shell is ready as it will gather a puddle of water, defeating its purpose.
Once you have secured your tent and fly with pegs, wipe the floor of the tent with a towel. Do not try to wipe the walls of the tent.
Make sure your gear, sleeping bags, and sleeping pads are not touching the walls of the tent. Rain and condensation will get the gear wet. For extra protection, you can put another groundsheet under your foamy/sleeping bag.
Place Tarps Above Your Campsite
While your fly should hold off the rain pretty good, you may also want to hang a tarp above your tent as well. When hanging a tarp, always be sure it is at an incline so the water can properly drain down. Pay attention to where the water will drain and make sure it will not leak into your tent or other high traffic areas.
If in a camper van or trailer, placing a tarp above the entrance will make getting in and out as easy and tidy as possible.
You can also hang tarps in other areas you will be using at your campsite such as above the picnic table or next to the campfire. Never hang a tarp directly over the fire as it poses a fire hazard and will not allow proper ventilation for the smoke.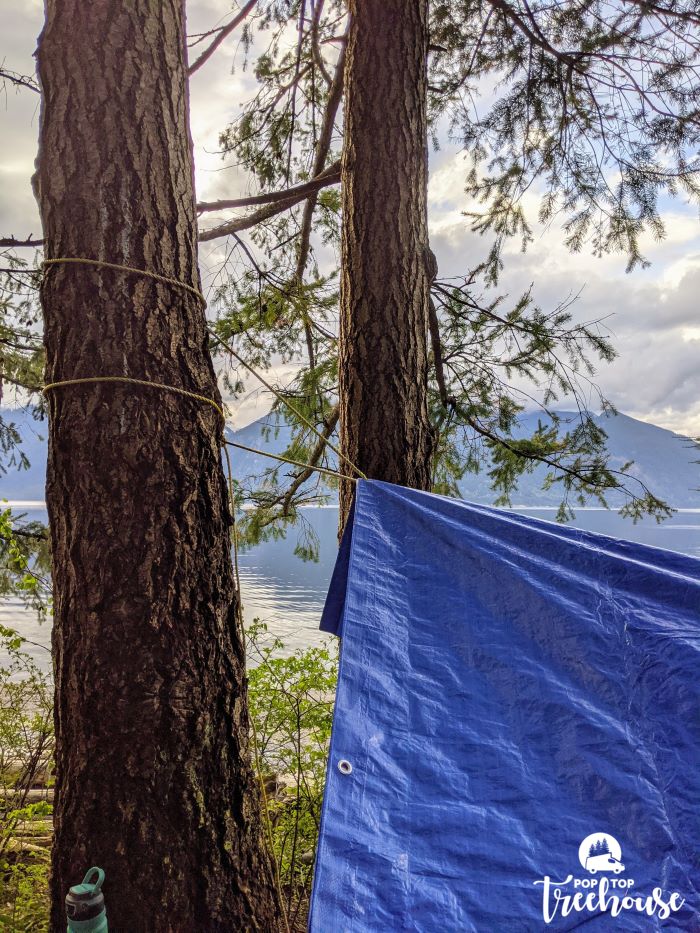 Dress for the Weather
As much help as tents and tarps are, you still want to be able to withstand the rain all on your own. As a frequent camper, it's very important to invest in some good rain gear. This means a sturdy set of rubber boots that go higher than the ankle, some rainproof pants, and a solid rain jacket. If you don't already have these items and aren't looking to spend too much money, check out your local thrift store. Even if you don't think you will need it, it's always good to have as a backup.
I also personally love rain ponchos. Don't get the $1 thin plastic ones from the dollar store as they are only good for one use and will tear pretty quickly. Invest a couple more bucks into a large reusable one that covers most of your body. This way you're practically a walking tarp and the rain is sure to not make it through!
While we all love the soft feel of cotton, it actually isn't the best option for camping in the rain. Once it is wet, it remains wet for a very long time. Instead, opt for wool, fleece, merino wool, or polypropylene blends. These materials are good at wicking moisture away from your body. When in doubt, it is best to dress in layers so you can remove them as you get wet or add more if you get cold.
When you go to bed, make sure you remove all your clothes and change into new ones. Even if you don't think you got wet, being damp of any kind will make you extremely cold at night. Keeping your sleeping area dry should be a top priority when camping in the rain.
Store Gear in Your Vehicle
If you have a vehicle, use it to your advantage. Store some of your outdoor items in there such as cooking essentials, camp chairs, extra blankets, and most importantly, your firewood. It takes a long time for firewood to dry out and it is extremely tough to start a fire with damp wood.
Keep Things Tidy
With rain, comes mud. While mud and dirt are pretty much inevitable during camping, there are some ways you can keep things clean.
Place a doormat either just outside your tent or camper if it's covered or inside at the entrance. Always remove shoes before coming in and out to avoid tracking in mud and water.
Bring extra towels for the purpose of wiping things down if too much water spills somewhere unwanted or the mud somehow manages to still wander in.
If you are camping with pets, they are destined to get all sorts of dirty. Make sure you have plenty of towels to also wipe down their muddy paws and wet fur.
Plan Rainy Day Activities
Rain can put a damper on that long day hike or beach day you had planned. While we may not have the luxuries of being home and the internet to keep us busy, there are plenty of other activities that can be done in the rain.
This is the perfect time to bring out those board games, cards, or your reading book. Sit together under the tarp, in the tent, or on the bed in the RV.
If you have little ones, it is also a good idea to bring some crafts. This is an easy way to keep fingers busy for a whole afternoon.
Pack Up Your Gear in the Rain
It's your last day and the rain is still coming down. You still have to pack up no matter what! Pack away as much as you can before you take down the tarps and the tents. Shake out as much water as possible when packing things up.
From camp chairs to coolers, you will have to bring it all back out on the next sunny day at home. It is essential that you ensure everything gets dry before you truly pack it away. As soon as possible, unpack everything and dry it out to avoid mold. This is especially important with tents!
Rain doesn't have to be a damper on a camping trip. In fact, most of my favourite camping memories come from trips where things didn't go as planned. Camping is all about rolling with the punches and experiencing nature. Rain camping may not be your ideal, but it will still be fun, I promise!