Before you head out camping, do you check the weather? I bet the answer is yes! We always cross our fingers and wish for sun, but we're not always that lucky. In the event that there are rain clouds in the forecast, make sure you follow these steps on how to waterproof your tent beforehand.
In the movies, people always pack their bags and next thing you know, they're roasting marshmallows over the campfire. The reality is much more different! A successful and fun camping trip takes some serious prep work. A big part of this is waterproofing your tent ahead of time.
Rain doesn't have to mean a bad camping trip. In fact, I think some of my fondest camping memories are rainy ones. The key is to be prepared so you aren't soggy and cold the whole time. As long as you're warm and dry, you'll be happy! Let's get started on how to waterproof a tent.
How to Waterproof a Tent
It does not matter what kind of tent you have, canvas tent, backpacking tent, or any other kind; it is always a good idea to waterproof your tent. When it's brand new and shiny, it should be good to go. However, even after a long camping trip or one season, it may need a waterproofing refresh.
Seam Sealing
The first thing you want to do is seal your seams. Before you get started, make sure you have a clean tent. Gently handwash your tent with warm, soap water. Do NOT place your tent in the washing machine or dryer.
Once your tent is clean and dry, go about fixing up your seams. First, rub the inside of the seams with rubbing alcohol and a cotton ball. Next, use a sealant and a small brush (it often comes with one) to lightly coat your seams. When shopping for a sealant, read the labels to ensure it is the right kind for your tent's fabric. Let your sealant completely dry before packing up the tent.
Waterproofing Spray
Another great tool is waterproofing spray. Just like your rain jacket or favourite pair of winter shoes, a waterproofing spray is useful in making fabric water-resistant once again.
Most waterproofing sprays are done on a wet tent (though follow the instructions of your waterproofing spray). After you have cleaned your tent and it is still wet, spray down your entire tent with the spray. After a couple of minutes, use a damp cloth to remove the excess spray. And voila, your tent is waterproof once again!
Keeping Dry While Camping
Using Tarps
When you arrive at your campsite, don't unpack everything right away. You never know when the sky is about to open up! Always pitch your tent first so you have it ready as the sun sets and clouds roll in. When looking for a spot to place your tent, always aim for higher ground so the water won't pool beneath your tent in the event that it rains.
I always place a tarp on the ground below my tent no matter the forecast. The tarp will help to keep the bottom of the tent dry. If it rains, the ground will be cold and wet and not pleasant at all. I also take it one step further and place a tarp inside the tent as well below any mattresses and bedding.
Your tent will come with a waterproof cover called a fly. Don't skip out on placing and securing the fly while setting up your tent. A fly in new or good condition will do a pretty stellar job at keeping the water out. However, it won't keep out 100% of rain. If rain is in the forecast, I recommend securing an additional tarp or two above your tent. Ensure the water that runs off will aim away from your tent.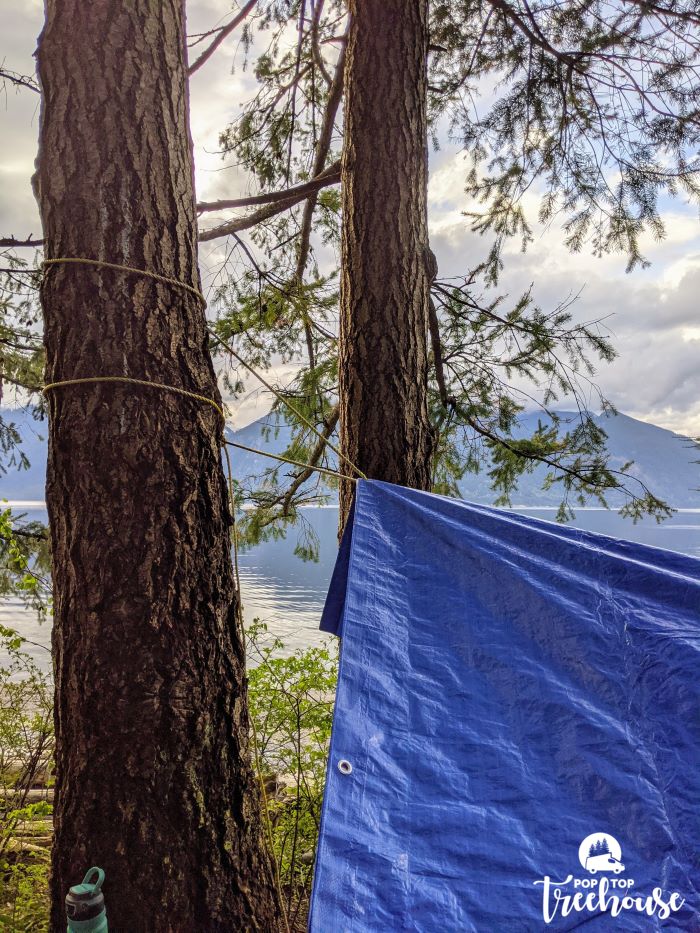 Inside the Tent
There are a few additional tricks you can do while it is raining on the inside of your tent to ensure everything stays nice and dry. First of all, pack all your clothing in sealable plastic bags. In the event that water leaks into your tent, at least you have some nice dry clothes to change into!
My other suggestion is to make sure nothing touches the tent walls. Keep all bedding and packs away from the walls. Condensation and rain will be felt between the walls of the tent and the fly. If left untouched, however, it should not be a problem.
Lastly, a mat at the entrance to the tent is a lifesaver. You don't want your shoes to get wet outside, but don't want them to create a mess inside the tent either. Putting a small mat inside the tent will help to keep the water and mud to a minimum inside the tent.
That wraps up my tips on how to waterproof your tent. For more tips on camping in the rain, be sure to check out my post here. As always, happy camping!