When we go camping, we have to remember that we're sharing the great outdoors with many critters, small and large. Keep animals healthy and away from your meals by following these camping tips to keep food safe.
Camping is one of the best ways to experience the outdoors. Becoming one with nature is second to none. The sing-songs around the campfire, the ghost stories, the camp cooking, hiking adventures, wildlife, and awe-inspiring wonders of nature are what memories are made of.
Yet one certainly does not wish to have nightmares recalling the fear of coming face-to-face with bears and other large critters (I'm talking to you raccoons) trying to steal your camp food.
Whilst a person camps in the great outdoors, they are in an environment that belongs to wild animals. An animal's top priority is to find food, and animals who have become accustomed to campers recognize them as an easy source of food. Fortunately, there are a few camping tips to keep food safe and away from large and small animals.
10 Tips to Keep Your Food Safe
Never Leave the Smellies in Your Tent
Us humans love things with perfumes. Beyond your food, there are other things we want to avoid keeping in our tent.
It is said that all animals have a far better sense of smell than humans. Therefore, never leave food, deodorant, shampoo, conditioner, and other 'smellies' such as toothpaste and perfume, in your tent, which may attract animals to your campsite. A host of animals are highly attracted to these scents.
Store the Food Well
Food items and the smellies should be placed in zipped airtight storage bags, containers or duffel bags, etc. Bears and other critters have absolutely no qualms about chewing holes in campsite equipment to get to the food.
If you must leave food at your campsite and have no airtight storage bags or containers, the better option is to leave the backpacks open. Yes, open! Surely you would much rather the critters get to the food than shred your expensive tent or other gear in the hope of finding a food source. But to be a responsible camper, you should have proper storage.
Cook Away from Your Tent
Always cook at least 200 feet from your sleeping area if possible when in bear country. You will not be too appreciative of having a bear on the rampage in your tent because they picked up the scent of cooked food.
Cooking close to the tent is asking for trouble. It is somewhat like sending out an invitation. "Hey Yogi, the steaks are this way. Bring Boo-Boo too!"
You may have eaten six hours ago, but the scent of the food will linger in the air for quite some time. Bears and other critters can smell cooked food up to a mile away.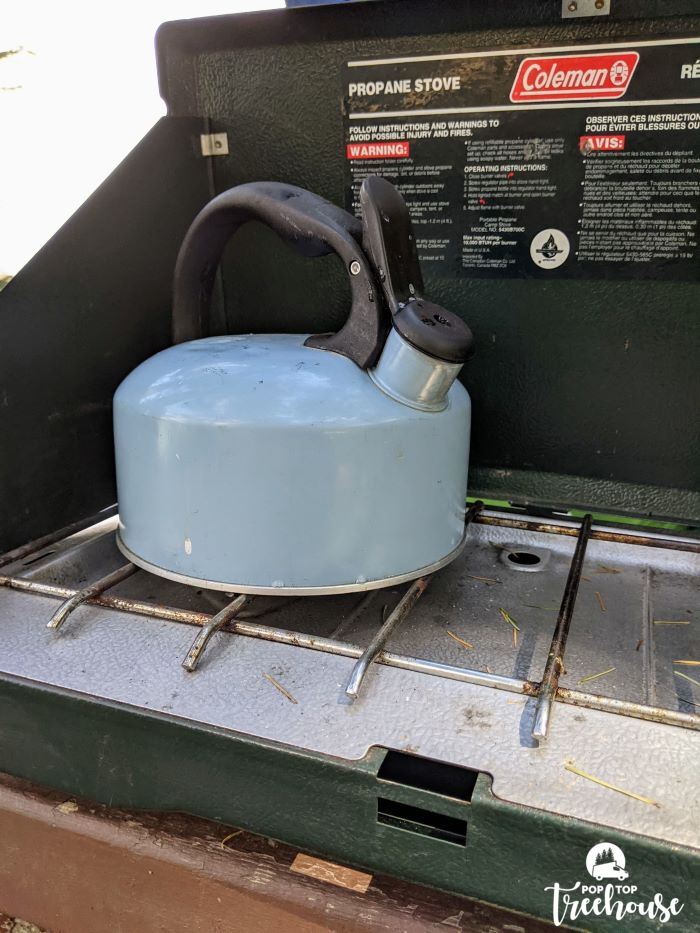 Keep the Food High
Hang your food and smellies bag away from the tent and its direct surroundings. One can purchase a bear canister for cheap. This will keep smaller critters away too.  Hanging a bear bag is simple. Simply grab a sock and place a couple of rocks at the bottom. Now tie a long length of rope to the end of this. Now hurl it over a limb of a tree that is at least 15' off the ground and 8-10 feet from the trunk of the tree.
Jiggle the rope to lower the end down. Now untie the sock and tie the rope to the bear bag, hoist this up and tie the rope to the trunk of the tree. Let the bag hang down approximately 5 feet down from the branch, (10-12 feet from the ground and approximately 8-10 feet from the tree trunk).
If you have traveled to your campsite by car, keep the food in the vehicle. One can purchase commercial containers for backpackers and car campers, which will help protect their food. A host of campgrounds where animal problems are frequent provides lockers and bear poles.
When Near Water
If you are anywhere near water, place the food and any smellies in a waterproof bag and sink it. Remember to tie the bags to a stake or tree trunk with thin rope or string.
Stay Clean
Whether you have concerns about bears, chipmunks, squirrels, or other critters stealing camp food, one should pay attention to the old scout motto 'stay clean.' This means keep all food items in sealed plastic bags or containers if possible, as this reduces the odours that transfer to clothing and fabric packs.
Food odours in clothes can attract animals unless the items are washed immediately. Even the smallest crumb in the very bottom of your shorts or in the corner of the tent will attract mice, bears, chipmunks, squirrels, and other animals. Speaking of tents, don't store any food or any food wrappers whatsoever in the tent.
The tent will not offer any protection for a determined animal that detects food odours. Mice may be harmless to you, but other animals may want to investigate, especially where food is concerned. Ensure that the eating area is cleaned immediately after use. This means food preparation areas and serving surfaces such as picnic tables or camp tables must be washed down.
All dishes and other cooking and serving utensils must be thoroughly washed. Use a bleach solution to wipe down surfaces if possible.
Attend to your trash sensibly. Keep it all in a sealed plastic bag if possible or another type of sealed container. Deal with waste properly and do not dump food scraps, crumbs, dishwater, or water from clothes washing near the tent. Dispose of these in the woods a fair distance from your campsite.
Don't Feed the Animals
As obvious as it should be, a plethora of people feed small mammals or birds and fail to realize that this is the wrong thing to do for a host of reasons. This trains them to expect humans to feed them. Animals can not differentiate between being offered a treat or breaking into your tent to find it. Besides, human food is not for animals, potato chips, bread, and so forth is not a healthy diet for animals. Human food can be very harmful to animals.
Hopefully, these camping tips to keep food safe will help you enjoy your camping adventure!