Move aside hotdogs, there's a new easy camping meal in town. Shish kabobs by far are one of the easiest and tastiest meals to grill over the campfire. When it comes to cooking while camping, I want things to be as simple as possible. This means I try to prepare as much as I can beforehand and pack as few ingredients as possible. These kabob recipes are perfect for just that!
Don't get me wrong, kabobs can be time-consuming if you're spending all your time chopping vegetables and preparing meat. I like to precut all my ingredients beforehand and bring them with me in some reusable containers. That way, all I have to do is assemble the skewer and grill! You can even cut down on time by choosing your vegetables carefully, such as going with cherry tomatoes, baby corn, and bite-sized potatoes instead of their larger counterparts.
As you will see, most of my kabob recipes below require to be marinated prior to cooking. I like to start this step at home before we head out camping. Not only is more convenient come dinnertime, but this also allows for maximum flavor and deliciousness!
When it comes to cooking, it's pretty simple. I like to place my kabobs directly on the campfire grate, but you can also use a pan if your campfire does not have one. Here are some of my shish kabob cooking tips:
Rotate, rotate, rotate! To ensure your meat and veggies are evenly cooked, rotate your skewers halfway through cooking, if not more often.
Space out your ingredients while skewering your food. Overloading and squishing your ingredients onto a skewer makes it harder for the heat to get in between ingredients and evenly cook.
Use metal skewers. Not only are they reusable, but they are much more likely to withstand the heat from your campfire. If you do use wooden skewers, be sure to soak them for an hour prior to grilling to prevent the flames from eating up your skewer.
Campfires get hot! Be sure to use metal tongs or heat resistant gloves to grab or rotate your skewers.
While filling, I like to add a side to my kabobs. Usually I will do grilled corn, a light summer salad, or make some rice on my camp stove. Now that you know the basics, check out some of my favorite kabob recipes below.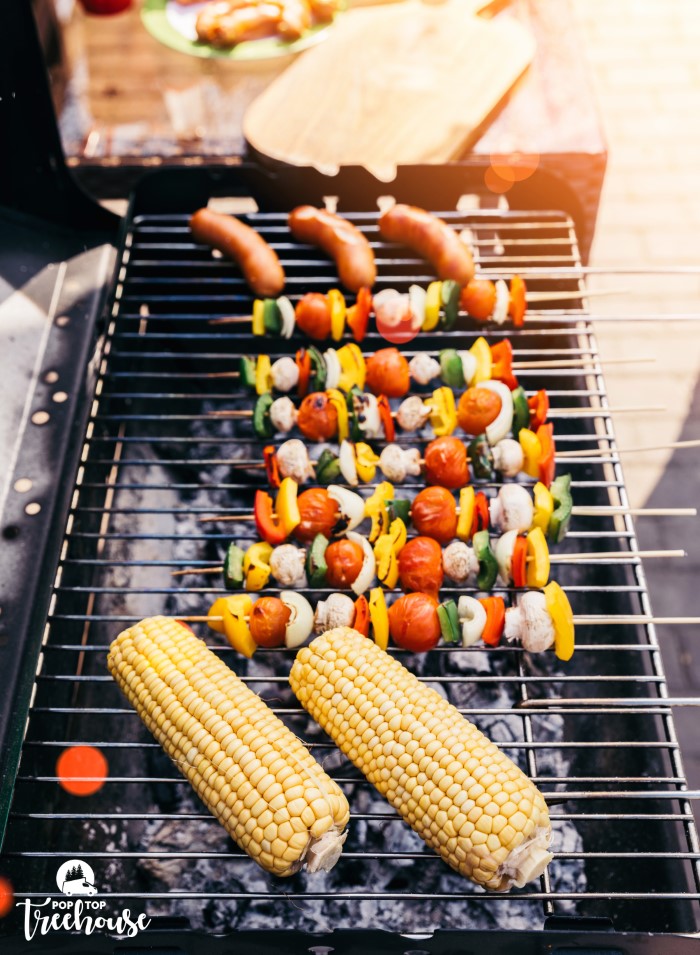 10 Camping Kabob Recipes
Classic Grilled Steak and Potato Kabobs
Steak is one of the most common meats used for kabobs. To make this recipe, first, cut your steak into 1-inch bites. Whisk together oil, garlic, rosemary, salt, and pepper to taste. Marinade your steak in this mixture for at least 2 hours. Once you're ready to make your kabobs, boil bite-sized potatoes. Alternate your boiled potatoes with your marinated steak pieces and get grilling! If you're a mushroom lover, feel free to add some to the marinade along with the steak and add to your skewer.
Grilled Cajun Shrimp
Skip throwing the shrimp on the barbie and grill it on the campfire instead! Prepare your shrimp by cleaning them and removing their shell. Make your Cajun marinade with Cajun seasoning, lime juice, and honey to taste, and then marinate your shrimp for at least 20 minutes. Pair your shrimp with some red pepper, onions, or your favorite veggies on the skewer.
Spicy Grilled Cauliflower Kabobs
If you're looking for a vegetarian take on a kabob, cauliflower is AMAZING grilled. First, I boil the cauliflower until slightly tender, but not fully cooked. Mix together your sauce consisting of Sriracha, chili flakes, garlic, and olive oil. Add your boiled cauliflower to the bowl and evenly coat pieces. Grill until your cauliflower is tender and slightly charred. After grilling, garnish with some green onion and sesame seeds. If you like to add a little sugar to your heat, mix in some honey to your sauce mixture.
BBQ Pineapple Chicken Kabobs
Second to steak, chicken is another popular choice when it comes to kabobs. First, marinate your bite-sized pieces of chicken in your favorite barbeque sauce for at least two hours. After they are finished marinating, wrap bacon around the chicken and then skewer (don't skewer the bacon individually or it will fall off during cooking). Alternate the bacon-wrapped chicken with freshly cut pineapple, brush on more barbeque sauce, and then cook to grilled perfection!
Cheeseburger Kabobs
Want a lighter version of the American favorite? First, create meatballs using ground beef seasoned with salt and pepper. Pierce these on your skewer along with pickle, red onion, and a cherry tomato. Slowly cook your kabobs until the meatballs are cooked through and the veggies are browning. In the last couple minutes of your grilling, place a small piece of sliced cheese over top of your meatballs. Once melted, they are good to go!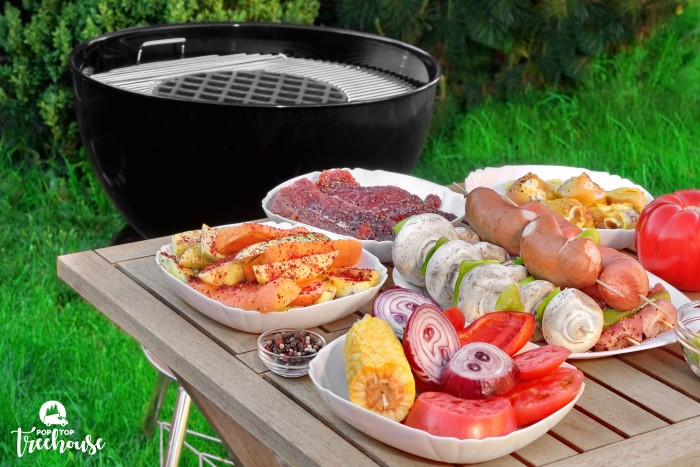 Rainbow Veggie Kabobs
Another great vegetarian recipe is simply grilling up a rainbow of veggies! I like to use cherry tomatoes, zucchini, red onion, sweet potato (boiled first), corn, red/yellow/orange/green peppers, mushrooms, and yellow squash, but feel free to do use your favorite vegetables. Prior to grilling, I marinate them in the same mixture I use for my classic steak kabobs mentioned earlier. Marinate for at least one hour and then season with more salt and pepper once grilled.
Bacon Wrapped Scallops
We can always use more bacon in our lives right? Scallops and bacon are such a delicious combo and one of my favorite dinner treats. First, prepare your marinade of olive oil, garlic, rosemary, and lemon juice to taste. Marinate your scallops for at least 30 minutes before wrapping them in bacon. As I mentioned earlier for the BBQ chicken kabobs, be sure to wrap your bacon around the scallop, otherwise, it may fall off if skewered on its own.
Sausage and Garlic Bread Kabobs
If you're tired of hotdogs and hamburgers, but are still looking for something easy, this is a great kabob option for you. First, combine melted butter, oil, and garlic in a bowl. Add cubed ciabatta bread to the bowl and evenly coat. Slice up your sausage and alternate with pepper, onion, and the cubed garlic bread. Cook until sausage is thoroughly cooked and garlic bread is browned.
Salmon Zucchini Kabobs
Salmon combined with the smokiness of the campfire is a dangerously delicious combination. To make your salmon kabobs, first cut your salmon into bite-sized pieces. Alternate salmon with sliced lemon and zucchini on the skewer. Sprinkle a seasoning consisting of cumin, oregano, chili flakes, salt, and pepper. When grilling remember that fish cooks quick! Cook for 6-8 minutes, turning partway through.
Honey Garlic Chicken Kabobs
This is a kabob classic! Like most of the recipes, the chicken must be marinated first. Combine honey, crushed garlic, soy sauce, and a hint of rice wine vinegar and marinate the chicken for at least two hours. Skewer the chicken, alternating with your favorite vegetables. After done grilling, top the chicken with green onion and sesame seeds.
Which of these shish kabob recipes sound the most delicious to you? Almost all of these recipes can be altered to suit your family's taste buds. Experiment by putting the different marinades and seasonings on your choice of meat and vegetables. Enjoy your grilling!
Check out some of my other great articles on camp cooking:
Save this Post on Pinterest