Victoria, British Columbia is well known for its stunning wildlife, charming downtown area, and laid-back locals. If you're planning a visit to the island, I have 16 exciting things to do in Victoria, Canada, plus some overrated ones to skip!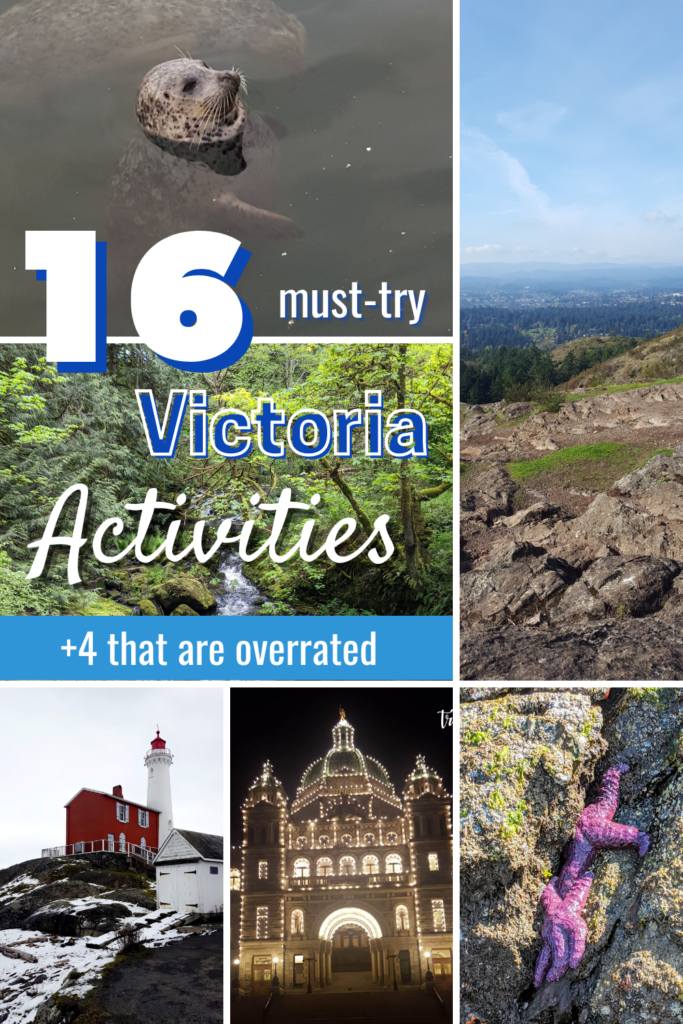 Vancouver Island is one of the most beautiful places in the world (in my humble opinion!). And while there is so much of it to explore, don't discount its most popular city, Victoria.
Some places are simply worth the hype; Victoria has earned its stripes.
Visitors can anticipate amazing wildlife with endless ocean views and ample hikes.
Beyond its natural beauty, Victoria boasts a picture-perfect downtown area filled with boutique shopping, local eateries, and live music.
Perhaps its most desirable quality, however, is the local culture. Victorians are known for their open-mindedness, dedication to environmentalism, and overall friendliness.
In this post, I'll cover how to make the most of this city's abundant offerings with 16 fun things to do in Victoria, Canada. I'll also share a few overrated activities to help you avoid those pesky tourist traps.
16 Fun Things to do in Victoria, Canada
I have recommendations for both tried-and-true and unusual things to do in Victoria, BC. Make sure to add them to your bucket list!
1. Cruise Down Dallas Road
Dallas Road is home to my absolute favourite view in Victoria. No hiking required!
Featuring 4km of open-ocean views, Dallas Road is amazing for a cruise with the windows down.
After your drive, enjoy one of their many walking paths toward dog-friendly beaches, the Harrison Yacht Pond, and more. 
The beaches along Dallas road are also perfect for enjoying the sunset. Perch on a beach log and enjoy the sights along with the locals. It's one of the very best free things to do in Victoria, BC. 
2. Shop Local
Victoria has lots of unique local shops for you to explore. For one-of-a-kind shopping, make sure to check out shops along:
Johnson street
Fort street
Fan Tan Alley
3. Visit Fisherman's Wharf
While Fisherman's Wharf is a popular tourist destination, I think this one is worth the visit. View the colourful houseboats and grab a bite at one of the food kiosks (mini donuts, anyone?). 
You can also rent kayaks here and enjoy a tour down the Strait of Juan De Fuca. You may even spot some seals!
4. Picnic at Beacon Hill Park
Beacon Hill Park is a nice way to escape the crowds and curl up on a bit of greenery.
Sit back and relax with a tasty picnic from a local eatery.
5. Enjoy the View from Mount Douglas
Hike or drive up Mount Douglas for panoramic views of the city. And on clear nights, experience extraordinary star watching, just 15 minutes from the downtown core.
6. Get Spooked at Craigdarroch Castle
Craigdarroch Castle is one of Victoria's most popular attractions and is reportedly super haunted.
Tour this Victorian-era Scottish Baronial mansion for a douse of local history (and maybe a ghostly encounter!).
Bonus tip –  If you're interested in more spectral sightings, take a walking ghost tour through the downtown area. 
7. Sample the Nightlife
Victoria's nightlife is small yet mighty, with a focus on live music and fun-themed experiences. If you're looking for a night on the town, make sure to try:
8. Take a Dip at Thetis Lake
When the days get hot, the locals head to Thetis Lake for cliff-side swims.
Enjoy a swim in Canada's first nature sanctuary.
9. Walk the Breakwater
A trip to Ogden Point is one of my favourite things to do in Victoria, Canada.
Enjoy a water-front brunch at the Breakwater Cafe. Then, take a walk down the breakwater. 
Here, you can sit on the rocks and watch the waves crash below; it's the perfect quiet moment away from the hustle and bustle.
10. Try Local Eats
Victoria is a community-focused city with lots of appreciation for local restaurants. While familiar chains can feel comforting when you're travelling, I urge you to try any of these local businesses, including:
Honourable Mentions
Here are a few more activities I think are well worth the time as well!
Victoria Bug Zoo (small but oh-so fun for kids)
Butchart Gardens (Victoria classic)
Esquimalt Lagoon (big beach with a great view)
Goldstream Provincial Park (lots of great hikes)
Fisgard Lighthouse
Sooke Potholes (another great swimming spot!)
Royal BC Museum
4 Overrated Activities
There are always some amped-up activities with popular tourist destinations that aren't worth it! Here are four overrated activities that you might want to avoid. 
Whale Watching 
Not only is whale watching detrimental to the whales (and other sea life), but the experience is often not worth the trip.
Trips are long and don't guarantee whale sightings.
There is so much opportunity to see natural wildlife around Victoria that doesn't harm animals in the process.
Bonus tip –  Taking the ferry over to the island? There's a good chance of seeing whales or dolphins on your way!
Horse-Drawn Carriage Rides
Speaking of danger to animals, I'd recommend avoiding a horse-drawn carriage ride through the inner harbour. 
These services are a cruel practice for the horses, forcing them to work in extreme weather and dangerous conditions. 
The carriages also cause traffic and congestion in the downtown area.
Victoria is an extremely walkable city so try a walking tour instead.
Government Street & the Inner Harbour 
Ok, you should definitely still take a walk through the inner harbour and historic Government Street. However, this area is extremely touristy and congested during peak holiday months. 
Many tourists get stuck in this small area and fail to explore the rest of the city! Make sure you venture outside the tourist hub to get the most out of your trip. 
High Tea at the Fairmont Empress
High tea at the Fairmont is a fun experience but is sooo overpriced.
You can have just as amazing an experience in smaller, local tea shops. Try the teahouse at Abkhazi Garden for a good alternative.
That about wraps up the best things to do in Victoria, Canada. If you're a local or frequent visitor, let me know your favourite things to do in Victoria in the comments below. 
More Vancouver Island Content