You're wearing every single layer you packed, sat by the campfire, done some jumping jacks, and yet you still have a chill you can't shake. Sometimes the cold gets to our bones while camping and refuses to go away. This list of warm drinks is the cure you need!
Sometimes the difference between a good camping experience and a miserable one is comfort. When it's cold, warm drinks can help campers feel comfy and cozy. Even in the summer, the temperature can dip quite low at night, hitting unprepared campers especially badly.
With proper clothing and bedding, the chill can be tolerated. A warm drink, however, can go a long way. The feeling of having a warm drink when it is cold outside can be quite pleasurable on the hands and down the throat.
10 Warm Drinks for Camping
This list covers the basics, some sweet additions for the kiddos, and a couple of yummy alcoholic beverages all designed to fend off the camping chill.
Coffee
Chances are, you've already have coffee packed and ready to go. It's a popular warm-up drink for campers. Adults have enjoyed a good hot cup of Joe for many years, and it remains a viable choice for keeping away the chill. It is simple to make too. All that is required is adding some hot water to it. Unless you feel like lugging a French press around!
If you want to give your coffee a little pep in its step, Kahlua, peppermint schnapps, and Baily's Irish Cream are perfect combinations for chilly days.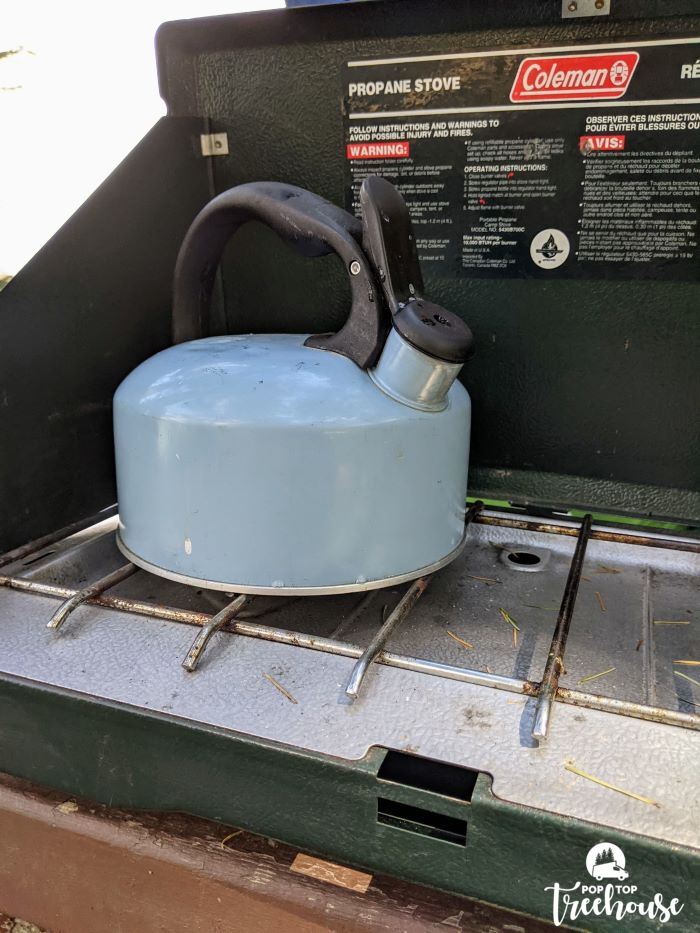 Tea
Even if you're not a huge tea drinker, you will definitely want to pack a few tea bags. When it's too late in the day for coffee and you don't want something sweet, tea will be your best friend. Make sure to include some caffeine-free blends when packing. Having a cup of tea is a quick way to warm up and there's a flavour out there for everyone!
Hot Chocolate
The kid's favourite, hot chocolate should always be packed for a family camping trip. Like coffee and tea, hot chocolate is easy to transport and store. It is also relatively inexpensive and found in just about any grocery store, even those near campsites.
If you're feeling extra fancy, you can make your own hot chocolate by melting down chocolate and whisking it with warm milk. You can also make your own marshmallows to top it off! A big cup of this near an open fire can be a fantastic treat, as well as increasing camper comfort levels.
Warm Milk
Some drinks can be simply warmed up to be used to keep campers warm and toasty. Milk is one of these drinks and is a classic before bed beverage.
Fresh milk does present some problems because it needs to be refrigerated and used in a timely manner. But powdered or canned milk can help alleviate this difficulty even though some people do not enjoy the different taste.
Warm Jell-O
This may sound weird, but warm Jell-O has been a camping staple for a long time. Simple add your Jell-O mix to boiling water like you normally would and give it a good stir or shake. Now sip it! It's sweet and delicious.
Warm Jell-O has also been used as a sore throat remedy and to help when sick. The gelatin in it improves digestion, provides protein, and decreases inflammation.
Brown Sugar Milk Tea
This one is so simple to make and so delicious to drink. To make this, you will want your choice of black tea, milk, and brown sugar.
The key to a great drink is to find a good quality black tea and to warm up the milk before you add it to your tea. This way it will stay piping hot and keep you nice and toasty.
Hot Apple Cider
Another classic, this another sweet warm drink that is popular with the kiddos. It can also be found in powdered form for easy shopping and consumption. For an alcoholic version, adding rum is another delicious way to chase the cold away.
If you want to make your own hot apple cider, check out this recipe from Koti Beth.
Butterfly Pea Flower Latte
Have you ever heard of butterfly pea flowers before? They're a completely edible flower that creates a vibrant blue colour. If you're looking for a fun and unique drink, a butterfly pea flower latte is the drink for you.
You can make this tea using butterfly pea flower tea bags or the flowers themselves. Steep them in boiling water. While steeping, combine 1/3 cup of half and half cream, 1 tbsp of sweetened condensed milk, and 1 tsp of vanilla (you can also make and refrigerate this ahead of time). Pour this mixture over the steeped tea.
To really enjoy this drink, put it in a clear glass to see the vibrant blue and swirls of sweet cream. For more instructions, visit Oh, How Civilized.
Hot Toddy
This one is for the adults. Hot toddies are ideal for camping because they are simple to make and don't require a ton of ingredients compared to other alcoholic drinks. Some say a hot toddy makes for the ideal cold remedy. Doesn't hurt to try right (exaggerated wink)?
To make a hot toddy, mix together hot water, whiskey, honey, and lemon to your taste. The drink is light and hydrating compared to some other drinks. The taste isn't overly sweet either!
Hot Buttered Rum
If you do want a sweet alcoholic drink, hot buttered rum has your back. As a sweet drink, it is best enjoyed after dinner when everyone is gathered around the campfire. Consider it your warm dessert for the evening!
Since it requires quite a few ingredients, I suggest making the butter mixture ahead of time and packing it for the camping trip. When you're ready to enjoy, simply add the rum and boiling water. Celebrating Sweets has a stellar hot buttered rum recipe.