Ever since I moved to Vancouver, I've been trying to get a campsite at Porteau Cove Provincial Park. Right on the water and only 38 km North of Vancouver, it's an easy and beautiful getaway from the city. Situated on the eastern shore of Howe Sound, you sometimes forget you're looking at the ocean with the mountains across the fjord.
Reservations are nearly impossible to get. I lucked out since I went the first weekend in May, booked two months in advance. A little early for camping season, it was my best chance at nabbing a good spot. Do not expect to drive up and get one without a reservation. The campsite is 100% reservable and people are quick to snag them up.
My dream came true with our campsite being right on the ocean. During the day, we saw many seals having a blast in the water while I watched from my camp chair on the beach, beverage in hand.
With May camping in the Pacific Northwest, I knew there was going to be rain. I packed plenty of tarps and warm clothing. And sure enough, the forecast said rain. But when we got there, we were blessed with sun. We couldn't have lucked out more!
The Campsite
Boy, did I pick a good campsite! I wanted something right on the water and it did not disappoint. Check out the view from my tent.
I stayed at walk-in site number 14. At night, the tide would come pretty far up and you could hear the waves as you sleep. So soothing.
A negative aspect of the site was how close it was to the next one. You're practically adjoined to the next site, so much so that it feels like a double. We didn't know the people next to us so it was a little awkward to know they could hear everything we said without even trying. Good camping etiquette is a must at this park as many of the sites are close to one another.
Other noise in the area includes the highway and train tracks. Neither bothered me much, but it is noticeable at times. Especially when a motorbike comes whipping around the bend.
The camp host let us know that raccoons are in the area and will take your food, so we made the walk back to the car with our cooler and other food at night.
In addition to the walk-in tent sites, there are also plenty of RV sites with hookups and even a couple of cabins to rent. Might be something to try in the future!
Activities
For outdoor enthusiasts, there's a lot to keep you busy in the area. The fjord is popular for motorsports, fishing, and even scuba diving. There's a sunken ship to encourage marine life that divers love to take a look at and a boat launch for day use.
Hikers will have lots of nearby trails to keep them busy, just a short drive away. You can also stick to the campground with a short jaunt to the Porteau Cove lookout, walk along the beach at low tide, or saunter over down the pier.
Porteau Cove Amenities
I camped in the walk-in sites, so my experience will be different than those in the RV campsites with electrical hookups.
At the walk-in site, there are a couple of wheelbarrows and a wagon to help you haul in your stuff. The walk isn't too long compared to other walk-ins I have been to, so hauling stuff in shouldn't be a problem.
There is a communal picnic shelter that has a few picnic tables as well as some sinks for washing dishes. Very handy! I can see this being especially helpful during some rainy weather which, fortunately, we did not have.
There are a few garbage cans and water taps for drinking water. There are a couple of outhouses for the walk-in sites, as well as flush toilets and showers if you feel like walking further to the RV area.
At the campsites, there are no picnic tables which was a bummer to me. Instead, they have a single bench at each site. The site is also missing a campfire pit. Instead, there are a few communal rings for the walk-in sites. Firewood is available for purchase.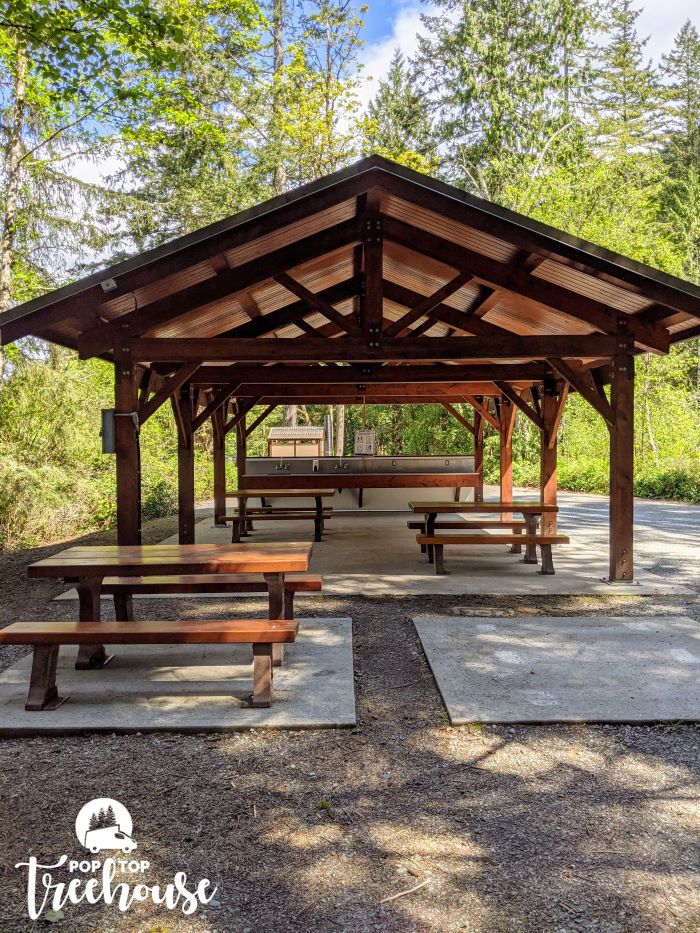 Overall Thoughts
There are some things not great about this park. Mainly the proximity to other campers, lack of picnic tables at campsites, and shared campfire rings. This makes it difficult for a week-long stay as you don't really get much privacy from fellow campers. However, for a quick weekend trip, it was fine.
Camping right on the water can't really be beaten. If you're lucky enough to have a spot right on the water, the view is all you need to keep entertained for the weekend. Gorgeous, close to the city, there is certainly a reason this campsite is a Vancouverite favourite.
Written by contributor, Holly Heuver.