When it comes to using toiletries and beauty products while camping, the simpler, the better. This biodegradable soap for camping is perfect for DIYers who want to embrace simple beauty and its return to nature.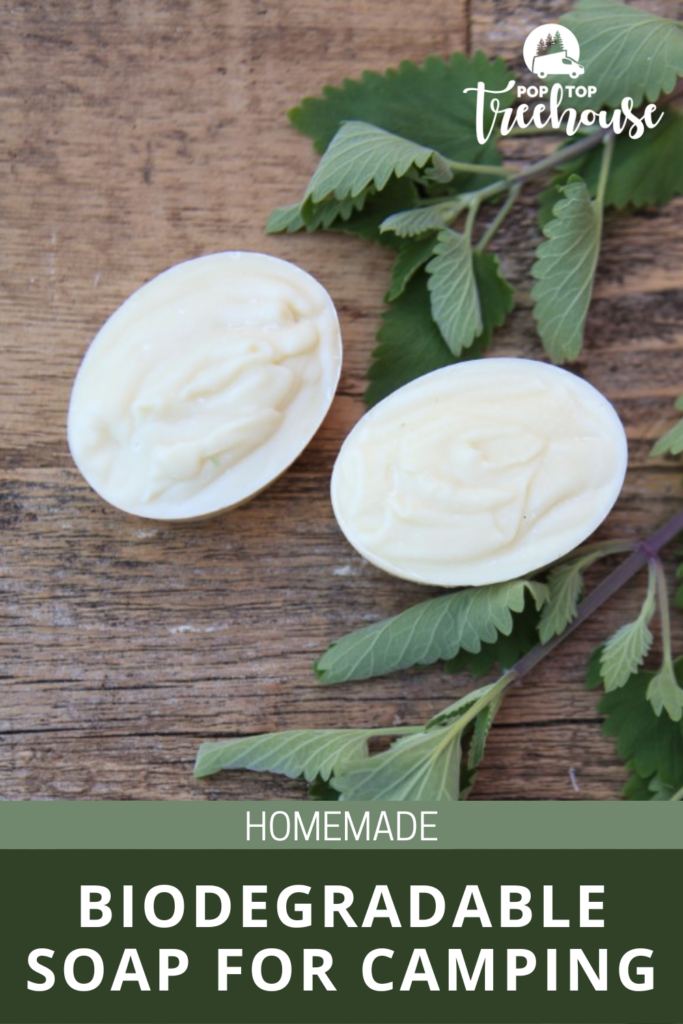 I've been making my own plant-based and vegan soaps for many years. Over on Garden Therapy, I share many fancy recipes using deliciously scented essential oils and infused ingredients. But for this biodegradable bar soap recipe, I wanted to keep things simple. This is my go-to unscented soap bar.
This is a soap bar you can use completely guilt-free for your camping trips. It's made using a variety of plant-based oils and is completely vegan. Using natural ingredients is better for you and the environment!
Fragrance-Free Soap for Camping
The best soap for camping is one that's fragrance-free alongside being biodegradable. When camping, it's important to avoid the use of scented products. Certain scents can attract bugs. Mosquitoes, for instance, use their sense of smell to find you. While they do find you from your oh-so-lovely natural scent, other scents like floral notes can attract them.
Bears can also find you via scent. Usually, they're attracted to food, but strong scents can lead them to your campsite.
How to Use This Biodegradable Soap Bar
While this is completely biodegradable, you still want to be careful with how you use it. The phosphates found in soap can promote algae blooms in water which hurt the local ecosystem.
Even with biodegradable ingredients, you want to use this soap bar at least 200 ft away from water. This means no bathing in lakes or streams! Instead, use a bucket and a cloth away from your water source to wash. Dispose of any water in a grey water receptacle if your campground has one. Follow all leave no trace rules.
Homemade Biodegradable Soap Bar for Camping
Soap making can take a few tries to get that beautiful bar you might see at the farmer's market, but it really doesn't take much to get high-quality soap. This is my balanced blend and the simplest recipe that I routinely use for making basic bar soap. The lather is unlike anything else you may have tried before, making it the best soap for camping that's eco-friendly!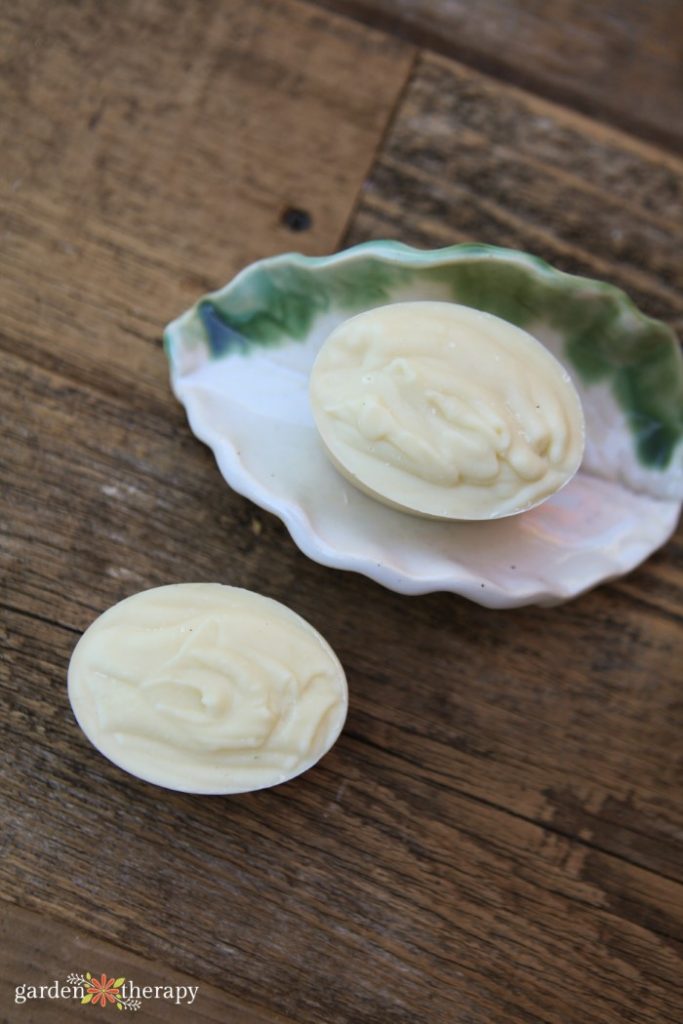 Materials
Kitchen scale
Candy or infrared thermometer
Stainless steel pot
Pyrex 4-cup measuring cup (or other heat-resistant cups)
Large mixing bowl
Immersion blender
Soap mold or milk carton (see notes below)
Ingredients
12 oz coconut oil
12 oz olive oil
9 oz water
2 oz grapeseed oil
0.5 oz cocoa or shea butter
4 oz lye
Instructions
Before starting, get some safety gear on, including goggles and gloves. You may feel inclined to skip this step, but when working with lye, you need to protect your skin and face.
Use a kitchen scale to weigh all your ingredients beforehand.
With a stainless steel pot, slowly melt all your oils and butter together over medium heat. You want your oils to be 115°F. You can use a candy thermometer to read the temperature.
Since lye emits strong fumes, do this next step in a well-ventilated area. While stirring, slowly add your lye to the water. The mixture will quickly heat and emit fumes.
When the lye is fully dissolved, you can place your cup in an ice bath to cool it to 115°F. You want your oil mixture and lye water to be at the same temperature. Reheat the oils if necessary.
Once they're at the same temperature, slowly add the lye water to the oils in a large mixing bowl. Use the immersion blender to carefully mix the two. You want the mixture to thicken to the same consistency as pudding. It doesn't take long!
Pour your mixture into a soap mold. If you don't have a soap mold, you can also use a disposable milk carton. Be sure to thoroughly clean it out and let it dry before using it as a soap mold.
Wrap your soap mold with towels and let it sit somewhere warm for 48 hours. My go-to location is the top of my fridge.
After two days, you can unmold the soap. At this point, you can cut your bars.
Place your bars on a wire rack and store them in a cool, dark location. Soap must cure for 4-6 weeks before you can use it.
Then enjoy your soap! You'll notice an immediate difference in quality with this soap compared to anything you might buy at the store. The oils leave the skin moisturized but squeaky clean, thanks to a luscious lather.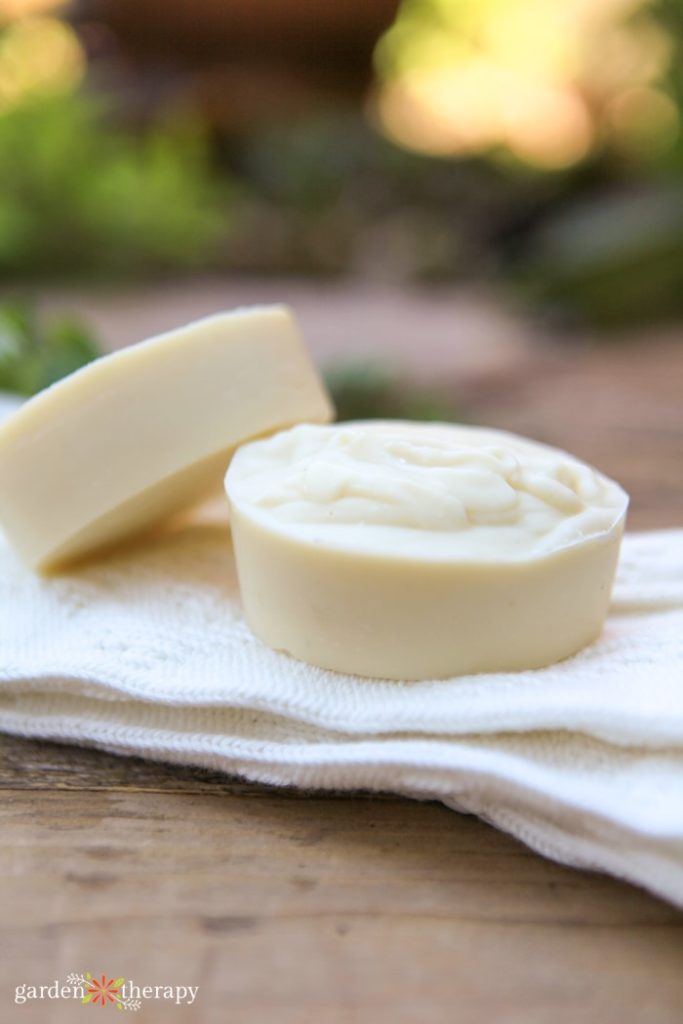 More DIY Camping Resources