If you're going camping, the mosquitoes will be there right alongside you. Do your best to prevent bug bites while chilling out at the campsite with these homemade outdoor citronella candles.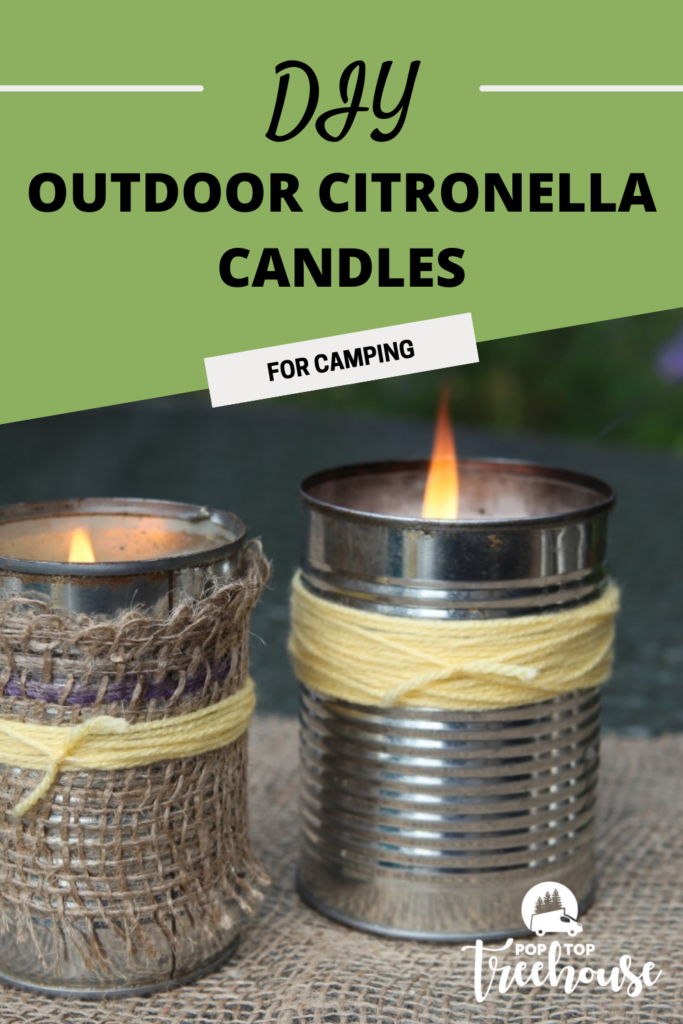 Once upon a time, I bought a pack of cheap citronella candles. And boy, did they ever STINK! I put them in a bin alongside other camping supplies, and soon enough, everything inside stunk of these terrible, terrible citronella candles.
But I couldn't deny they worked. Mosquitoes have a habit of ruining even the best of camping trips. The sun could be shining and the drink could be cold as the cooler, but the constant biting and buzzing of a mosquito can quickly dissipate all good moods.
To solve my problem, I started making my DIY citronella candles. Not only are they easy to make, but they smell so much better than any commercial candles as the pure citronella essential oil is the only fragrance working hard here. No fake fragrances and chemicals here!
I originally published these outdoor citronella candles on Gardening Therapy and thought I should share them here too. After all, I use them the most while camping!
Do Citronella Candles Work?
If you've ever burned a citronella candle and still heard the buzzing of a mosquito in your ear, then you know they're not foolproof. According to studies, citronella candles have about a 40% effective rate. That means you can still get some annoying bug bites if you rely only on burning outdoor citronella candles.
Should you rely on them as a method for avoiding mosquito-born viruses? Absolutely not. Will they help you when hanging out at your campsite? Absolutely!
When you burn the candles, you release the citronella oil into the air as it burns. The smell then helps to mask your scent and keep you hidden from mosquitoes. When combined with other bug repellent methods, you'll walk away from camping with fewer bites.
Outdoor Citronella Candle Benefits
Citronella will work to repel all kinds of bugs. Other strong-smelling herbs like mint, lavender, sage, and lemon balm can also help to keep your scent hidden from bugs if you don't like the smell of citronella, per say.
But some people love the smell! The citronella fragrance is used in aromatherapy to help uplift negative moods and relax the mind and body.
DIY Citronella Candle Instructions
Making your own candles is quite simple. I even find the process therapeutic! Make some of these candles ahead of your big camping trip, and you'll be ready when the mosquitoes come buzzing.
Materials
Empty containers to upcycle
Double boiler
Wax (soy wax or old candles)
Pre-waxed wicks with tabs (choose a length based on your containers)
Citronella oil (1.5 oz per lb of wax)
Hot glue gun
DIY It!
When it comes to outdoor citronella candles, you don't need any fancy containers. To be as green as possible, I upcycle the containers I already have. Tin cans, Mason jars, other glass containers, and even terracotta pots that have been plugged in are all great options for your containers.
Next, glue down your wicks using a hot glue gun. Push down firmly to make sure it sets properly in place. Large containers can use 2 or 3 wicks spaced apart.
Melt your wax in a double boiler over medium heat until fully melted. Stir often.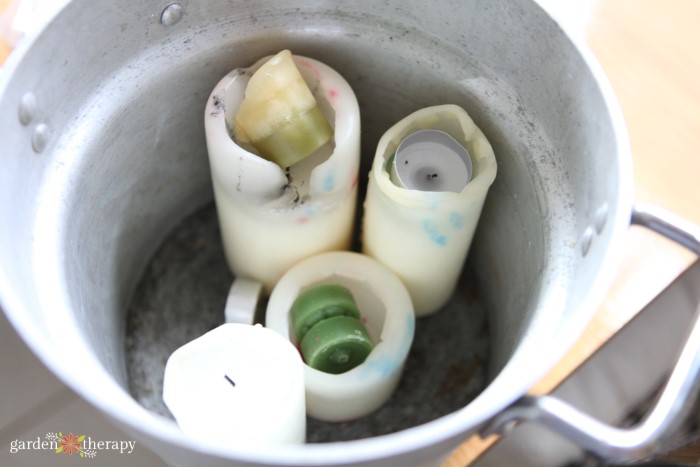 Once melted, remove from heat and add in your fragrance. Add in 1.5 oz per lb of wax.
Carefully pour the wax into the candles. Use a chopstick or clothespin to keep your wicks in place while the candle sets. Don't disturb them, and let them cool in a warm location. This will help prevent them from cracking.
Let the candle cool for 48 hours before your burn it. Before you light it, trim the wick to ¼ above the wax.
That's it! Burn these easy-peasy outdoor citronella candles and kiss the mosquitoes goodbye.
More Tips for Camping With Bugs: