When it comes to camping, things can get a little…irregular. While I try to eat well even while out in our van, sometimes my gut needs a little bit of encouragement (if you're catching what I'm saying). This high fibre granola bar recipe is a necessity. Not only are the granola bars low in sugar and pretty darn healthy too, but they're super tasty.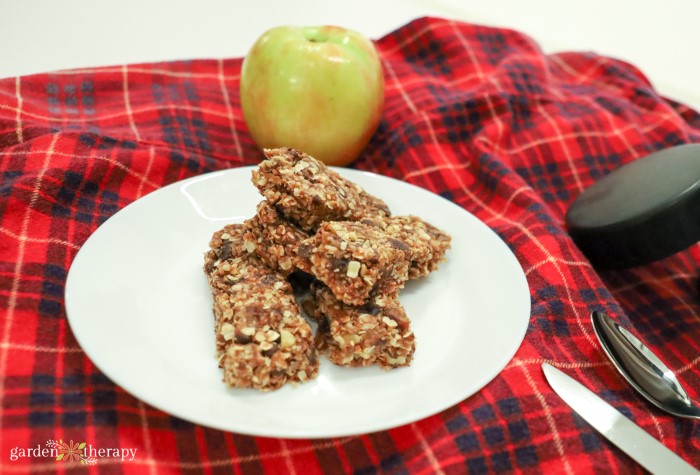 With granola bars, you add as many substitutions and ingredients as you like. For instance, this granola bar recipe calls for nut butter. I used peanut butter but you may want to use cashew or almond for a different flavour. For nuts, I used walnuts, you may want almonds. I added chocolate chips, you may want toasted coconut. Don't be scared to make them your own!
What Makes This Granola Recipe High Fibre?
To make this granola bar recipe ultra fibrous, make sure to include oat bran and flax seeds. For every 100 grams, oat bran gives 15 grams of fibre. Compared to quick or rolled oats, you're getting 1.5 times more fibre!
If you thought oat bran was good, wait until you hear about the flax seeds! For every 100 grams, flax seeds provide 27 grams of fibre.
And while they're not as fibrous as the infamous prunes, dates add around 7 grams of fibre for every 3.5 ounces. Plus, they add some natural sweetness and help to bind the granola bars together.
So if you're worried about bowel movements while out camping, be sure to keep some of these healthy granola bars on hand.
My Granola Bars Are Too Crumbly!
The more ingredients you add to this recipe, such as all the additional nuts, dried fruits, and chocolatey goodness, the more binder you will need.
If you find your granola bars are not sticking together, try adding some more honey. You can also use brown rice syrup. And while butter or oil may seem to help "dry" granola bars, they will make them crumble even more.
If you're in an RV, keep your granola bars in the fridge wrapped in plastic to keep them moist.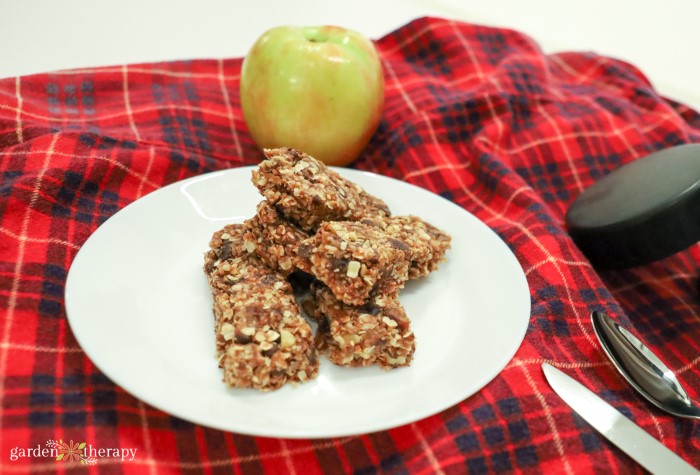 High Fibre Granola Bars
Take this healthy granola bar recipe with you on your next hike or camping trip to give you plenty of energy while satisfying a natural sweet tooth.
Equipment
Food processor or blender

Large mixing bowl

Square baking pan
Ingredients
1/2

cup

nut butter

1/3

cup

honey

2

tbsp

flax seeds

1

cup

pitted dates

3/4

cup

chopped walnuts

1

cup

rolled oats

1/4

cup

oat bran

1

tsp

vanilla

1/2

tsp

salt

1/3

cup

mini chocolate chips
Instructions
Using a microwave, melt together your nut butter and honey.

In your food processor or blender, blend your flax seeds, pitted dates, and walnuts until they form a coarse mixture.

Combine your nut butter mixture and date mixture with your oats and oat bran in a large bowl.

Once fully mixed, add in your vanilla, salt, and chocolate chips. You can also add in any additional nuts and dried fruits you prefer.

Pressed your granola mixture into your baking pan. Line the top with a piece of parchment paper or plastic wrap. Use the bottom of a glass to press it down evenly.

Cover and place in the fridge for at least two hours. Slice your granola bars for serving and keep sealed in an airtight container in the fridge.
More Camping Recipes to Try