Whether it's a chilly autumn day or you just want to snuggle up by the campfire, this classic camping food is perfect when you want something hearty and familiar to fill you up. This list covers 10 easy camping meals and snacks to make for your family!
I get it. Camping and cooking sometimes don't always go together. When we're spending time outdoors, the last thing we want to do is spend our precious time cooking and cleaning up a ton of dishes. Especially after a long day, I sometimes wish I could order pizza from the forest.
But alas, we've got even higher appetites while camping so it's important to fill up on some good food. For this list of classic camping food, I keep a few things in mind.
Can you freeze it? I like to cook as much as possible at home before I head out camping. If I can freeze it and pack it in the cooler, it makes cooking easier and helps to keep the other food cool.
One pot meals. The less dishes we have to clean while camping the better.
Try to implement these practices when cooking some of the classic camping foods down below!
10 Classic Camping Food Recipes
Nothing warms up the soul quite like soup. I like to cut up the vegetables and make the broth for this minestrone soup at home. I freeze it in a large Tupperware container and pack it up. When it's time to make the soup while camping, all you have to do is heat up the soup, cook the pasta, and top it off with the fresh arugula.
A muffin works well any time of day. A light breakfast, a hiking snack, or a late-night eat, you bet you can find me munching a banana nut muffin. Bake these ahead of time and bring them along in a large Ziplock bag. Store them somewhere nearby for the trip out and for easy snacking when camping.
This recipe from Camping for Foodies is amazing for feeding large groups of campers. Measure as many of the spices at home as well as pre-chop the vegetables to make this an easy meal for your extended camping family. A Dutch oven also makes this an easy meal to clean up after and let sit over some simmering coals.
Long gone are the days of overcooked and dry pork chops. By buying in bone-in pork chops, you get juicy and tender meat that is great for empty stomachs at dinner time. This recipe only requires 7 ingredients, most of which are herbs!
When I think of autumn camping, I think of pumpkins. For a hearty and tasty dessert, bring along some of these personal pumpkin pies. Made in a small size, you don't have to worry about cutting individual pieces and making lots of dishes. Simply hand out these personal sizes that you made ahead of time!
A list full of comfort food recipes wouldn't be complete without mac and cheese. This recipe from Lauren's Latest is packed full of cheese and super easy to make ahead. You make it at home and store the food in aluminum containers so all you have to do is heat it over the fire to enjoy a filling and delicious meal.
This one is for all the cast iron fanatics out there. This chicken recipe is not only tasty but a super clean meal to eat while camping. Rosemary and lemon take lead on the flavours for the dish, with sauteed sautéed shallots coming in hot. Eating this fills me up and leaves me feeling guilt-free.
In addition to muffins, I always bake a batch of cookies before I head out on the road. My kiddo is a cookie monster and absolutely devours these walnut chocolate chunk cookies. I feel a little better knowing there are walnuts in there, but you can customize them further by adding in other nuts, seeds, hemp hearts, chia seeds, and more.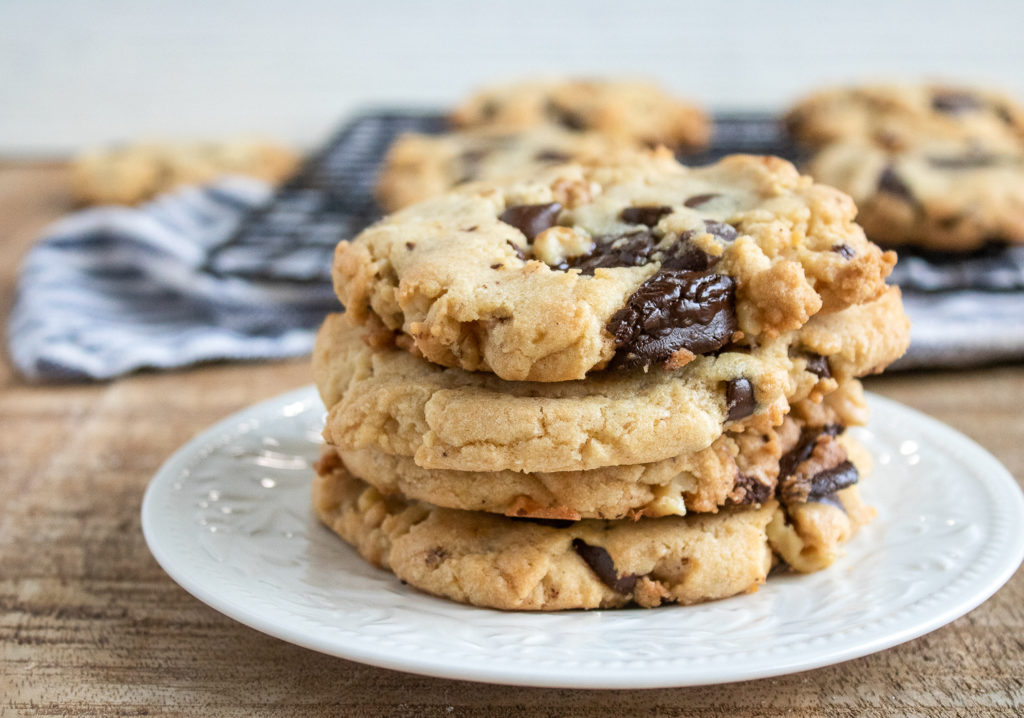 If you have a day spent at the campsite, give this pulled pork recipe from One Mighty Family a try. Using a Dutch oven, you can let this meal cook over the campfire over a course of 6 hours. The result is a yummy and tender pulled pork that you can pair with coleslaw and fresh buns.
Last but not least, I had to include one more tasty dessert on this list! A combination of two classics, this peanut butter and chocolate brownie recipe is sure to be a hit around the campfire. Bake a batch ahead of time and enjoy it once you're in the great outdoors!
More Camping Recipes
Let me know which of these classic camping food recipes you give a try! In the meantime, check out some of these other great camping recipes…