Wow, you're about to head off on your first camping trip! Congratulations. I know there must have been a lot of work getting to this point. Very soon you get to relax in nature, but first, you have to prepare your camper for your getaway.
Having a camper van means that you can take to the road at any time. Due to its smaller size, it is often more convenient and easier to use for newbies than a travel trailer or motorhome. You have a house on wheels, so you can flexibly travel at any time of year to anywhere you can reach by road. But if you're using it for the first time, how do you get your camper van set up for your first trip?
With planning, preparation, and organization, you'll be all set to take your first trip with your new home away from home. Here are the most important things to get your camper set-up before you hit the road.
Pack Only the Essentials
Careful packing is arguably the most important part of getting your camper van set up for your first trip. Although a camper is much larger than a car, it's still a limited living space and you don't want to fill it with things you don't need. Otherwise, you won't be able to find the things you do need, and you might be tripping over the things you don't.
To ensure you're not overpacking, make a detailed list of everything you think you'll need. Then, go through it and see if you can eliminate anything that's not absolutely essential. You can definitely make do with only one bathing suit, so if you've planned to pack three, get rid of the extra two. And while you're at it, drop that third pair of shoes too. What is the lowest number of clothing changes you can bring for the length of your trip? Try to minimize your packing list as much as possible.
For inspiration, here's a list of essential camping gear to pack:
Clothing and pajamas
Bedding and pillow
Towel for bathing and a hand towel
Toothbrush, hairbrush, and essential toiletries
Biodegradable dish liquid and brush, a bowl for washing dishes (if your camper doesn't have a sink), a towel for dishes to dry on
Kettle
Well-planned meals and snacks
Water
Beverages, such as coffee, tea, milk, and any adult beverages you'd like to enjoy
The pots and pans you'll need to make the meals you've planned
One set of each for every person on the trip: plate, utensils, mug
Kitchen towels
Toilet paper
If you're bringing your dog, pack their food, bowls, toys, poop bags, and a long leash with a stake
A lighter and matches
Tarp and rope
Water bucket for the grill or campfire
Flashlight
First aid kit
Long electrical cable
Long hose just for drinking water, as well as a tap connector
Leveling blocks
Meal Planning
With just a little bit of planning, it's very easy to eat well while camping. Before you leave, map out all of the meals you plan to cook and buy all of the ingredients ahead of time. Plus, the beauty of a camping van is its mobility. You may want to stop for some meals on the road or at a restaurant near your campsite if you're on a long trip.
To help you minimize your packing list, try to plan simple but delicious meals that you can cook using the same pots and pans. Trust me, the fewer dishes the better! You can make many different meals using just a dutch oven and cast iron skillet. Pack meats, produce, sauces, and other food items in reusable containers to cut down on waste and keep your trip eco-friendly. If your camper doesn't have a refrigerator, tightly pack items that need to be chilled in a cooler.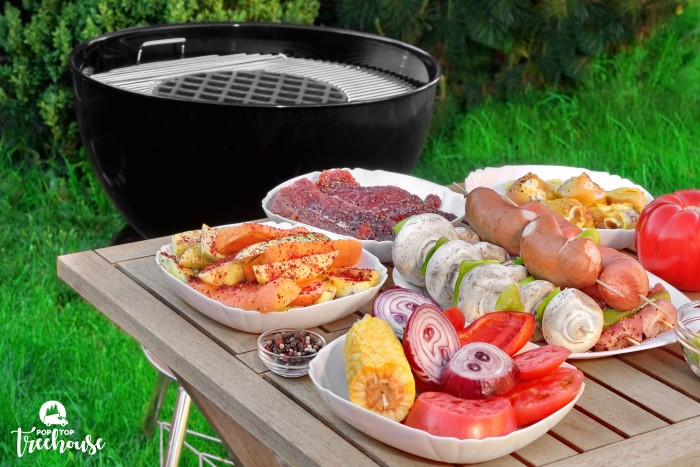 Pack Extra Snacks
Even with the best-planned meal schedule, you or others on your trip are likely to get hungry between meals (especially if you have a hungry six-year-old like me). There will also be times when you'll want to eat something when it's not convenient to cook, like when you're on a hike. To prevent having to stop at a gas station for unhealthy snacks with wasteful wrappers, buy a variety of snacks in bulk beforehand. If you have kids who are going camping with you, take them on the snack-buying excursion. They can choose foods that sound good to them, which will give them something to be excited about during longer parts of the trip. You can pack the snacks in reusable containers, like jars, beeswax wraps, and fabric snack bags. And certainly don't forget the munchies and s'more ingredients for gathering around the fire…that one is a must!
Get Organized
Your first trip in your camper van will be much more comfortable if the camper itself is organized. When you're out in the woods, the last thing you want to do is sit and sort. Get it all done beforehand and you'll be a much happier camper! But while you're paring down your packing list to only the essentials, you'll still need quite a bit of stuff to live out of your van.
A good rule of thumb is to ensure that everything has a place in your storage space. Give fragile items a secure spot and put everything away when you're finished with it so you can move around the camper van easily. If you're bringing a lot of stuff, especially small items, it could be helpful to make a packing diagram to find what you need while you're on the trip.
Find a Place for Your Shoes
This might seem oddly specific, but you'll want a spot just for your shoes. You're camping, so the soles of your shoes will get filled with rocks, dirt, and sand. You don't want to find those things in your bed or have to constantly sweep out your camper van to keep it clean.
Choose a spot that's close to the side door, whether it's a cubby or a hanging bag, so you can sit on the floor of the van with your legs hanging out when you take your shoes off. This is especially important if you experience any rain or snow that you don't want to track into your camper. And keep the place for your shoes consistent so that you don't have to search for them in the dark.
Fill Up Your Water Tank
It will be helpful to practice filling up your water tank before you need to do it at a campsite. You can walk to the drinking water filling spot with a collapsible water container or drive up to it. If you do the latter, pull up to the tap and connect your water hose and tap connector. Put water into the tank until it's full and then drive back to your campsite. At many campsites, you'll need to provide your own tap connector. It's also recommended to bring your own hose so that you know it's clean.
Practice Parking and Leveling Your Camper Van
Parking and leveling your camper van are two things you don't want to do for the first time after a long day of driving or even in the middle of the night. This is especially true if you're not used to driving a larger sized vehicle (car owners I'm looking at you!) or are using your camper as a tow vehicle. Many campsites have specific instructions for how you park a van so be prepared for both back in and pull through spaces. You can even use cones to test your accuracy.
When the ground of your campsite is uneven, you'll need to pull out your leveling blocks and stabilizers. It's wise to practice this skill before your first trip as well. Position the leveling blocks behind either the front or back wheels, whichever are lower. The driver can then slowly reverse onto the blocks. This is easier with two people, but a very patient person can do it on their own. You may need to try this several times to get the right angle. Most importantly, if two people are working on this together, be patient with each other. You'll get it right eventually and leveling your camper van will get easier with time. Practice makes near perfect!
Plug in the Electricity and Turn on the Gas
If parts of your camper van require electricity to work, plug the end of the cable into the van first and then plug the other end into the outlet at your campsite. This way, you're not moving around with a live cable. It's also important not to leave parts of your cable coiled up when it's plugged in. It's possible for an electric cable to catch fire when it's coiled.
Additionally, if your camper van has a kitchen that requires propane, test it before you leave for your first trip. As long as the canister has been put in and connected correctly, you should be able to just turn it on. The gas canister will have "open" and "closed" arrows at the top. When you're not using the gas to cook, close the canister. Overall, make sure you are fully aware of how to use all your hook-ups before you leave.
Go on a Trial Run
As exciting as it is, your first trip as a new camper van owner shouldn't be overly ambitious. Before you go on a road trip, try taking an overnight or weekend trip that's close to home. Why not hit up an RV park in your own city? This way, if you forget something really important or have a mechanical problem with the camper, you'll be close to home and loved ones who can help.
A trial run can also give you insights on how accurate your packing was. Maybe some items you thought were essential didn't get used at all (I told you that you didn't need that extra swimsuit). And perhaps you found that you didn't have something you really needed. Taking a trial run in your camper van can help you refine your packing list for future, more adventurous trips. Consider taking a notebook with you to keep track of your trip and any surprises you had. This way, you don't have to worry about remembering every extra thing you need to pack the next time you use your camper van. With planning and preparation, you can have an enjoyable first trip in your camper van. Make sure to double-check your list and get organized, and the first camping experience should be a breeze.
Most importantly know that things always don't go as expected. There is almost always something you will forget, seasoned camping pro or not. Remember that camping is supposed to be a fun experience that reconnects you to nature. Let go as much as you can and bring what you need. Enjoy your first camping getaway!
Save this Post on Pinterest