Part of enjoying the great outdoors is knowing what you're appreciating. If you're anything like me, that means stopping to admire all the beautiful wildflowers that pop up in the most unexpected places. Here are some of the most popular wildflower names you should be acquainted with throughout North America.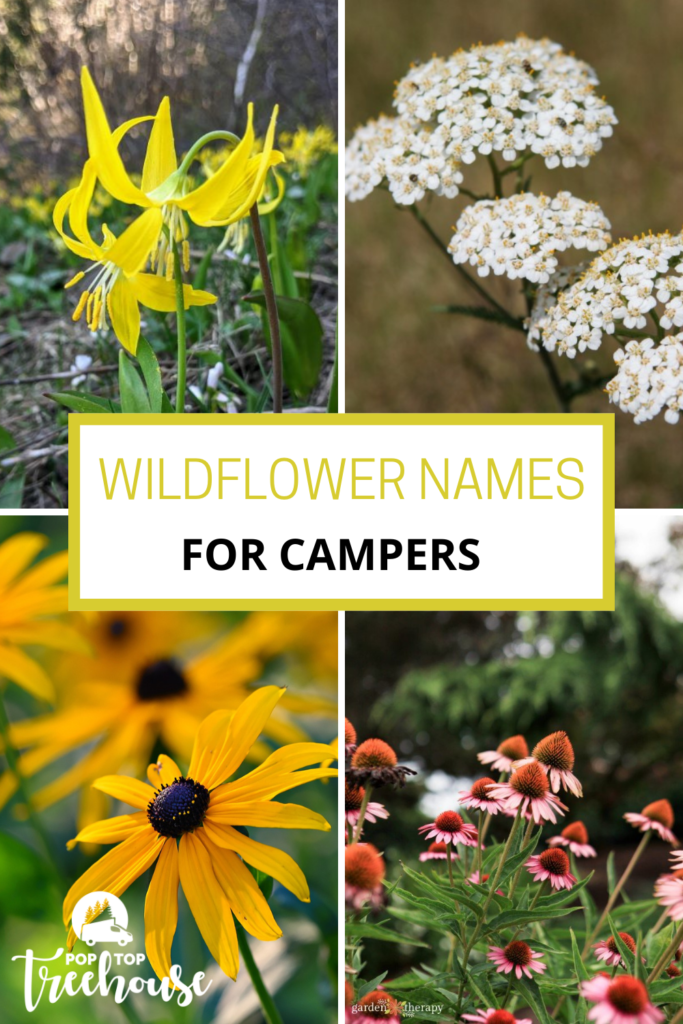 10 Must-Know Wildflower Names
An estimated 32,000 flowers grow wild in North America. That's a whole lot of wildflower names to know! While this list won't even begin to cover all of them, these are some of the most common wildflowers you'll find on the trails and around your campsite.
Wild Pansy
Chances are you've seen pansies in your neighbour's garden or at the garden centre. All the pansies cultivated in gardens are from these wild pansies. In the wild, they're smaller but have lots of blooms per plant.
They come in purple, blue, yellow, and white. The most common variation is two purple flowers on top, two white underneath, and a bottom yellow petal. You'll find wild pansies throughout most of North America, Europe, and Asia.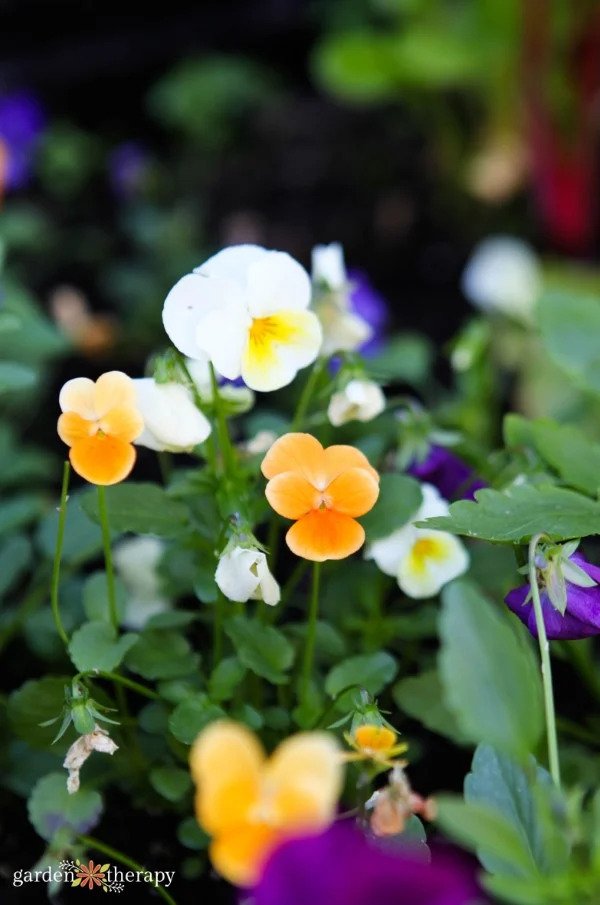 Yarrow
Few flowers are as tough as yarrow. It grows in just about every region from coastal areas to mountains to deserts. The most common variation is the miniature clusters of white flowers in an umbrella-like shape. Pollinators adore them!
They also come in other colours including yellow, pink, and red. You'll find yarrow throughout most of the northern hemisphere.
Be careful not to mix up the yarrow with the poisonous plant, Water Hemlock.
Coneflower
One of my favourite purple wildflowers is the coneflower. I grow it in my own Vancouver-based garden but you can also spot it all throughout the eastern USA.
The plant is known for the large showy flowers that bloom from summer through to the first frost. They have large centers and petals that point downwards.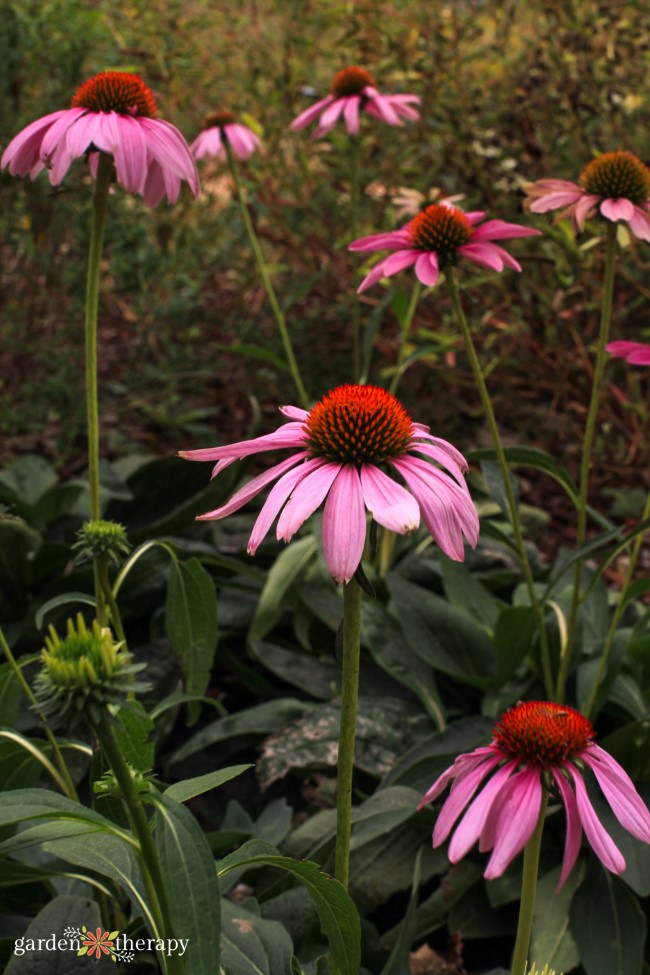 Fireweed
Fireweed is one of the first plants to naturalize after a forest fire. Since the seeds need extreme heat to open, you often find them in places after a fire has occurred. The pinky-purple wildflowers create a quick pop of colour along the landscape.
This plant can grow tall, ranging most often from 2-6 ft high though you may see them get as tall as 9 ft. Fireweed is native throughout most of North America, Europe, and Asia.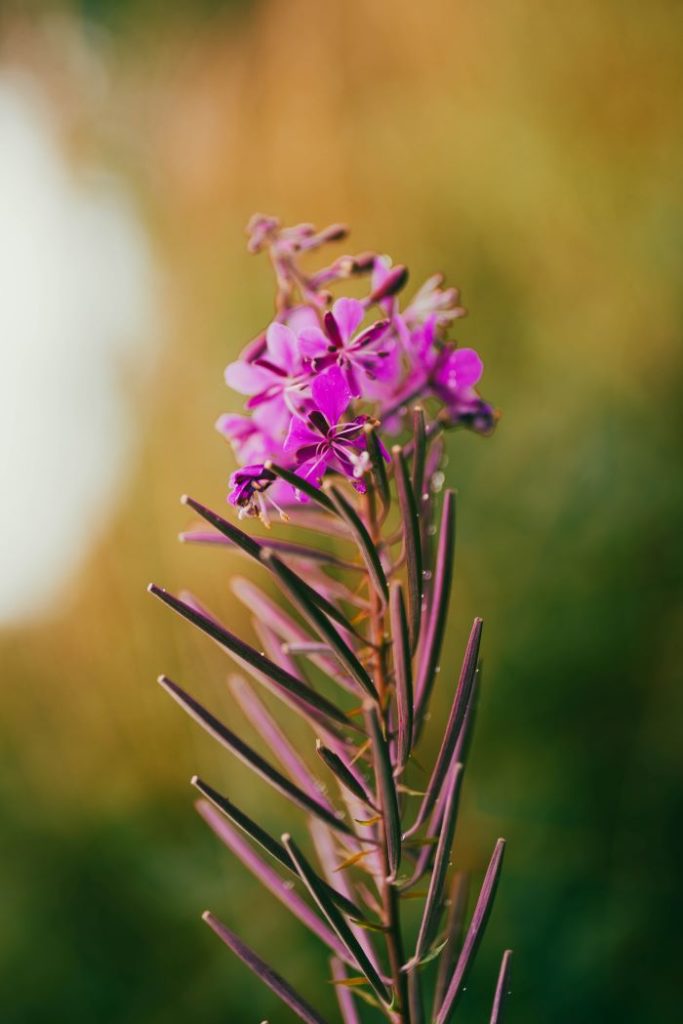 Black-Eyed Susan
Another hardy plant is the black-eyed Susan. Also referred to by its botanical name rudbeckia, you'll find this plant in many different soil conditions. It's native to the prairies and about two thirds of North America.
The daisy-like flowers come in a bright pop of yellow that bring instant cheer if you spot them while hiking. Get close and you'll also notice the slightly hairy stems and leaves.
Aster
During the fall, you may see some clusters of aster flowers. There are over 100 aster flowers in the genus that you may find out and about. The plants are native to North America, South America, and eastern Eurasia.
The daisy-like wildflowers come in purple, blue, or white and have orange centers. The foliage is dense and grows 3-6 tall when fully grown.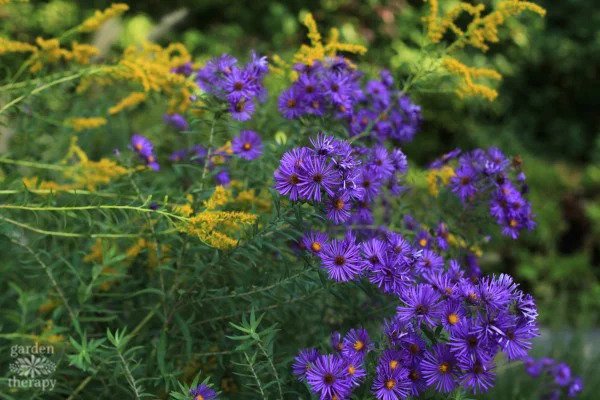 Lupine
Part of the pea family, lupines are quite tall and showy flowers. You can easily spot their tall spikes of flowers ranging in white, pink, red, yellow, blue, and purple colours.
Native to North America, the blooms first appear in the spring through to the summer. You can also identify the lupines by their palm-like leaves.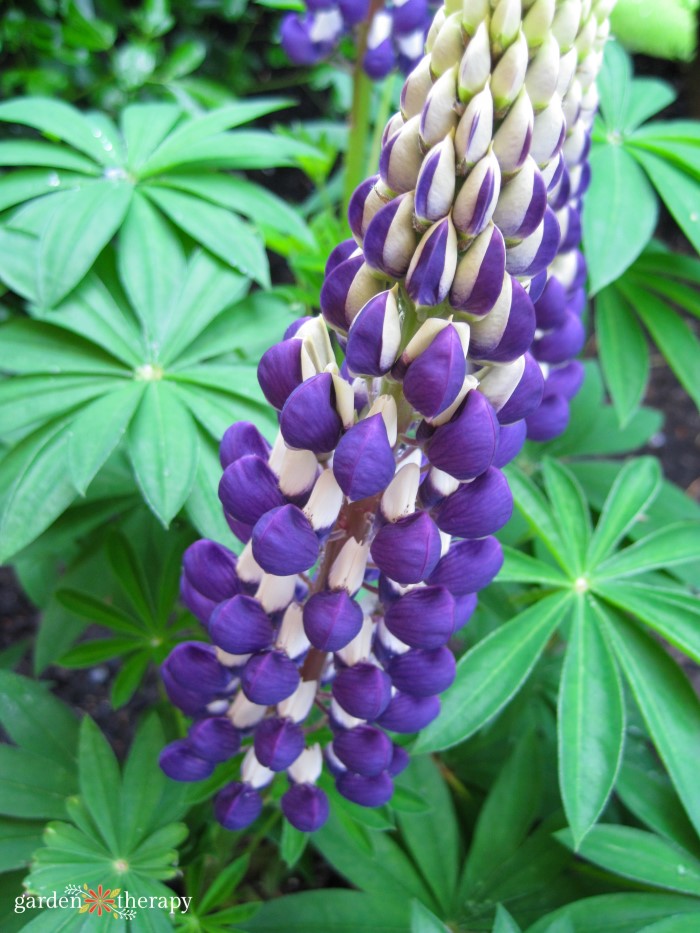 Glacier Lilies
Hikers are likely to spot these yellow wildflowers. One of the first spring blooms, the flowers come out once the snow has melted. Springing up from bulbs, they dangle down and look similar to other lilies but in miniature form.
You can find glacier lilies throughout the western regions of Canada and the USA, reaching as far inland as Montana.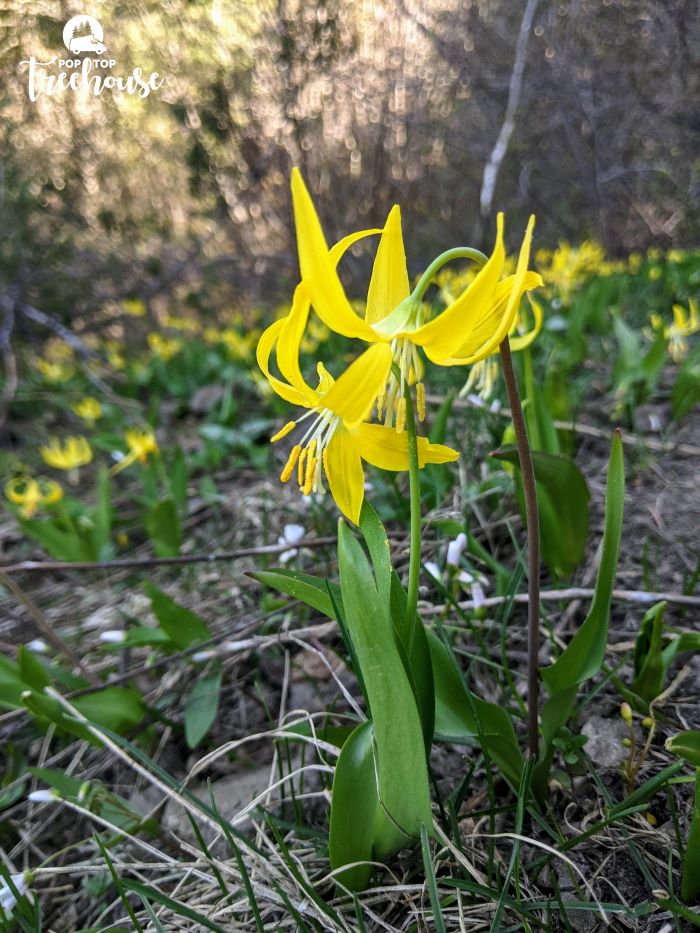 Indian Paintbrush
Straight hairy stems look as though they've been dipped in paint with the vibrant flower heads of the Indian paintbrush. While you can find them in yellow, they're most often a brilliant red.
You can find Indian paintbrushes throughout mid and eastern Canada and the U.S. from May to June. The plant got its name due to being popular for use amongst indigenous people of America. Sometimes, people refer to the wildflower as prairie fire.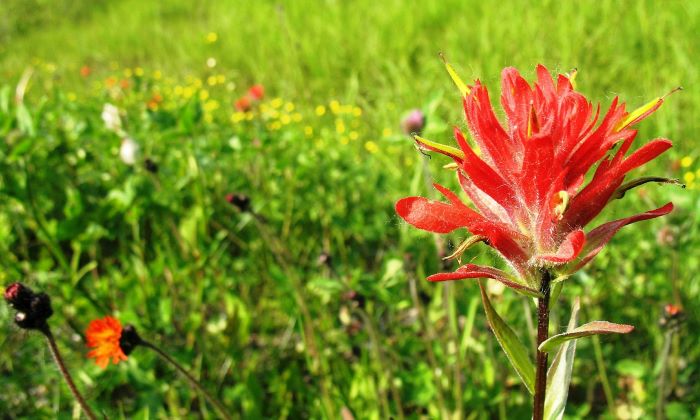 Goldenrod
Also known as solidago, the goldenrod is a beautiful and prolific yellow flower. Some consider it a wildflower and others a weed, but it all depends on the eye of the beholder.
Native to two thirds of North America, you can see the blooms all through summer and into fall. Along with the nodding golden flowers, you can identify the plant by its gray-green foliage.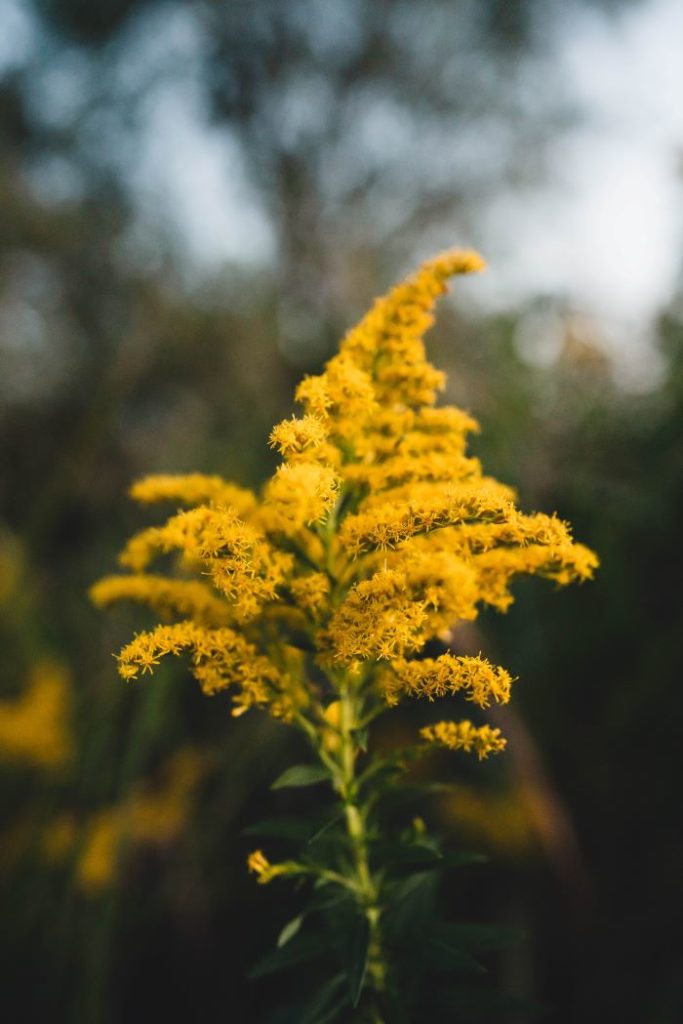 I hope you learned some new wildflower names to add to your list. The next time you're out camping, impress your friends and family with all your botanical knowledge!
More Plant Wilderness Expertise: