Without a doubt, forest fires are becoming an increasingly alarming issue for many states and provinces. Do your part as a nature lover by following proper safety and learn how to prevent forest fires while camping.
I like campfires as much as the next girl. Camping doesn't feel complete unless I've had at least one night snuggled up by the fire and looking up at the stars. If your clothes don't come back smelling like smoke, did you even go camping?
However, I know just how dangerous irresponsible fires can be. I live in Vancouver and have spent many summers with smokey skies and ash floating through the air. And let me tell you, it's not the way you want to spend your summer vacation. Forest fires are a major concern in my province.
With camping, there comes a higher responsibility. A large part of it involves preventing forest fires from happening due to irresponsible acts when dealing with fire and fire-causing materials.
A good sense of leadership and respect for the forest, as well as the knowledge needed for safety while camping, is required for every camper around. Forest fires are real and can be avoided with responsible acts by caring individuals.
The Scary Reality
You don't have to do any Googling to know that wildfires are turning into a larger and larger problem. I remember having bad forest fires once a decade. Now, it feels as though every other year the smoke rolls in, and BC burns.
This year alone, we had a major heatwave that occurred in June. A heatwave is already super out of the ordinary for June, with August being the hottest time of the year. Lytton, BC, broke the record for the highest temperature ever recorded in Canada 3 days in a row, reaching 49.6 °C. And after the 3 days? A wildfire swept through the valley and destroyed most of the village.
Things can happen so suddenly, it's scary. According to Canada's National Observer, BC wildfires are burning 10 times more than they were in the 1990s. The number and severity of wildfires have gotten so bad, they are now BC's largest source of climate-destabilizing CO2, overtaking fossil fuels.
And it isn't just here. From Australia to California, wildfires are making headlines. This is why it's so important that as campers, we do everything in our power to prevent forest fires from occurring in the first place. In BC, 40% of wildfires are human-caused (intentionally or accidentally). If you ask me, that is 40% too many.
How to Prevent Forest Fires While Camping
Campfires
A simple mistake such as a bonfire left burning unwatched through the night or a match not put out correctly and thrown into brush or forest can mean the difference between a safe fun-filled night and a life-threatening forest fire, which can kill animals, humans, and the forest alike.
First and foremost, always check for campfire bans. More frequently, bans are in place further into the summer as wildfire season approaches. No roasted marshmallows are worth breaking the rules when Mother Nature is feeling fragile. Some locations may allow propane fires during fire bans, but always check the region you're camping in and with your campground.
Follow these campfire safety rules:
NEVER leave a campfire unattended.
Always be sure to put out any flame or fire when not in use. Extinguish the fire by dousing the area with water. Make sure to stir the ashes and douse the red embers in water again. Repeat until there are no more embers and the firepit feels cool to touch.
Keep a bucket of water within reach to quickly put out a fire if necessary.
Make sure you completely extinguish all matches or sources of fire starters to prevent any chance of a forest fire from ever occurring.
Don't light a fire when it's windy outside.
Teach your children not to play with fire while camping.
If backpacking, remove all leaves and twigs from the area to ensure that the ground you start your campfire won't catch. Make a ring of rocks at least 3 metres away from any trees, shrubs, and other foliage.
Cigarettes
Beyond campfires, other sources of fires include candles, mosquito coils, lanterns, stoves, hot exhaust pipes, power tools, and cigarette butts. If you are a smoker, be extremely cautious where you throw out your butts. Many campgrounds allow smoking, but you should always aim to leave no trace. Put any cigarette butts in the provided firepit. If there is no firepit, extinguish the cigarette in a cup of water or carry a pocket ashtray with you.
Many forest fires also occur due to the careless usage of matches. You should never throw a match into a wooded area, lit or unlit because it can cause a catastrophe within seconds. Just remember to always be alert to what you are doing when around the fire or fire-making materials.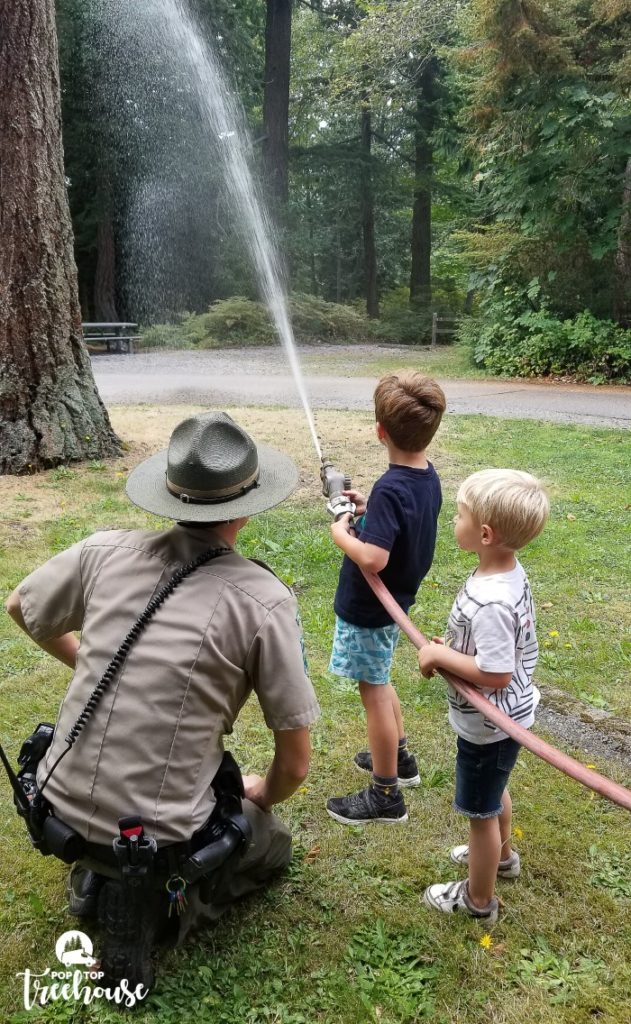 Be Considerate
When camping, always ensure you know the best evacuation route in the event of a fire. This includes how to leave your site, the campground, and the region itself. The goal is to get out quickly, so don't attempt to hitch up the trailer. Just get out safely!
If there are known wildfires in the area or surrounding regions, you may want to consider canceling your camping trip. Fires spread quickly and you could find yourself in an evacuation zone fast. Nearby residents may also need the campsite if they had to evacuate their homes.
When it comes down to forest fires, we can do a lot to stop them from happening in the first place. The best way to prevent forest fires while camping is by having a good deal of knowledge under your belt about the dangers involved in camping and what can be done to avoid experiencing a forest fire. Make it a rule for yourself and those around you to enjoy a safe and exciting camping adventure by following a few safety rules of the forest.
One little mistake can be costly, as well as deadly, and must be avoided at all costs by each individual camper. So have fun, be safe, and enjoy the beauty of the forest while on a camping adventure!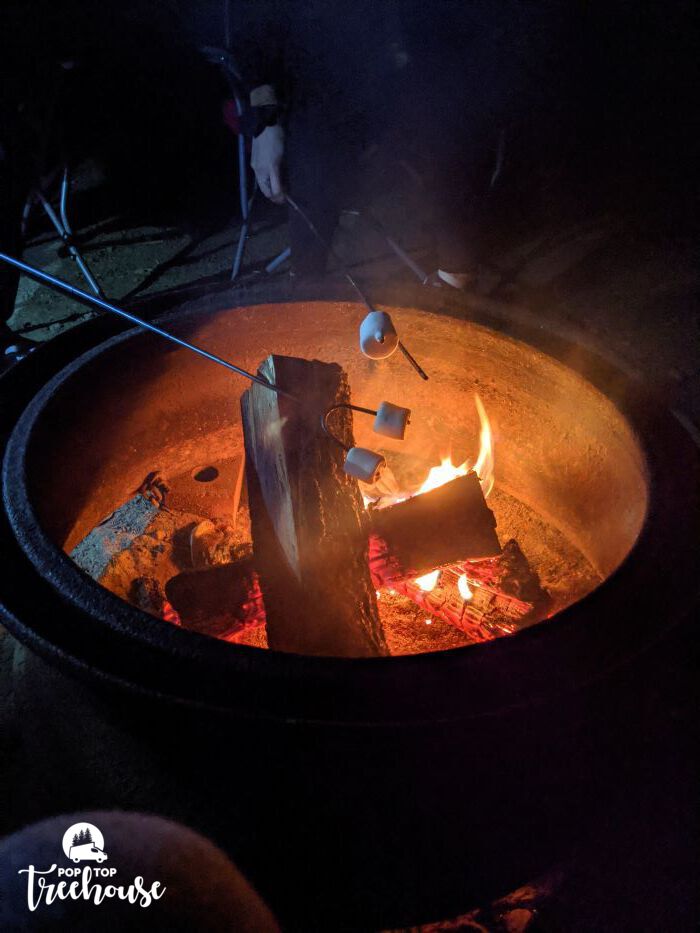 More Safety Tips from Poptop Treehouse: