Get creative in fire-building with these fun campfire hacks. You can turn this camping necessity into a wildly good time with practical tips and awe-striking tricks!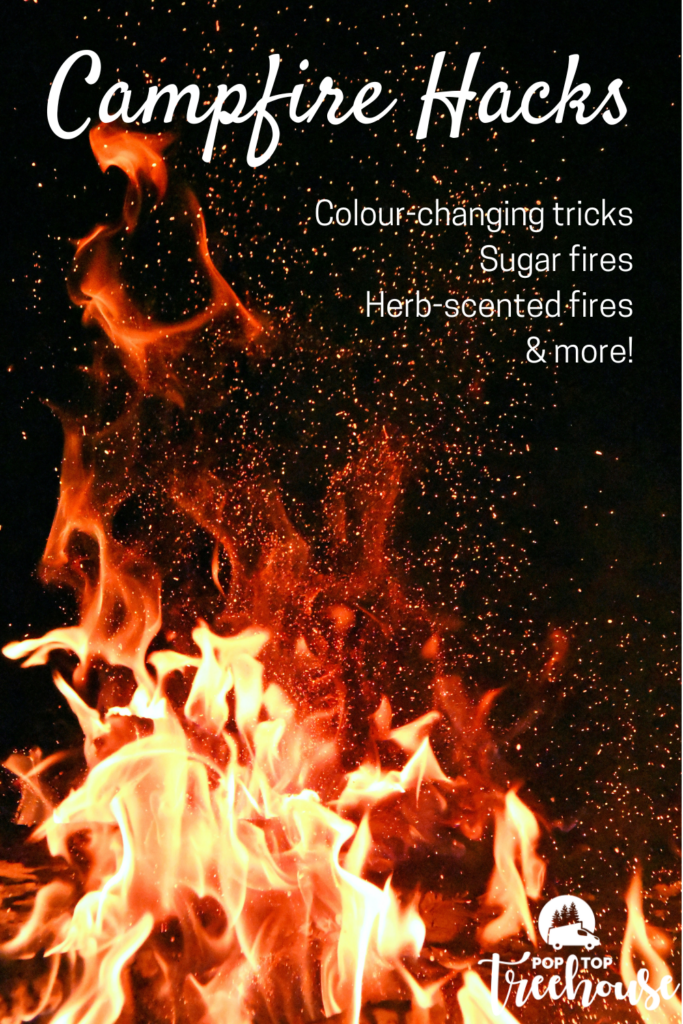 There's nothing like gathering around a campfire; the experience is incredibly sensory, with brilliant-coloured flames, crackling wood, and smokey scents. 
A campfire is also a natural gathering place – a place to get warm, tell stories and have fun, and share a meal.
And with a few campfire hacks, you can make this experience even more special.
This post includes fire-starting basics, cool tricks, and safety tips to elevate your campfires to new levels.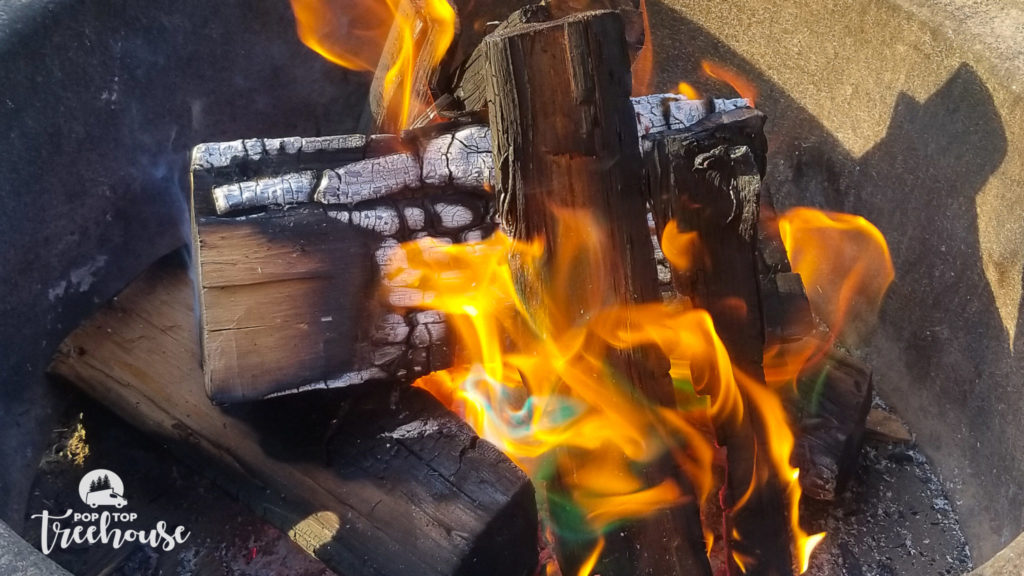 Campfire Hacks to Start a Fire Easily
Starting a campfire can be frustrating when you don't know the basic principles of fire-starting. Here are some campfire tips to help you start a fire–easily!
1. Follow the Basics
The quickest campfire hack isn't really a hack at all; it's simply knowing the basics of building a fire.
Here's how to get the job done.
Collect your materials
You'll need the following:
Large rocks (or pre-set firepit)
Kindling (small twigs, sticks)
Tinder (dry leaves, grass, bark, wood shavings)
Wood (cut logs, branches)
Igniter (lighter, matches, flint)
Set your firepit
Place your large rocks in a circle to help keep your fire contained. If you have a pre-set firepit at your site, use that!
Add your kindling
Next, add small sticks and twigs as a base for your fire, layering them in a cross-hatch to promote oxygen; they will help keep your flames alive.
Layer your tinder
Then, add your tinder on top of your kindling. Tinder refers to flammable materials that catch fire easily, like dry grass, bark, leaves, or wood shavings.
Light your fire
Next, light your fire with your igniter of choice (flint, lighter, matches, etc.). 
Add additional kindling as your fire begins to burn.
Add wood
Once you have achieved a steady flame, add branches or logs to your campfire; these will help keep your fire blazing.
Remember to allow airflow between the logs to provide the necessary oxygen to your flame.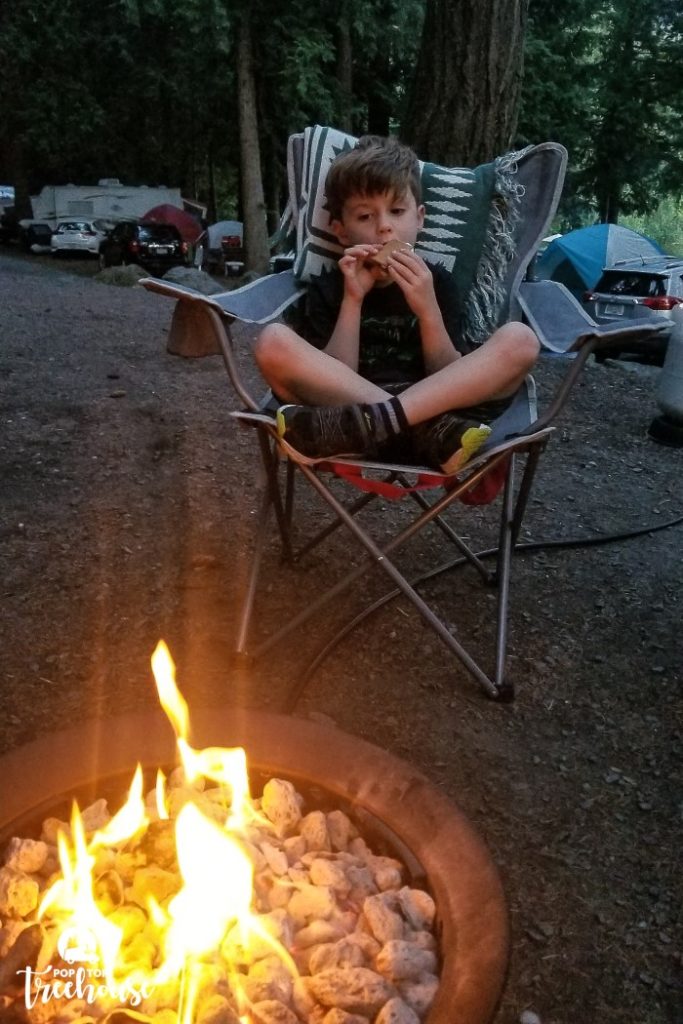 2. Use a DIY Firestarter 
For easy campfire building, a DIY Firestarter can be extremely helpful; it will help your flame catch quicker and last longer.
Some easy DIY fire starters include:
Dried orange peels
Sticks and wax
Pinecone fire starters
Cotton balls and Vaseline
For more ideas, check out my post on DIY Firestarters – 10 Creative Ways to Start a Fire.
Cool Campfire Tricks to Impress Kids
Beyond the basics, these cool campfire tricks will impress kids and make your campfire experience a total spectacle! 
3. Make Colour-Changing Flames
Did you know that adding some basic household ingredients to your campfire can change the colour of your flames?
Experiment with these fun colour-changing campfire hacks:
For white flames, add Epsom salts.
Get bright orange & yellow flames with table salt.
Create green-yellow with Borax.
Ignite purple flames with a water softener.
Try adding these ingredients to some DIY firestarters for easy integration, like these pinecone fire starters.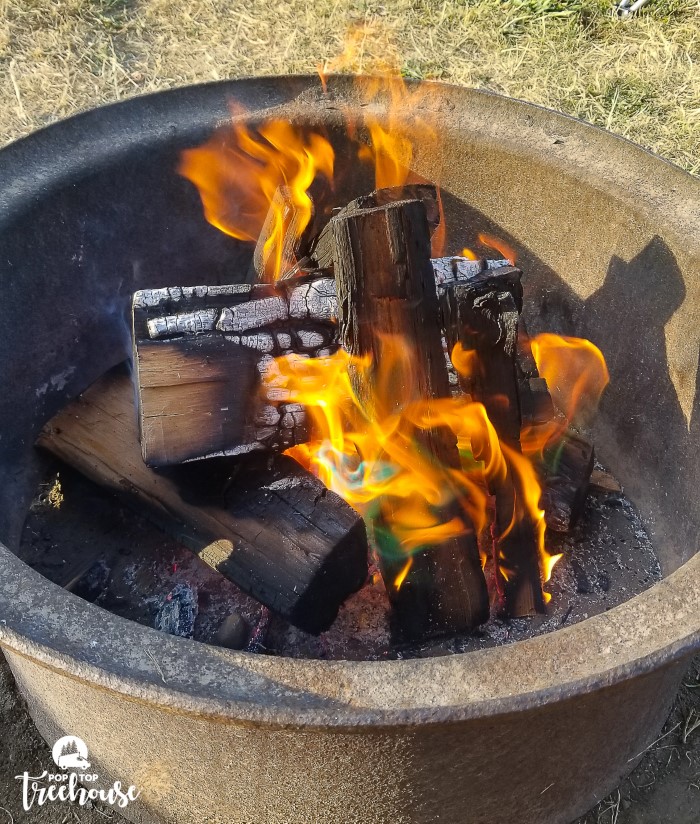 4. Create Sugar-Sparks
Sprinkle a bit of sugar into your campfire for exciting pops and sparks!
Be cautious with this campfire hack and ensure campers keep their distance from the flame. 
5. Ignite Flour-Flares
A little bit of flour tossed into your campfire will make a flash flame–talk about a dramatic effect for your campfire ghost story. 
6. Try Scented Additions
Though a campfire smells pretty spectacular, you can add fun scented additions like herbs for ambiance and to naturally repel mosquitos!
Mosquito-repelling herbs include:
Lavender
Mint
Lemon Balm
Sage
Citronella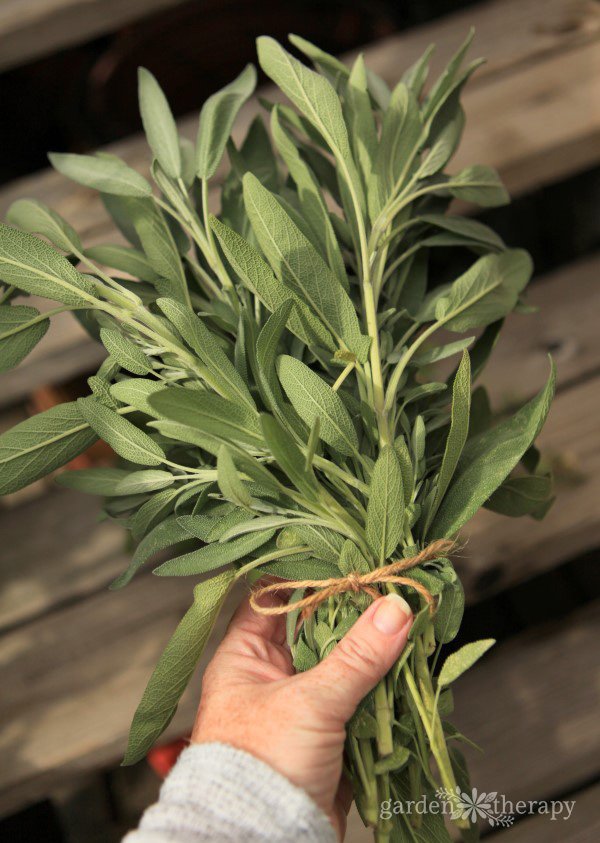 Campfire Hacks to Make a Big Fire
A warm, roaring fire is always preferable. Here are a few hacks for making a big fire while maintaining safety.
7. Choose Your Wood Wisely
A large fire takes time to grow (if you're burning one safely). Choose hardwoods for long-lasting, tall flames like oak.
Learn more about The Best Firewood for Camping here.
8. Create a Smart Set-Up
The trick to a large campfire is a smart set-up. Follow the campfire building basics, use a helpful firestarter, and arrange your wood to promote oxygen flow for climbing flames.
9. Be Fire-Safe 
While a big fire is useful for warmth and exciting to watch, always follow these basic tips to maintain fire safety.
Never allow the fire to grow bigger than the campfire pit.
Build your fire away from debris, including all camping supplies and overhanging branches.
Avoid campfires in windy weather.
Keep flames to a manageable, extinguishable size (½ m tall, ½ m wide).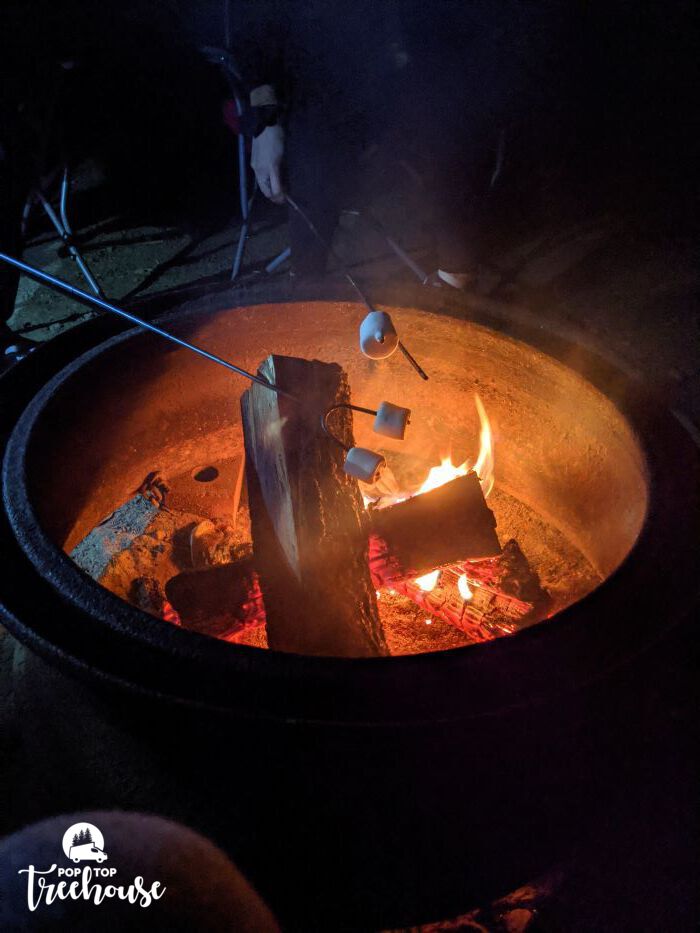 Tips for Maintaining a Fire
Once you have your campfire built to perfection, here are a few campfire hacks to maintain your flame.
10. Replenish Your Fuel 
A good campfire takes some patience and maintenance–as it burns down, you'll need to replenish your fuel. 
Add additional kindling and wood as your fire burns, taking care not to smother the flame.
11. Use Dry Materials 
The most important hack for maintaining a fire is to use dry materials; if your wood is slightly damp, your burn time will be limited. 
Not to mention, damp firewood will restrict your ability to start your campfire!
Ensure wood and kindling are dry before adding them to your fire pit.
Also, avoid using full logs and chop them into smaller sections before adding them to your flame; this will ensure they are dry all the way through. 
12. Swap Wood Types
While softwood may be easier to start a fire, hardwoods are better for maintaining.
Consider starting your campfire with softwoods, then adding hardwoods once your fire is stable for a longer burning time.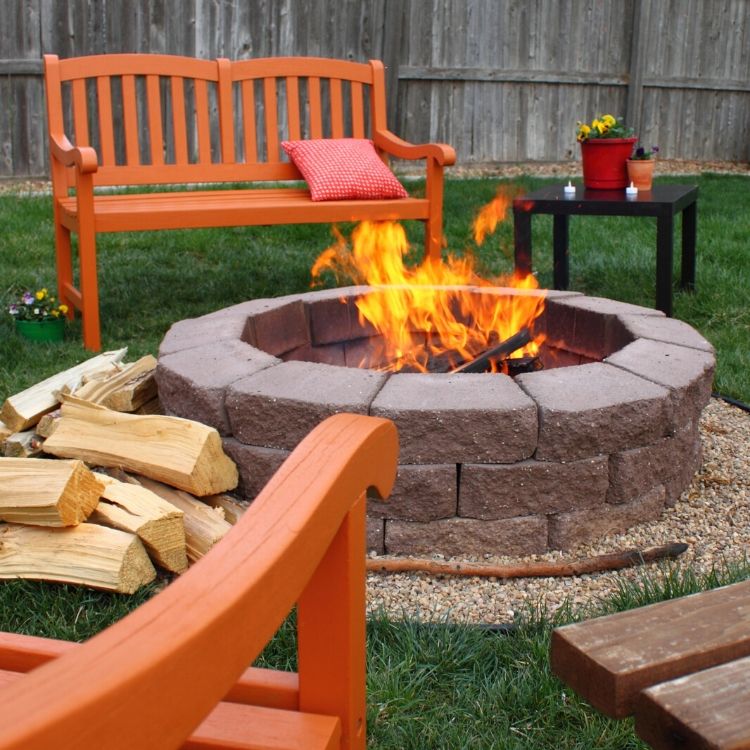 How to Safely Put Your Fire Out
While you want your fire to be long-lasting, always extinguish your flames once you're done.
Here's how to safely put out your campfire:
Drown your fire with a bucket of water.
Use a shovel to add soil or sand to smother the flame.
Mix your ashes with the soil until everything is extinguished.
Your fire pit, including the surrounding rocks, should be cool to the touch.
Lift the surrounding rocks to check for remaining embers that could re-ignite.
When you think your fire is completely extinguished, add more water and wait a few minutes. You're better safe than sorry.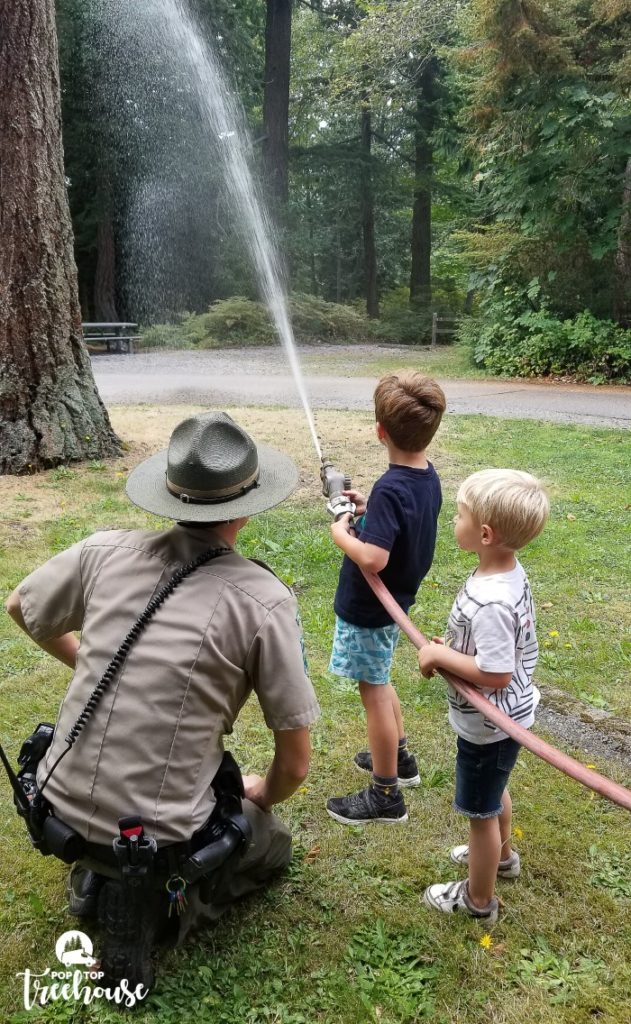 More Campfire Fun: