Camping is the best time to turn off those iPads and escape the screen. Encourage your kids to get active, involved with nature, and play with one another with this huge list of camping games for kids.
In my past life, I spent ten years in Girl Guides and worked as a camp counsellor for two summers. Between the two of them, I have learned and played many camping games for kids!
Writing this has been really fun as I go back and remember some of my favourite camping games. Things I used to do with my family while camping, like play capture the flag or put on a play, while others I did for hours with Girl Guides (camouflage was an all-time favourite in my guiding group). If you can get a big enough group together, I also included some great games I used to play and lead at camp.
I've gone into detail the best I can about how to play some of these games. For the most part, you don't need anything extra to play the game, or it uses things you already have on hand. Imagination is the biggest tool to use!
I included games that are great for groups, ones that can be adapted for different ages, as well as some nighttime activities. I'm positive you'll find a few games your kids will rave about to pass the time while camping.
Group Camping Games for Kids
These games are best played when you have a large group of players, at least 5. If you don't have enough kids to play with, encourage your kids to make some friends at the campsite or join in yourself!
Captains Orders
This a great group activity that will get the kids moving. It's almost like a version of Simon Says! In the game, one person plays the captain. They stand at the front/center of the play area and say commands. Each player must do the command correctly, or they're out.
Here are some of the commands to get you started.
Port: players must run to the side of the play area you deem as the ship's "port"
Starboard: players must run to the side of the play area you deem as the ship's "starboard"
Scrub the deck: get down on the ground and pretend to scrub the ground.
Peel potatoes: get down on one knee and pretend to peel potatoes.
Captain's coming: stand upright and hold a salute while saying, "Aye aye, captain."
Captain's wife: curtsy repeatedly until new order.
Lifeboat of 5: this works for larger groups. Captain says an x amount of people to fit in a lifeboat. Kids must then line up in that number and pretend to row the boat.
You can easily change this game as you wish by adapting or adding new commands to the game. The last player standing gets to be the new captain!
Evolution
Evolution is a great icebreaker game to play with other kids at the campsite or to get a large group involved. It's a fun take on a rock paper scissors tournament, so make sure everyone knows how to play that first.
You play rock, paper, scissors with others at the same stage of evolution. If you win, you evolve to the next stage. If you lose, you go down a stage. At the beginning of the game, everyone starts as amoebas.
Here are the stages of evolution:
Amoebas: players wiggle their arms to indicate they're an amoeba.
Eggs: players hold their arms above their heads like an egg.
Chickens: players walk like a chicken and cluck.
Dinosaurs: players outstretch their arms like a big jaw
Rock star: players pretend to play the guitar.
Superhero: players hold their fists in the air like Superman.
Remember, players can only play rock, paper, scissors with those at the same evolutionary stage as them. When a player reaches the superhero stage, they have finished the game.
Autograph Game
This great camping game is for older kids or kids working in pairs. It's straightforward!
Adults or older kids will hide in various places throughout the campground. The kids then walk around with a piece of paper and try to find all the adults.
Once they find the adults, they try to get their autographs. But first, each child must complete an activity of the adult's choosing to earn the autograph. Here are some ideas for activities:
Beat them in a game of rock paper scissors.
Come up with a cool handshake.
Sing a song.
Colour a page in a colouring book.
The goal is to collect as many or all of the autographs from the adults in the allotted amount of time. Those with the most autographs win!
Mafia
Mafia is a fun game for middle school kids and older. Even adults will have fun with this one! In the game, one player is the "mafia." They are trying to kill off the town before the detective finds out who they are.
I go into further details about how to play mafia in my list of campfire games!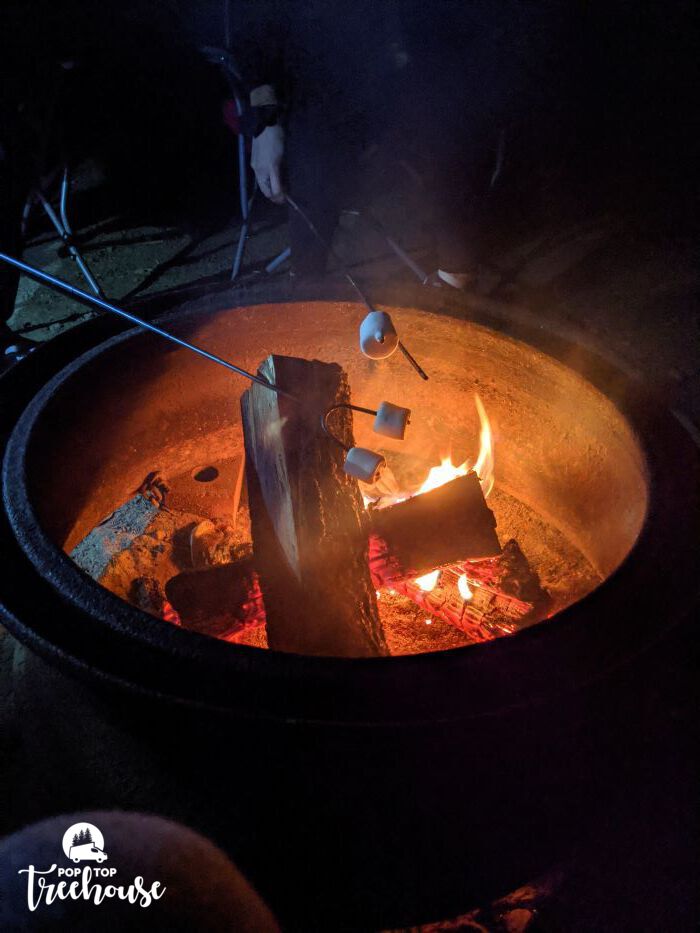 Capture the Flag
Capture the Flag is a great way to get everyone involved and active. Kids (and adults) or all ages can play it!
First, divide everyone into two teams. Then, designate the play area boundaries, and split the boundaries into two distinct areas. Things like pylons or a skipping rope can help make boundaries clear.
Each team has an easily recognizable flag they must hide on their side of the play area. The goal is to find the other team's flag and carry it back to your area without getting caught.
If you find someone from the opposing team on your side, you must try to tag them. If you do, they must go to "jail." A person must remain in jail on the other side's team until someone from their team makes it all the way to jail without getting caught. If they manage to do so, they may select one player from jail to take back to their side. They get a free walk back to their side together, though they are not allowed to do anything else on the way back.
To simplify things, you can play this game in a large field where everything is easily visible. Add multiple flags to make the game last longer.
Noodle Ninja
To play this game, you'll need two foam pool noodles. The game works by letting two players at a time trying to tap one another's feet with the pool noodle. Players must only hit the other players' feet (or shin area if you prefer) and must not hit any higher. The game is best out of three before two new players give it a try.
When explaining the rules at the beginning of the game, it's important to note what is a fair hit and places you can't hit. Make sure this is well known for a safe and fun game.
Camping Games for All Ages
These are some camping games for kids of all ages. Adapt the difficulty based on who is playing for hours of endless entertainment.
Scavenger Hunt
Planning a scavenger hunt is great for kids of all ages. A parent, adult, or older kid can go ahead and plan out all the different spots in the scavenger hunt. Lay out clues to get you to the new spot, or have someone complete an activity (like they do in The Amazing Race) to earn their next clue.
Scavenger hunts are best when they end with a prize or fun activity. I recommend making smores over the campfire!
Put on a Play
If you have some imaginative minds in the group, this is one of the best ways to keep kids entertained for a few hours while you can rest or do whatever else you like!
Ask the kids to put on a play. If they need help, give them a topic or idea to make a play about. Ask them to perform it that night after dinner or by the campfire.
To make it even more fun, give them clothing items for costumes or craft supplies to make their own props.
Spoons
If you're having a rainy day, it's a great time to pull out a deck of cards. One of my personal favourites to play with kids and groups of people is spoons. In this game, you pass around cards one at a time, trying to make a collection of four. Once you do, you reach the center of the table and grab a spoon! There is always one spoon less than people playing, like musical chairs, so it can turn into some competitive fun.
For more detailed instructions on how to play spoons and other card games, check out this post on group card games.
Camouflage
Camouflage is a camping classic. I find that kids can play this game for hours and never get tired of it. In camouflage, one person is it. They stand at the center of the play area, close their eyes, and count to 30.
Meanwhile, the other players hide in the vicinity. After 30 seconds, the player in the center opens their eyes and tries to spot the other players. They can move their head and turn around but are not allowed to move their feet from the center spot. If they see someone, they will yell their name and tell them they're out.
If the person in the center can't spot more people, they yell, "Food for 25." They then close their eyes and place their hands out, counting to 25. Each hiding player must then run over to the player and tap the player's hand and hide again within those 25 seconds.
This can go on, changing the amount of time the players have to run back until everyone is found. Players must decide whether to hide farther away so it's harder to see them or be closer to the center to make it easier to run back!
Human Knot
Human knot is one of the best camping games for kids when you need to entertain a group for a moment while you're waiting. It's also great for team building.
To play, everyone in the group gathers together in a tight circle. Each player must grab the hand of someone across them with either hand. They must not hold the hand of a person next to them and they must hold hands with two different people.
Once everyone is all tangled, the idea is to untangle the group without anyone letting go of anyone's hand. Everyone must communicate and work together to undo the human knot as a group. Once untangled, the group will be in a circle holding hands. It's like magic!
Hug a Tree
This camping game for kids is just straight-up adorable. The kids can get into pairs, one being blindfolded. The player with sight then leads the blindfolded player around the play area, so they're confused about their orientation. Then, they lead the blindfolded player to a tree.
While hugging the tree, the blindfolded player must touch and feel the bark, leaves, circumference, etc., to try and get familiar with the tree. The sighted player then wanders them back to the beginning via a new route. Once back at the starting place, the player removes their blindfold and tries to locate the tree they hugged.
Once successful, they switch turns, and the other player then gets blindfolded.
Make Flower Crowns
If you're camping during the summer season and there are many wildflowers in the area, go on a walk with the kids and collect some to make flower crowns.
For instructions and more craft ideas, check out my post on camping crafts for kids.
Colour Nature Walk
This one is great for the littles. Go on a nature walk to find every colour you possibly can. Collect something from nature that is yellow, green, red, blue, purple, orange, white, black, and brown.
Once you have your collection, head back to the campsite and make a collage with paper and glue, highlighting all your nature finds.
Night Camping Games for Kids
If you're looking for some evening entertainment, these are some great camping games to play with kids of various group sizes.
Blind Eagle
This game is best played in a field or wide open space. Select one player to be the eagle and have them stand in the center of the play area. Blindfold them and give them a flashlight. One other person must stand by their side as the assistant.
The other players form a large circle around the eagle in the center. Slowly, they try to stalk closer to the eagle as quietly as possible. If the eagle hears anything, they aim the flashlight toward the noise and yell, "Freeze!". All players must stop.
Then, the assistant will say whether or not the eagle caught someone in their flashlight. If the eagle does catch someone, that person is out of the game. The first person to touch the eagle in the center wins and becomes the next eagle.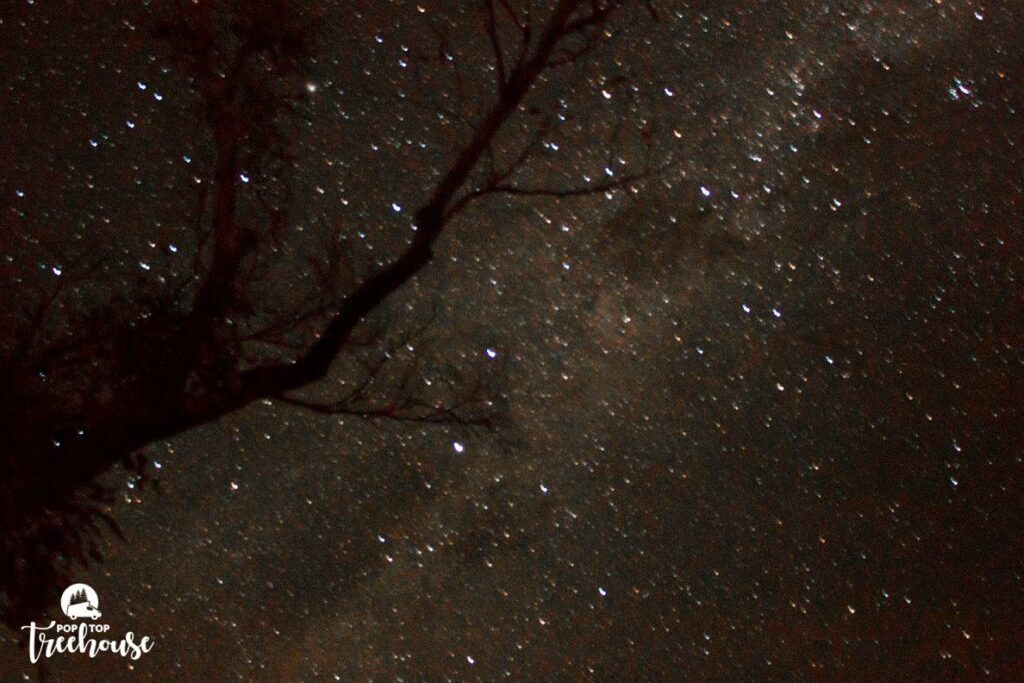 Sardines
Have all players find a buddy. One buddy group must hide within the pre-determined limits of the play area. Have all the remaining players count to 30 (or higher if needed) with their eyes closed to allow them time to hide.
After 30 seconds, the remaining buddy groups must find the hiding players. They join the group in hiding when they find them, squishing together like sardines. The game lasts until one pair of players is still looking for the group of kids hiding.
The buddy group that found the sardines first can hide the next round. For safety, giving everyone a whistle is a good idea, so it's easy to let everyone know when to come back or to help out.
Night Stalk
In Night Stalk, choose one player to be it. This player has a flashlight, and stands/sits at the center of the play area.
All other players are given four rocks. Place a bucket in each corner of the play area. The goal is for the players to place one of their rocks in each of the four buckets without getting caught.
The player in the center must shine the light if they hear a sound to try and catch the other players. They may only use the flashlight when they hear something and cannot continuously search or shine the light in the area.
Look for Constellations
Camping is always an amazing time to spot stars since you're out of the city and away from light pollution.
Try to look at constellations in a dark area away from any light sources. Spread blankets on the ground and give your eyes at least 15 minutes to adjust.
You can also use this time to explore how sharp your senses are. Ask the kids what they hear and smell, and what they might not notice during the day.
If you need a starting point for common and easy-to-find constellations, check out my constellation guide here!
Those are all the camping games for kids I have in my tool kit! If you have any more games to share or questions about how to play them, leave them in the comments below.
More Camping Fun!