With the rising popularity of van life, stealth camping isn't quite as discrete as it used to be. To the local resident's eye, what was once a work van could now be housing some campers. But just because it's more popular doesn't mean you can't camp out in your car or drive a stealth camping van. Here are my best tips for successfully camping in urban spaces.
What is Stealth Camping?
The goal of stealth camping is not to get seen by people. Oftentimes, you camp in an urban area or other places that aren't ideally set up for camping. One thing is for sure…you're not at a campsite!
Stealth camping requires you to put on a low profile and set up a shelter of some kind. This can be a tent, tarp, or even something made out of the natural environment, but it is most often associated with car camping and van life.
Is Stealth Camping Illegal?
It depends on where you are. For being out in the wilderness, crown lands, US forest service roads, national forests, and Bureau of Land Management areas are often okay. In some cases, you will require a permit to do so.
For urban stealth camping, you must be careful where you park your car or van. Some cities, like Los Angeles or San Diego, forbid you from sleeping overnight in your car altogether.
Most importantly, you want to pay attention to signage like permit-only parking, no parking during certain hours, sweeping street signs, or no overnight parking. The worst thing that could happen is getting towed while you're in the vehicle!
Where to Find Legal Stealth Camping Parking
If you know where to look, there are actually quite a few safe places to park your van. When parking, ideally look for well-lit spaces and those that you would feel comfortable staying the night in. Find a flat, shaded spot, if possible, and plan to keep your head elevated above your feet.
Residential Areas
It's important to pay attention to residential areas, as many could be for residents only. Look for crowded areas where lots of people do street parking. In this case, you're just one car among many more, and people won't single you out as a non-resident. These streets are also quite safe and quiet.
Box Stores
Many stores will happily allow you to stay the night, as they believe it could encourage you actually to shop at the store. Here are some common stores that would allow stealth camping:
Walmart
Cabela's
Cracker Barrel
Camping World
Home improvement stores like Home Depot or Lowes
Costco
Anytime Fitness (and other 24-hour fitness spots)
Commercial Areas
Oftentimes, people care less if you stay the night in commercial areas, and they won't have as much security as retail parking lots. Once again, pay attention to street signs and park in a well-lit area, as these places could be less busy when staying overnight.
Hospital and Church Parking Lots
Hospitals are open 24/7 and so a car staying overnight doesn't look suspicious. Churches often accept people looking to stay overnight in their parking lots as long as they don't linger. Use your gut intuition with parking at churches and hospitals, as it's a case-by-case basis.
Casinos
Casinos that are open 24/7 will let you stay in the parking lot with no problem. As an added bonus, you can access some nice washrooms and even grab some food if you don't feel like cooking.
Truck Stops and Rest Stops
Outside the city, you can park at truck and rest stops. You can even purchase a shower at many truck stops; the facilities are usually clean and tidy. Some truckers say that truck stops should be reserved for working vehicles only, so use your discretion and make sure you find an appropriate place to park that's not in the way.
Stealth Camping Tips for a Successful Night
Whether you're trying #vanlife or car camping for a quick and easy setup, these tips will really lessen the learning curve when it comes to stealth camping.
Privacy
Privacy curtains act as sun protection and keep away prying eyes. You can hang these behind the front seats to protect your sleeping area from view behind you.
You will also want covers for your windows. These are made or cut to shape for all your car windows and can be attached with magnets, Velcro, suction cups, and more. You can get summer ones with screens to leave the window open while keeping out bugs. Or, winter screen options are insulted to keep in the heat.
Another option is to get some heavy-duty window tinting installed in your car. You can buy kits to do this yourself, but a professional can do a better job that lasts longer.
Blend In
I know it's fun to have fun bumper stickers, your IG handle, or a bright colour reflecting your bubbly personality. The reality is that it won't help you blend in and create the image that no one is inside.
Avoid having extra stuff on the outside, such as roof racks, solar panels, kayaks, etc., as much as possible, as this can draw attention.
The goal here is to appear like a white work van or just a regular old car parked outside.
Consider Your Build
If you're still in the process of building and designing your van set-up, make privacy and stealth a factor in your design. For instance, I saw a great van design where they purposefully left one side of the van without windows so they could position the van accordingly for tons of privacy.
Keep Quiet
Anything going on inside your van is going to attract attention to it. So don't blast music or movies; even consider when you decide to turn on a generator or fan.
Arrive Late, Leave Early
Arriving late and leaving early is one of the golden rules of stealth camping. You don't want to be somewhere any longer than you need to be. If you can park and get all set up when no one else is around( like avoiding when everyone returns from their 9-5 at the same time) no one will be any wiser that you're there to stay the night.
Move Often
Sometimes you find the ideal spot, with lots of shade, a quiet street, privacy but safety, and quick access to a toilet and shower. As ideal as it is, you don't want to overstay your welcome. Avoid staying in the same spot for more than a couple of nights. Also, be sure to move during the day so you're not hunkered down and drawing attention from local residents who may want to call and report you.
Be Respectful
The reason that cities have banned car camping or that residents will call and report someone stealth camping is that previous people weren't respectful enough of the space. Never leave behind garbage or go to the bathroom outside inappropriately. Even when you're not in the woods, you should follow leave no trace principles.
Also, be sure to keep your car's or van's exterior clean. This makes your car look more presentable and welcoming, and will help you blend in more.
Consider Security
Always be sure to hide any valuables from sight, even when you're in the car. You may also want to consider installing an alarm system or a heavy-duty lock for when you leave your van parked.
When sleeping, always keep your keys nearby so you can quickly grab them in case of an emergency.
Handle Knocking Appropriately
If you do lots of stealth camping, chances are you may have to deal with someone knocking on your door at some point.
Rather than opening your side door, make sure to crawl to the driver's seat, roll down the window, and talk from there. Never give access or show your sleeping area to any strangers, even the police.
If it's the police, apologize and say that you didn't want to drive tired. If they ask you to move, do it. Don't try to argue.
If it's someone other than the police, being in the front seat and not opening the door or unlocking it keeps you safe and allows you to drive away if needed.
What Do I Need for Stealth Camping?
Stealth camping requires the right gear for everything to go smoothly. You'll find out what you need based on annoyances and what goes wrong, but these are some extras that I have seen as valuable to save you some time to discover for yourself.
Privacy Screens and Curtains
As mentioned above, privacy screens and curtains are one thing you most definitely need for stealth camping. Otherwise, anyone can see inside your vehicle while you sleep, which can be quite dangerous.
Moisture Absorber
After a night's sleep in a car, you'll notice how moist it is from your breathing. Moisture can create mould and mildew problems, keep the air cold, and freeze on the windows when it's cold. A moisture absorber aids in keeping moisture levels low, even when the window is cracked.
Window Visors
You'll need to keep the window cracked at all times to keep airflow. If it's raining, a window visor can keep out the rain while you leave the windows open.
Bug Screens
Likewise, keep the bugs out during the summer by keeping bug screens over your open windows.
Lighting
You'll need a few different rechargeable or battery-operated lights. My favourites are using fairy lights for ambience, lanterns for overall lighting, and headlamps while you're busy using your hands.
Organizers
Clever organizers will be the best thing you do when living in a small space. Back seat organizers are really awesome for holding lots of small things. Also, get bins that fit into weird or tight spaces. Keep them organized by category so you can quickly grab one for cooking, clothes, toiletries, etc.
High-Quality Battery
You want something that can power any of the electronics you need. While small power banks are good for phones, they might not be able to handle larger things like flashlights, laptops, fans, etc. Keep a good, reliable battery to charge all your electronics.
Comfortable Bed
A key to a good night's sleep, you don't want to skimp out on your bed. There are many sleeping pads and mattresses specially designed for fitting into the back of cars. You can even create your own platform with bonus storage underneath.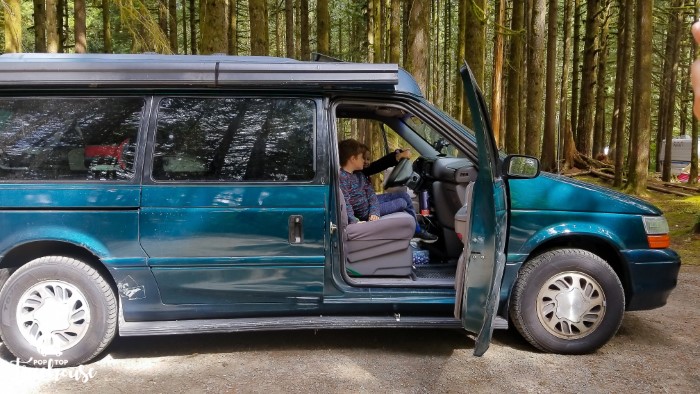 Have you tried stealth camping before? Tell me your experiences in the comments down below.
More Camper Van Tips!