Looking to buy a home-on-wheels? While it may not be as pricey as a house, camper vans are still a big purchase. Here are the questions you should ask yourself before making the plunge and buying a camper van.
For 15 years I wanted a camper van. When I finally decided to take the plunge, I really had no idea what I was looking for. To say my camping knowledge was lacking may be an understatement. So I did what everyone does…googled it!
Unfortunately, I found it extremely difficult to get the information I was looking for. Buying a camper van is a huge decision. After all, it will be your home on wheels, your gateway to adventure, and your trusty steed on the road. When you're shelling out the big bucks, you want to make sure you're making the right choice.
This is the list I wish I found when I first started the hunt for my camper van. Maybe you have fond childhood memories of your family packing up their van for a weekend trip. Or perhaps you were inspired by a setup you saw on Instagram. No matter your motivation, you should consider a few things before you go all-in on buying a camper van for the first time.
1. Can You Keep It Simple?
Experienced camper van owners will tell you that when buying your first camper van, the simpler, the better. There are endless options for upgrading a van, from solar panels to drop-down beds to fancy countertops. But whether you're planning to live out of your camper van full-time or use it for the occasional camping trip, it's hard to know what extras you'll need until you've used your van quite a bit.
Rather than waste money (and time, if you're converting the van yourself) on features that you might not like or need, try starting with the simplest, least expensive option you can.
You can save your pennies for your dream van in the future while figuring out exactly what that looks like. If that won't work for you right now, try renting a camper van with the features you think you'd like before fully committing to the purchase.
After all, the whole purpose of camping is to lead a more simplified life than you would in a house. It is a time to get down with nature, not hole up inside and enjoy your luxurious camper!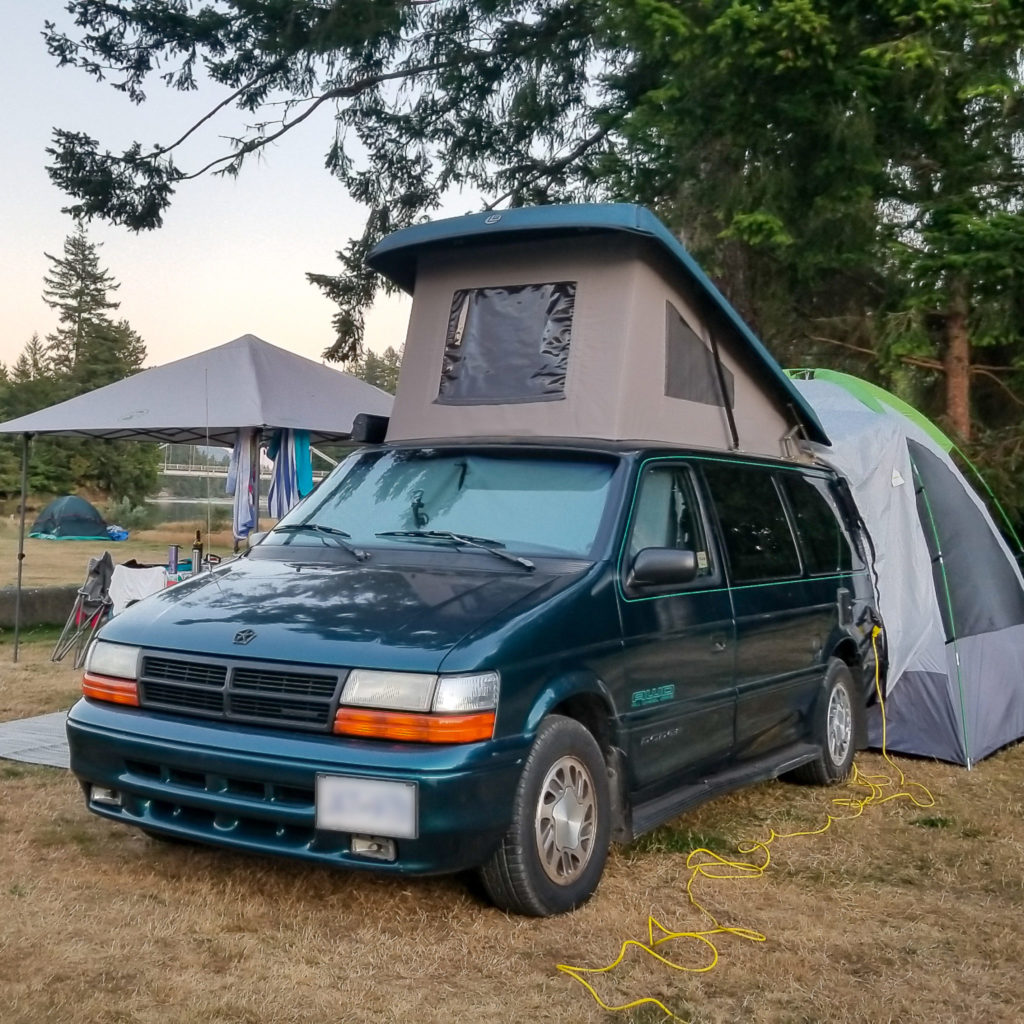 2. Are You Actually Able to Drive It?
Camper vans may be smaller than RVs and motorhomes, but they're still big vehicles and can be more challenging to drive than a car. While some of us may be familiar with cruising around in an SUV, others may be more used to zipping around in a small car.
It's important to know your own driving capabilities and what you will be comfortable with when driving! I recommend that you spend a fair amount of time test-driving the van to make sure you're used to the size and turning radius before you sign the paperwork and drive it off the lot.
If you think you will be towing something, this is also important to factor in during your test drive. Also, be sure you know if the van has a manual or automatic transmission. If you're not comfortable driving a manual, a camper van is definitely not the vehicle you want to learn on!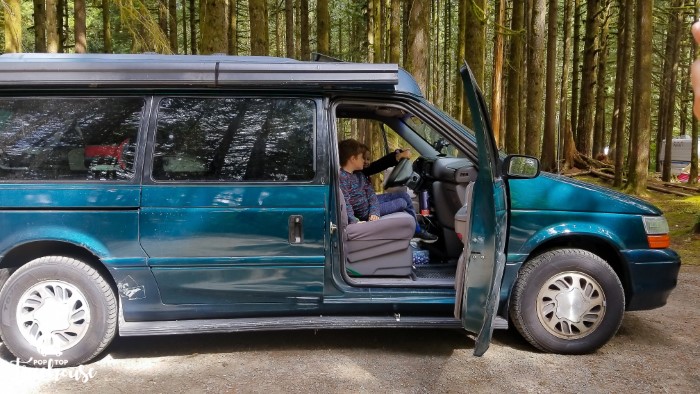 3. Do You Want to DIY, Get a Custom Van, or Buy a Manufactured Camper Van?
Camper vans (also known as Class B vehicles) come in three different kinds: 
DIY masters: vans that people convert into campers themselves, taking the DIY route.
Cargo kings: cargo vans that outfitters customize into camper vans for buyers.
Ready to cruise: specifically manufactured camper vans by companies like Airstream and Winnebago.
All three types are great options, and the one you choose will have a lot to do with your time and skillset, as well as the level of customization you want. For some people, converting a van themselves is a huge part of the appeal. For others, purchasing a van from a trusted company makes them feel the most comfortable.
4. How Many People Will Sleep In It?
If you use your camper van to travel alone or with one other person, having enough room to sleep shouldn't be a problem. But things can get a little tight once you add in a third adult or a few kids. If you know your van will need to sleep more than two, ensure there's a solution.
If you're DIYing your van, build extra sleeping spots into your plan. Or, buy a custom or manufactured van with options like a pop-top or a bench that converts to an extra bed.
I use my van to primarily host my son and I. When looking for my camper van, I knew I needed at least two sleeping spaces. While my son may be fine with cuddling now, I know he will want his own space as he gets older! If you can, try to envision the future as far as your eye can see.
I knew that I needed more room than the initial design of the camper. With some trips lasting more than a week and my son needing some fun activities to keep him occupied, adding a tent to the back of our camper has been a huge help.
5. Should You Get a New or Used Van?
The pros and cons of new versus used are the same for camper vans as any other vehicle. A used camper will be less expensive but will have more mileage and may not be as in good of shape with wear and tear. It's also important that you are fully aware of the RV's history before you make any purchase.
While you get to start from scratch with a new van, it will be more expensive. When it comes down to it, would you like to put in a little extra elbow grease, or would you rather purchase and camp that very weekend? Does your budget allow for brand new RV or for used RV?
When buying a camper van, think about what is ideal for your situation. For me, budget and customization were important factors in my decision to go with a used model.
6. How Much Storage Do You Need?
People's storage needs vary greatly depending on how they use their campers. If you're one person on a weekend camping trip, you probably won't need to pack that much. But a family of four on a road trip to the beach for a surf trip will have different needs (after all, we can't forget the sandcastle-building supplies). Make sure the van you choose has enough storage for how you want to use it.
Try these space-saving organization hacks.
7. Do You Want a Low-Roof, High-Roof, or Pop-Top Roof?
Did you know you have options even when it comes to the roof of your van? Low-roof vans give you more parking choices, as they can usually fit in garages. You probably won't be able to fit a high-roof van in a parking garage, but they do provide more standing space.
If you're 5'2" and occasionally go camping, a low-roof van could be more convenient. If you're 6'3" and living out of your camper van, a high-roof is a more feasible option.
You can also buy a pop-top camper or have a company do it. If you couldn't already guess, this is the set-up I have! Pop-tops/pop-ups offer more sleeping room for families, as well as fresh air, natural light, and more standing room (not to mention a gorgeous view of the surrounding trees).
However, during chillier times of the year, you may need to cover the upper windows with extra panels to keep your van from getting too cold. My son and I do not camp during the colder months, so this has not been an issue.
8. Should You Get a Built-in Bathroom?
One luxury option is to buy a camper with a bathroom. Buying a van with a toilet, shower, and bathroom sink is even possible. For some, a bathroom takes up too much space and doesn't feel necessary. Others appreciate the convenience, especially if they're travelling long distances with children. Another option is to pack an outdoor shower and a fold-up portable toilet.
For the most part, built-in bathrooms in campers and travel trailers often end up as extra storage space. My solution for the bathroom was to have a portable toilet in the tent attached to the back of my camper. This allows for quick midnight bathroom breaks without taking up valuable room.
9. What Type of Weather Will You Experience?
Depending on what weather you'll face in your camper van, there are certain features you'll want. For instance, if you plan to travel to colder climates, insulation is a must to keep you from freezing at night. If you think you'll encounter rain, mud, or go off-roading, ensure you have good tires.
And, it's worth checking out four-wheel-drive if you're planning on driving your camper van through the mountains.
Living in the Pacific Northwest means I am blessed with warmer weather year-round, but I get to experience a ton of rain. This meant I didn't have to stress as much about finding a warm camper, but I did want to make sure it had an awning for rainy days.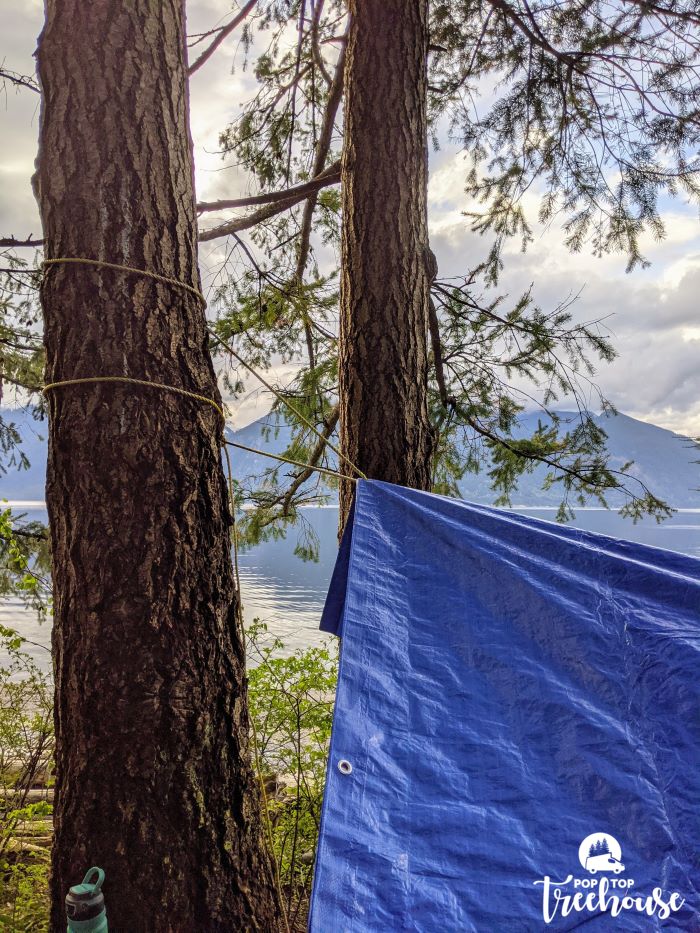 10. What's Your Total Budget?
While the sticker price may seem like the final cost, it's important to remember there will be more expenses after the initial purchase. I had to factor in repair, alterations, and additional gear as a part of my total budget. As with any vehicle, there will also be taxes and insurance, so consider those costs too.
11. How Do You Want to Buy Your Camper Van?
There are many ways to purchase a camper van. You can go to an RV dealership and test as many vans as you want before buying one there. You can also buy privately by finding listings online or in the newspaper. I actually found mine on Craigslist this way!
Motor auctions are a great way to find a bargain on a camper, but the vehicles there often need a lot of work so be sure to keep that in mind while bidding. And you can even bid on all types of RVs on eBay! While you might find a good deal on eBay, always set up a test drive with the seller before you bid. You won't be able to back out of the sale after 24 hours post-auction.
While buying a camper van is incredibly exciting, there are many things to consider. Set a realistic mindset when shopping for your camper van, and don't be afraid to ask the seller tons of questions.
If you have any doubts, make sure you know exactly what you want and how much you want to spend before you commit. That way, you'll be happy with your purchase and have years of enjoyment travelling in your camper van. Happy shopping, and enjoy your new camper van!
Frequently Asked Questions About Buying a Camper Van
What is the lifespan of a campervan?
A camper van or motorhome can last anywhere from 10-30 years or 200,000 miles. You can make it last longer if it's extremely well-maintained.
Just like your car, treating it with proper care will extend the life. You should do seasonal maintenance like oil changes, tire rotations, disconnecting the battery in the winter, sealing holes and cracks, etc.
Do campervans hold their value?
In the past decade, camper sales have gone up, meaning they're retaining their value more than before. Camper vans can range in value quite significantly. The average new camper van will cost you about $40,000 while higher-end Mercedes can reach upwards of $100,000 (these hold their value best). You can find used models in good driving condition for as low as $15,000.
Ultimately, the size of the vehicle, amount of miles and kilometres, the condition of the interior and exterior, deferred maintenance, and features will determine the resale value of a camper van.
Do campervans get cold?
While they might be more insulating than a tent, they still get cold on their own—especially those with pop tops like mine. If you plan to camp in cold weather, you will want to ensure your camper is equipped with a heater and well-insulated sleeping bags or blankets.
Is it cheaper to convert a van to a camper?
If you're willing to put in the elbow grease, you can save a lot of money by converting a van yourself rather than buying a new model. What shape the van is and how expensive the materials are will also affect the price. You don't want to convert a van that needs lots of vehicle repairs and maintenance, as these costs can add up down the line.
If you don't have much DIY experience, it might be a better option to go with a used camper van. Before buying a camper van, bring it to a licensed mechanic for a pre-purchase inspection.
More Camping Tips