Winter camping isn't as hard as you may think! When you come in prepared, it can be easy to stay warm while camping so you can enjoy the quiet of the off-season. Here are some of my tried and true winter camping tips so you never catch a chill!
If you've never tried cold weather camping, you don't know what you're missing! So many people pack away their camping gear and call it quits for the season as soon as the labour day weekend is over. But when fall comes sweeping in, it remains a great time of year to camp.
First of all, it's so less busy. Sometimes it can be hard to secure a campsite or find peace when there are so many people around you in the wilderness. But when the cool air comes, the people leave. And then you have so much of the area to yourself.
If you're brave enough to camp when there's snow, you'll instantly notice how much sound the snow dampens. You'll find no better peace than the winter woods!
I take out my camper van all year for all kinds of excursions, whether it's for day trips or overnighters. While I'm lucky to have things like a furnace, there are so many tactics I've learned over the years to keep the body warm during the winter. Keep reading to learn some of my top winter camping tips.
1. Sleeping Bag
When people ask how to stay warm in a sleeping bag, the type of sleeping bag you choose will have a HUGE effect on staying cozy at night. All sleeping bags should have a temperature rating. Since you can always unzip a sleeping bag when you get hot, you want to find a sleeping bag suitable for the lowest possible temperature you'll camp in.
There are 3 season sleeping bags that may handle some colder temperatures, but if you plan on doing winter camping, you'll want one designed and rated for winter.
The style of the sleeping bag also makes a difference. Mummy sleeping bags are the warmest as they won't trap in the cool air as much. For warmth, you'll want to use it properly by wrapping your head in the insulated hood, making sure your nose and mouth stick out.
Sleeping bags can have different insulation, typically considered synthetic or down. Before going to bed, fluff the sleeping bag to help evenly distribute the insulation flattened by the storage bag.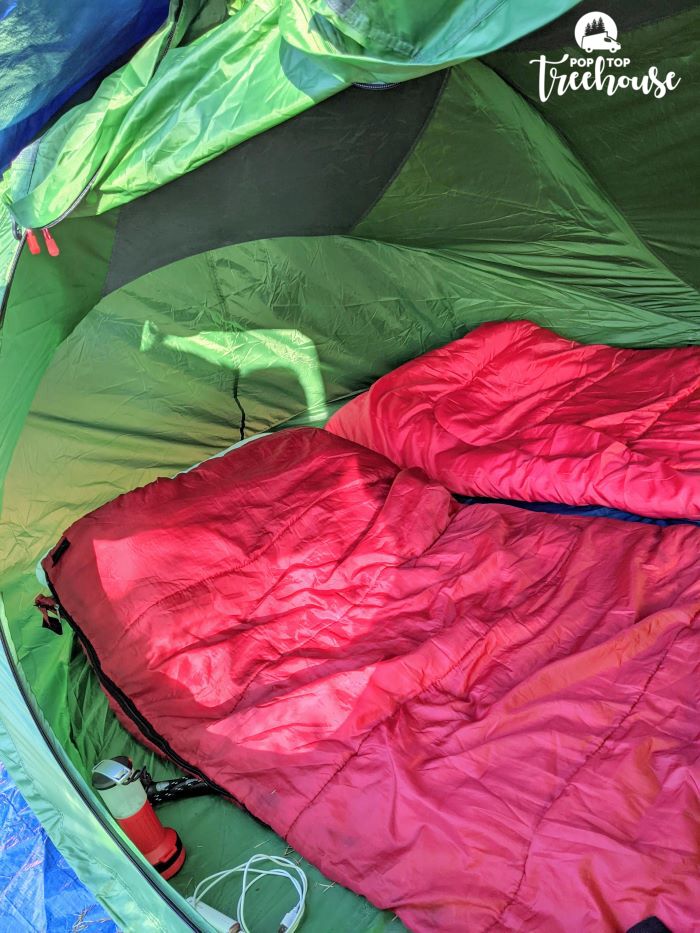 2. Insulate a Tent
You can actually increase your tent's ability to retain body heat. While you can buy insulated tents, they're pretty pricey and are best for people who go winter camping regularly.
The most effective way to insulate your own tent is to attach a reflective surface to the inside of your tent. Once again, not the most efficient way for the everyday camper!
Instead, I recommend adding a bottom layer to your tent. This can range from extra blankets to foam. My personal favourite is this dollar store camping hack where you layer play foam mats found in the toy section. It's inexpensive and works well to add a layer of protection against cold in the tent.
3. Hot Drinks
When you start to feel a chill, boil some water! Having some warm drinks like coffee, tea, hot chocolate, apple cider, or even plain hot water will help raise your body's internal temperature. And it will taste good while doing it! This is one of the best winter camping tips you can utilize any time of day.
4. Wear a Hat and Socks to Bed
Almost half of your body heat is lost through your head and neck. Adding your feet and ankles to that accounts for a lot of heat disappearing quickly. To keep warm in general, wear a warm hat to help lock in that heat. And while it may be uncomfortable, keep the hat on at night and wear a fresh pair of socks to bed to stay warm in a sleeping bag.
5. Portable Heaters
If you find your RV, camper, or trailer doesn't keep you warm enough with its furnace, you can add an additional portable heater to help keep a small space warm. Even tents can use portable heaters (such as propane-powered ones) as long as they are used responsibly. This means keeping the heater well away from anything flammable and resting it on a flat, heat-proof surface.
6. Sit By the Fire
This one is pretty obvious, but it needs to be said! A fire will help to keep you warm. When winter camping, it's nice to have a little fire going throughout the day. This way, anyone can stop by for a little warming up when needed. I personally use my propane fire pit!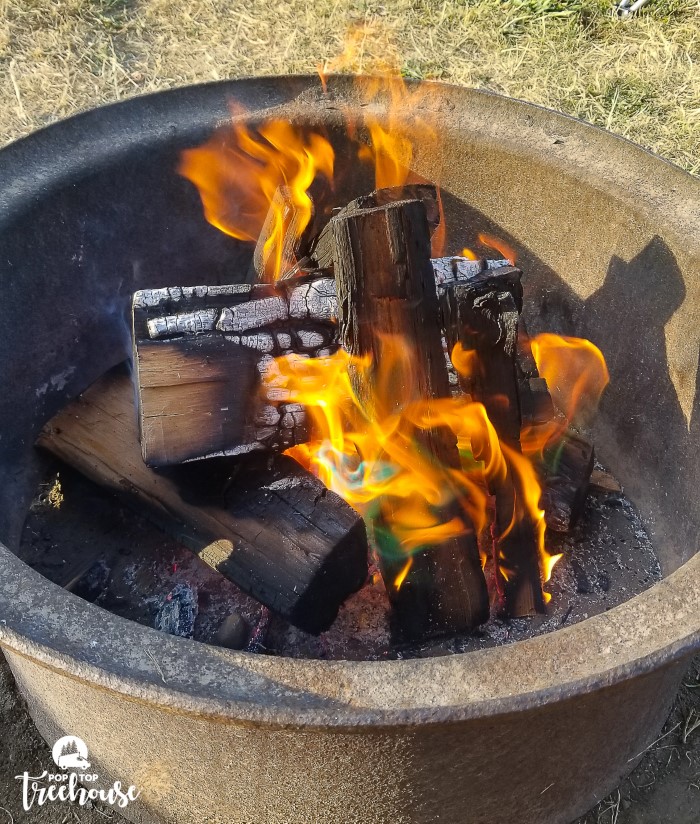 7. Hand Warmers
As part of my camping kit, I like to keep some extra hand and foot warmers on hand. Whenever it's really cold during the day, I can open one up and insert them into my boots or gloves. These are the first places my kiddo complains about being cold, so they're easy to keep warm with the little instant hand warmers.
8. Hot Water Bottle
This is one of the best winter camping tips. I know just how cold that jump can be from changing your clothes to getting into the sleeping bag! Instead, fill up a hot water bottle with boiling water and tuck it into your sleeping bag. When it's time to jump in, hold the hot water bottle at your belly or groin to retain plenty of heat.
9. Keep Moving
When you're cold, trying to bundle up and get cozy to stay warm can be tempting. But when your body's overall temperature has dropped, the best way to pick it back up again is to get moving. Go for a quick walk or hike before you decide to cuddle up.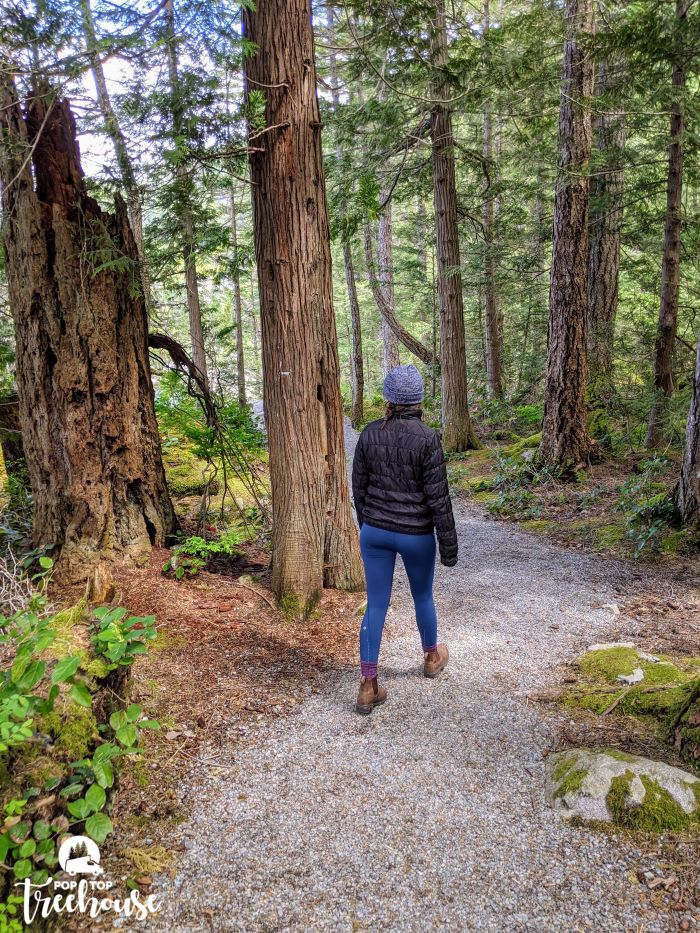 10. Dress in Layers
When camping, your temperature will fluctuate quite a bit. You want to dress in layers so you can easily adjust your temperature for when you heat up from cooking or walking and cool down from sitting.
The goal is to stay as dry as possible. Once you begin sweating, your body will begin to cool down. This is also why it's essential to change all of your clothes before bed. It can be tempting to go to sleep immediately when you're already dirty from camping, but you want to change all your clothes (especially your socks!). Even when you're already cold, you don't want to bring any moisture from your clothes into your sleeping bag.
11. Avoid Air Mattresses
Avoiding air mattresses is one of the most important winter camping tips. You do not want to sleep on air at all. Some air mattresses or sleeping pads that fill with air can become extremely cold. The cold air gets trapped beneath you, and you slowly cool down during the night, even through a sleeping bag. It's better to lie as low to the ground as possible and get a sleeping pad with a temperature rating to keep you warm.
12. Blankets
Always pack some extra blankets, no matter the season. At night, you can wrap your body in blankets. They're especially helpful at keeping your butt and back warm while sitting at a campfire. At night, you can also place a blanket over the top of your sleeping bag or inside with you (as long as it's completely dry).
If you really want something lightweight, opt for an emergency/space blanket. These things are completely reflective and help to maintain your current body heat.
13. Set Up Camp Carefully
Where you decide to set up camp and rest can have a big impact. For instance, valleys tend to be colder since cold air sinks while hot air rises. Alternatively, high points have an incredible amount of wind that can cool you down. Look for a sheltered area out of wind whenever possible.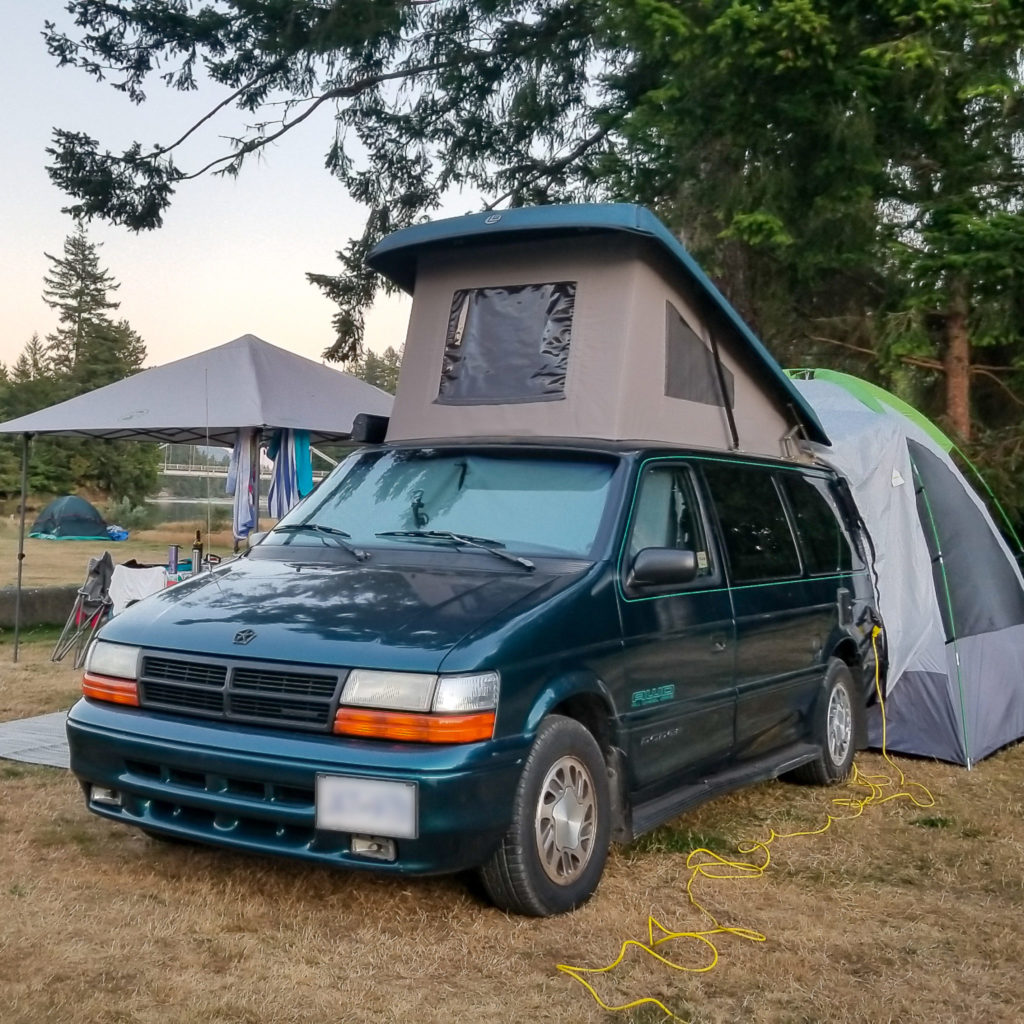 14. Eat Fatty Foods
If you ever needed an excuse to eat all the rich, butter-filled foods, now is the time! While trying to stay warm, the body can burn many more calories than normal. Try to increase your calorie update and include high-fat foods so your body can use them like a campfire uses wood.  
15. Heated Chair
If you really are fancy, you can buy a heated camping chair! This is a great cold weather camping hack for those who have storage in an RV or trailer and who like to do a fair amount of winter camping. The chair is completely battery-operated and acts as a heated seat when you're sitting and enjoying the outdoors.
More Camping Tips!