Looking for creative ways to store your camping gear through the cold months? These 10 camping storage tips will keep you prepped and ready for the first sunny weekend. 
Camping storage is no joke–with weather-specific items, bulky gear, and emergency extras, you end up with a ton of supplies to store in the off-season. 
It can be tempting to shove your camping gear into a garage or spare closet until you need it again, but this won't maximize storage space, and you'll have a lot more work when the camping season is back on. 
So, if you want future-you to be grateful, put in the work now with these space-saving storage solutions!
In this post, I'm covering ten camping storage tips to make the most of your storage space. Each tip ensures your precious camping supplies are safe and accessible during the off-season. 
You'll thank yourself later.
10 Accessible Camping Storage Ideas
Follow these off-season camping storage tips to save you time, money, and a whole lot of headache when camping season comes back around:
1. Keep a Running Ledger 
My number one camping storage tip is to keep a running ledger of all the camping supplies you have on hand.
You should also include specific items that you need to buy, replenish, and mend throughout the off-season.
This gives you the chance to replace damaged items throughout the winter when camping supplies go on sale.
You can also keep track of expirations for food and other necessities.
Lastly, it's a good chance to replenish your first aid kit and fill in any missing items before you take off on your next expedition. 
2. Use Stackable Clear Bins
Clear, stackable bins are one of the best storage systems out there; they're compact to store, fit easily into closets and upper shelving units, and are accessible to pull in and out when needed.
These Rubbermaid storage bins are a great investment because they're well-made and strong enough to stack multiple bins on top of each other. 
The clear plastic lets you see everything in the bin so you're not left guessing.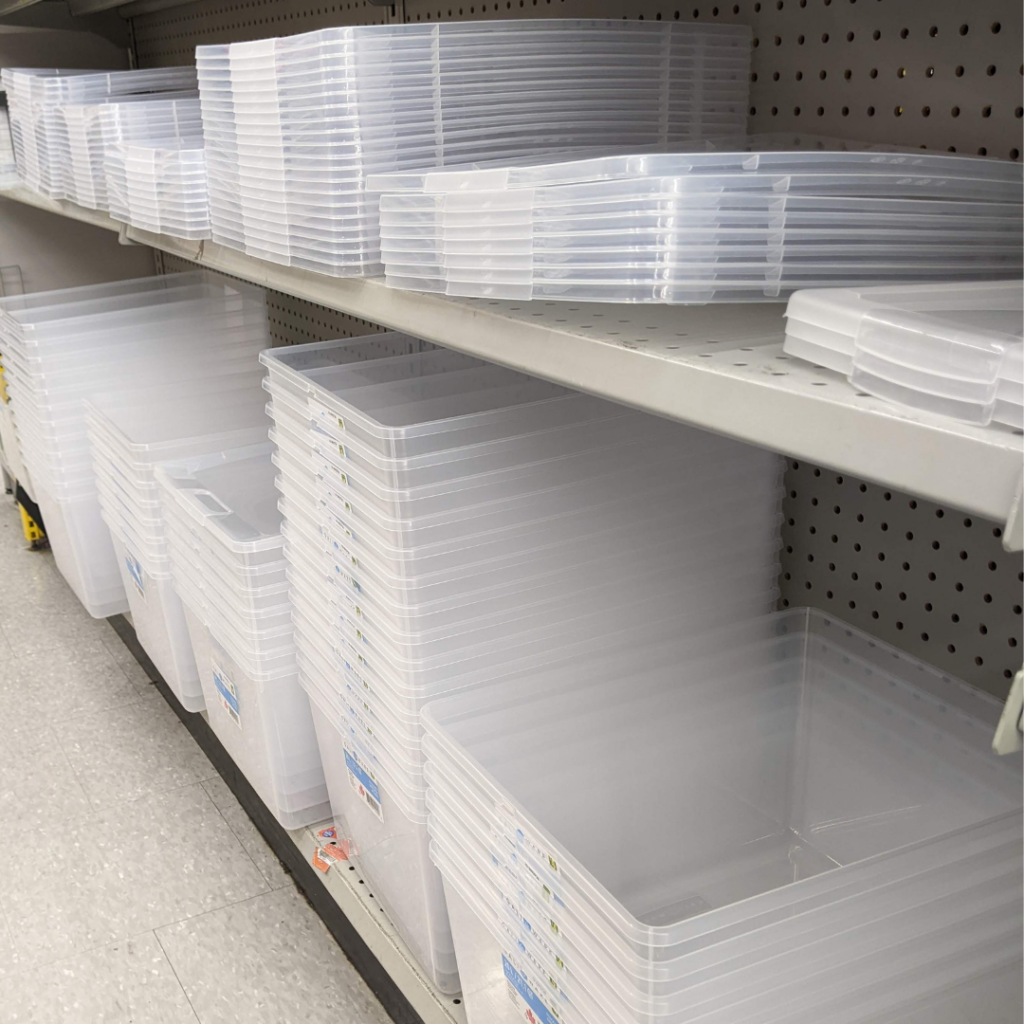 3. Include Labels
Beyond clear bins, labels can be an absolute lifesaver. 
With small or hard-to-see items, clear bins won't give you the entire picture of what they hold.
Use labels on top of your bins for extra organization power!
You can list your items on the label, assign the bin a labelled number, and include all related items in your running ledger. 
4. Group Similar Items
The most efficient way to organize camping supplies is to group similar items together. This makes it much easier to find what you're looking for whenever you need it. 
It's also a good reminder of everything you have, where you have duplicates, and which items you can part with. 
And, if you're Looking for more space-saving camping organization tips, check out my post on 19 Space-Saving Camping Organization Ideas.
5. Store Items in Perfect Condition
One of the most important camping storage tips is ensuring that all your gear is in perfect condition before storing it. 
Not only should items be free of damage, but they should also be well-cleaned and dried. '
This includes camping dishes, sleeping bags, tents, tarps, and other linens. The improper storage of these items can lead to mould build-up and a nasty smell when you take them out for the camping season.
Ensure that you clean your items thoroughly before storing them, letting them dry completely before tucking them away.
For tips on tent storage and proper cleaning, check out my post on How to Prevent Mold Build-Up in Tents.
6. Declutter Your Supplies 
The best storage tip for any supplies is to a solid declutter before you start putting things away.
Throw out any damaged, unfixable items and donate or sell unused supplies. By paring down your camping supplies to what you actually use and need, you'll keep your necessary storage to a minimum.
This is particularly important for seasonal supplies, as they take up a ton of storage real estate for only part-time use. Be vigilant in your decluttering to save as much space as you can. 
7. Use Vertical Space
If you're looking for additional storage space, look up!
You can use vertical space for your camping storage by hanging items on walls or from the ceiling. 
Try hanging folding chairs, sleeping bags, and kayaks on wall racks to optimize space. Over-the-door baskets and additional hooks are great multi-use storage solutions.
8. Try Vacuum Storage Bags 
Vacuum storage bags are well-loved for off-season clothing, freezer prep, and other home storage. But have you considered using it for camping goods as well?
Try storing items you won't use in vacuum-sealed storage bags until next year to optimize space. This is particularly helpful when you're dealing with a small shed or closet space–every inch counts!
Try vacuum-sealing camping blankets, outerwear, and other seasonal goods.
9. Remove Your Batteries 
Old batteries can corrode, leak, and explode over time. At best, the battery can leak over your items and damage or ruin them. At worst, they can cause a fire in your home!
In order to remove the risk of exploding batteries, remove them from your camping items before you store them.
This includes batteries in flashlights, radios, alarm clocks, and more.
10. Store Flammables Separately 
Another possible hazard is flammable items.
When storing your camping supplies, remove all possibly flammable items for separate storage; it's recommended that you store flammables safely and away from your home in a well-ventilated area.
A storage shed may be ideal. Or, for extra precaution, properly dispose of your flammables at the end of the camping season and repurchase when needed. 
More Camping Essentials: