Have you ever had to squeeze the last bit of your camping gear into your car? Had barely enough room in the backseat for the kids or the dog? If you struggle with getting your packing gear to fit or can never find anything when you need it the most, it may be time to try some of these camping organization ideas!
1. Packing Cubes
This handy tool isn't just for your suitcase! You can use packing cubes to decompress large clothing into your camping bag or separate outfits for the day to get ready easily. They really are a space saver and can be used for all kinds of clothing.
2. Shoe Hanger
Over-the-door shoe hangers are great for those in an RV or trailer with a door. It provides a whole door of extra storage space. You can use it in the traditional sense to organize shoes or place anything in them. I love it for extra pantry space or hung up outside to store shoes and toys.
3. Freeze Food
If you're packing up a cooler, this is one of the best camping organization ideas for you. Freeze whatever food you can ahead of time and pack it in the bottom of your cooler. This can include meat, drinks, cookies, muffins, bread, etc. Instead of using ice packs, these will keep your cooler and the contents cool. It will last for a while too, and you won't need to buy ice as quickly!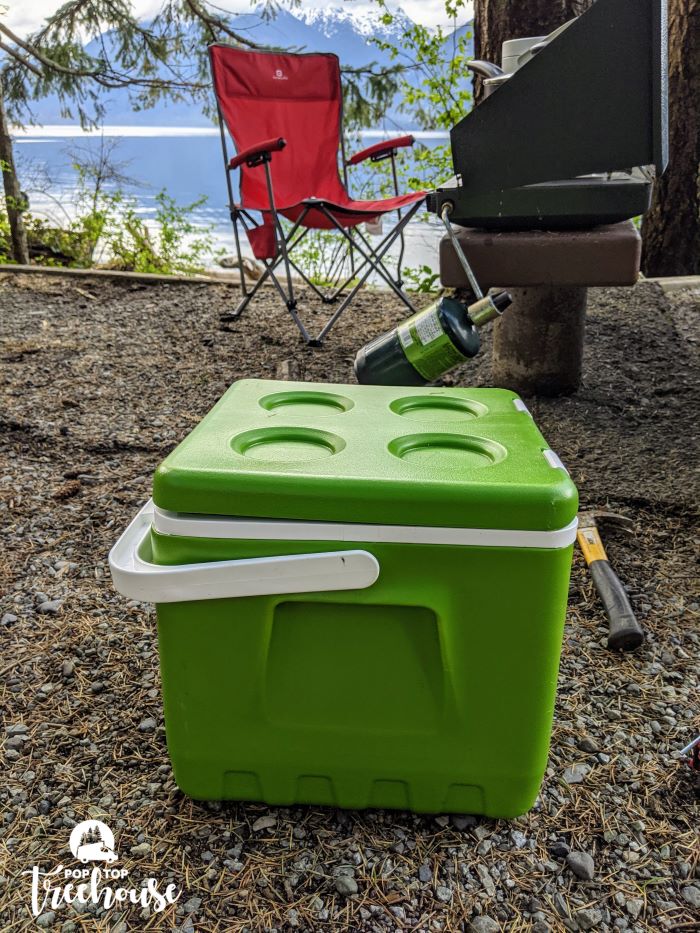 4. Buy Compact Sleeping Gear
Anything squishy and made of fabric shouldn't need much space. Buy small pillows and compact sleeping bags. These can be just as comfortable as the full-sized ones, making packing and setting up camp nice and easy.
5. Prepackage Spices
This is one of my dollar store camping hacks, and it remains a good one! When planning your meals, decide which spices you'll need to bring. Instead of packing the whole spice container, separate how much you'll need into a large pill container. These are great for saving space and easily transporting spices!
6. Rooftop Cargo Carrier
If you find your car is always jam-packed on your way to camping, perhaps you need to add more space outside. A rooftop cargo carrier can hold large, bulky items like camping chairs or a tent. Fill this space with items that are easy to lug and take down and would normally take up a lot of space.
7. Separate Bins
Buy separate bins to categorize all your items, such as food, kitchen equipment, beach and toys, etc. If you can, buy all the same-sized bins. This will make stacking and packing the bins into the car super easy. Make sure to label all the bins, so you know exactly what's inside without needing to open them.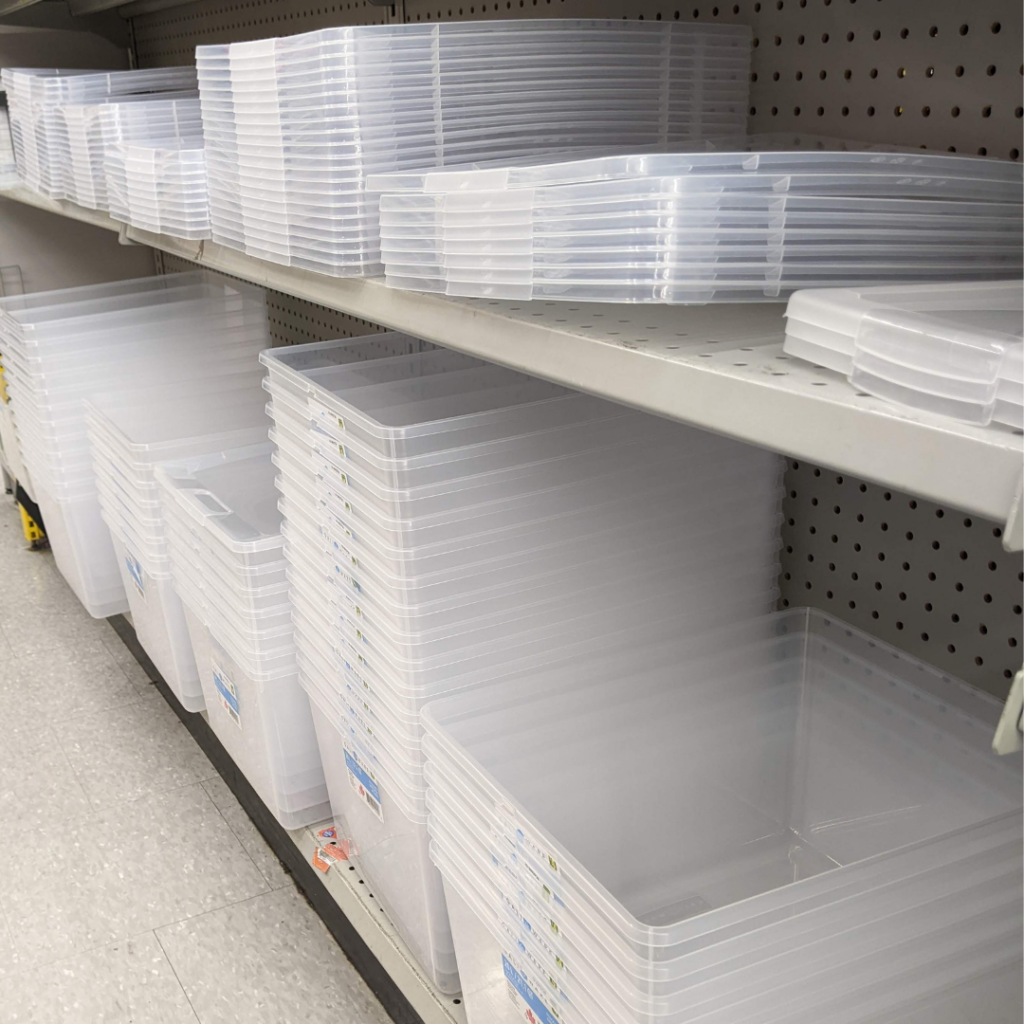 8. Get Rid of Extra Food Packaging
Have you ever noticed how much easier it is to pack everything on the way home? I think a large part of that is because we've eaten up all the food! One of the last things to get packed, food can surprisingly take up lots of room in the car or the RV cupboards. Most of that is unnecessary packaging. For items in boxes, like granola bars or cereal, get rid of the box and just keep what's inside. This can even mean letting out the air from the chip bag and then using a chip clip! See what you can do to save space in the grocery bag.
9. Use an Egg Case
This is one of those old camping organization ideas, but it remains handy. If you're packing a cooler, or even if you're putting them in a fridge, use an egg case. These will keep your eggs safe during travel and will avoid any kind of soggy cardboard carton.
10. Bring Minimal Cooking Equipment
It's hard to believe we have a full kitchen at home with so many gizmos and gadgets. In reality, we need very little to cook! Plan all your meals ahead of time and only bring the utensils you will need to cook and eat. In addition, small camp stoves with one or two burners are usually all you need.
11. Keep Safety Nearby
You never want to have to scramble to find something you need in an emergency. Keep things like your first aid kit, bear spray, fire extinguisher, and even your sunscreen in an easy-to-access place. Ensure you know where it is at all times.
12. Odour Proof Bags
While camping, you want to keep anything with scents down to a minimum. This can attract bugs and other critters. Place anything you do have that may have strong scents, like deodorant or creams. Alternatively, you may want to keep smelly stuff like bug spray separate from other things in your bins, which will help keep the scents to themselves.
13. Meal Prep
Remember how I said food takes up room? You can prevent that by doing some meal prep ahead of time. Plan out each meal beforehand and only bring what you need for those meals. You can even cut down the work while camping by pre-measuring ingredients or pre-chopping vegetables.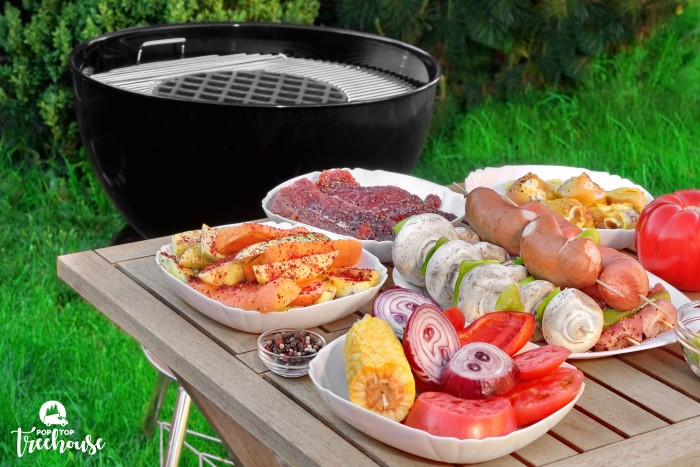 14. Use Multipurpose Items
Anytime you can bring a two-for-one item, do it! This can mean a large bin that doubles as a side table, a Swiss army knife, or a mesh bag for produce one second and a dish bag the next. Be inventive with what you bring and how you can use it.
15. Plastic Bags Are Your Friend
Every camping trip, I bring many plastic bags, including small Ziplock bags, garbage bags, and grocery bags. They take up minimal space and come in handy on every camping trip. Whether picking up doggy doo, collecting seashells, or storing dirty shoes, they get used.
16. Keep Pet Supplies Together
Dedicate one bin, bag, or area just for your pet supplies. When you first get to your campsite, you'll want to know exactly where that water bowl and long leash are while setting up. After all, getting to your campsite has probably been a bit of a journey!
17. Have Your First Meal Ready
In the havoc of packing, driving, and setting up, it's easy to forget the need to eat. And when the stomach starts rumbling, cooking is usually the last thing you want to do. Instead, pack a meal beforehand and keep it handy so you can chow down when you're ready. Also, be sure to pack road snacks!
18. Add Hooks
If you have an RV, trailer, or camper, use all the space you have! I always encourage hooks, whether for hanging coats on the back of the entry door, towels on the bathroom door, oven mitts on the inside of a cupboard, or an easily accessible fly swatter!
19. Enhance Your RV
When you first get an RV or trailer, just the basics are inside. Like your home, enhance it to make it work for you! You can organize the storage situation in many ways with drawer dividers and bins. You can add additional storage like a spice cabinet, extra shelves, a produce stand, a paper towel holder, or a magnetic strip for kitchenware.
That rounds up some of my go-to camping organization ideas! If you have any others to add, please leave them in the comments down below so everyone can enjoy easy camping.
More Camping Hacks