If you plan a camping trip near the end of October, make sure to set the spooky mood! It's easy to feel eerie and festive while out in the woods, especially when incorporating some of these Halloween camping ideas into your plans!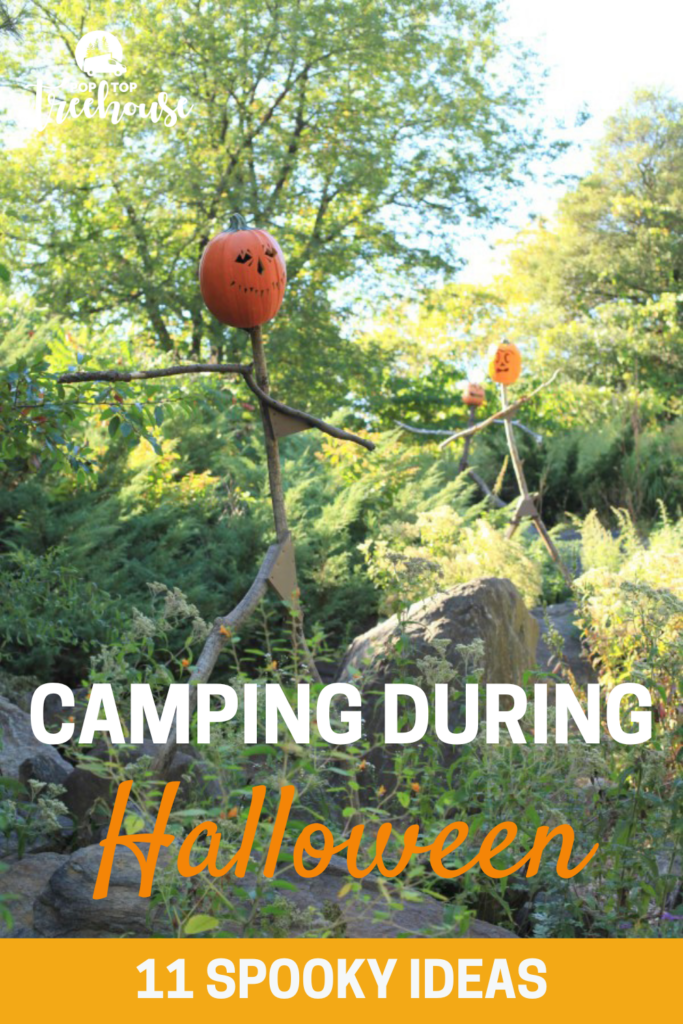 I love camping in the fall. The busy season has come to a full and complete stop, and the campsites are much quieter. There's no better time of year to camp, in my opinion!
If you're reading this, then chances are you feel the same. A little bit of cold doesn't stop you from enjoying a camping trip in October.
Halloween is also one of my favourite holidays. It's just overall a time meant for fun (and candy), and that's something kiddo and I can get behind.
While I'm not camping on Halloween night (since kiddo needs to trick or treat), I can still enjoy the Halloween festivities while camping in October. Here are some of my Halloween camping ideas to get in the festively spooky mood!
Wear Costumes
Dressing up while camping is so much fun, especially in a big group. Decide which night you'd like to dress up while camping and host a fun Halloween party. You can then use these Halloween camping decorations and ideas below to have a spooky time.
For camping, I recommend something warm and comfy. Onesies are always a good idea for staying warm but also getting festive!
Create a Scavenger Hunt
Personally, I'm a fan of scavenger hunts any time of year. And they're something my kiddo loves too! They're one of the best ways to spice up a Halloween camping party. Create a scavenger hunt around your campground during the day (or night for extra spooky times). Feature clues and prizes, such as candy, along the way.
Carve Pumpkins
You do it at home, so why not do it while camping too? Carving pumpkins are one of the most fun and classic ways to celebrate Halloween. You can then use the pumpkins to decorate your campsite or even make spooky figures like these pumpkin scarecrows below! And, of course, save the seeds and roast them over the campfire with a little seasoning.
Hang Spooky Lighting
Just like Christmas lights, you can use many spooky lights for Halloween camping decorations. By far, the best way to set the mood is with lights. While most hook up to power, you can also find some battery-powered lights at most places. Keep an eye out for something you can easily hang through the trees.
Cozy Up With Warm Drinks
When camping during the fall, hot drinks are a must-have. Not only do they make you feel warm and cozy, but they can also get you in a festive mood.
Many people love pumpkin spice in the fall, but it's never been my thing. Instead, I'm more of a hot apple cider, hot buttered rum, or hot toddy gal. You can see how I make these drinks in my post about warm drinks to keep toasty.
Tell Ghost Stories
Do people still tell ghost stories around the campfire? It's certainly something I haven't done in a long time, but there's no better time to do it again than camping during Halloween! You can tell your own stories, make them up, read from a book, or give one of these camping ghost stories a try:
Play Mafia
This is one of my all-time favourite camping games to play around the campfire. And since it involves a murderer and a detective, it's great to play while camping during Halloween! See my instructions on how to play Mafia here.
Create a Halloween Playlist
Every Halloween, I love to play some of the classics to get me in the mood. And I'm always adding to it! Download a playlist full of Halloween-themed music before you head out camping. Here are a few to get you kickstarted.
Thriller by Michael Jackson
Psycho Killer by The Talking Heads
Monster Mash by Bobby (Boris) Pickett
Time Warp from Rocky Horror Picture Show
Love Potion Number Nine by The Searchers
Zombie by the Cranberries
Haunted by Taylor Swift
Bury a Friend by Billie Eilish
Creep by Radiohead
I Put a Spell on You by Better Midler
Somebody's Watching Me by Rockwell
Highway to Hell by AC/DC
Season of the Witch by Donovan
Hungry Like the Wolf by Duran Duran
Black Magic Woman by Fleetwood Mac
I Want Candy by Bow Wow Wow
Make Festive Gourd Candles
This is one of my favourite Halloween camping decorations. Mostly because they're cute and 100% natural! These gourd candle holders are super easy to make and look very cute for your dining set up. Quickly carve out some of these gourds and pop in tea lights to set the mood on your picnic table or during your Halloween night while camping.
Make Paper Bag Lanterns
Another easy way to set the mood with lighting is to make your own paper bag lanterns. To make them, cut some Halloween-themed shapes into your bags such as pumpkins, ghosts, witches, or a haunted house. You can also use a hole punch to create dotted designs. Then, place a fake tealight inside to light up your spooky design at night!
Watch a Scary Movie
Most of the time, I don't promote the use of screens while camping. Instead, I tell myself and my kiddo to enjoy nature and the peace and quiet that comes with it. But in some cases, a movie night calls!
Watching a scary movie while camping can be the perfect way to spend your time camping during Halloween. If you have a tablet, download a movie ahead of time on Netflix, Amazon Prime, Disney+, or another streaming platform. Then cozy up in the tent or RV while you get scared!
Avoid movies in the woods or while camping (like The Blair Witch Project or The Ritual). Trust me, you won't get a wink of sleep if you do!
Those are all my Halloween camping ideas. Just trying a few of these for your camping trip around the end of October will set the mood. Overall, just make sure you're having fun!
More Camping Fun!