In under 10 minutes, you can prep for your camping trip ahead with these delicious s'more Rice Krispies squares. They make for a delicious, simple, and budget-friendly treat while you sit back and relax outdoors.
When it comes to camping, I love making quick treats. My kiddo and I always are looking for a sweet treat in the afternoon or for dessert after dinner and I want to make sure I have something from home to satisfy those cravings!
I always make my treats in advance before camping so that I do minimal effort while out in nature. But we all know how busy the lead-up to a camping trip is. There's the packing, finishing up work so you can take time off, and coordinating for the upcoming weekend.
This means I don't always have a ton of time to prep food and treats for the trip. That's why I love this s'more Rice Krispie treats so much! Rice Krispie treats are only 3 ingredients, require no baking, and can be done in under 10 minutes. This s'more variation isn't much more work.
I also love that I can have the taste of s'mores no matter what. A camping classic, sometimes weather or fire bans can get in the way of enjoying the time-honoured tradition of eating a s'more by the campsite.
These treats taste the best fresh. Store them in an airtight container for up to 2 days. You can also freeze your treats. Layer them in a container or freezer-friendly bag with wax paper. They can last in the freezer for up to 2 weeks.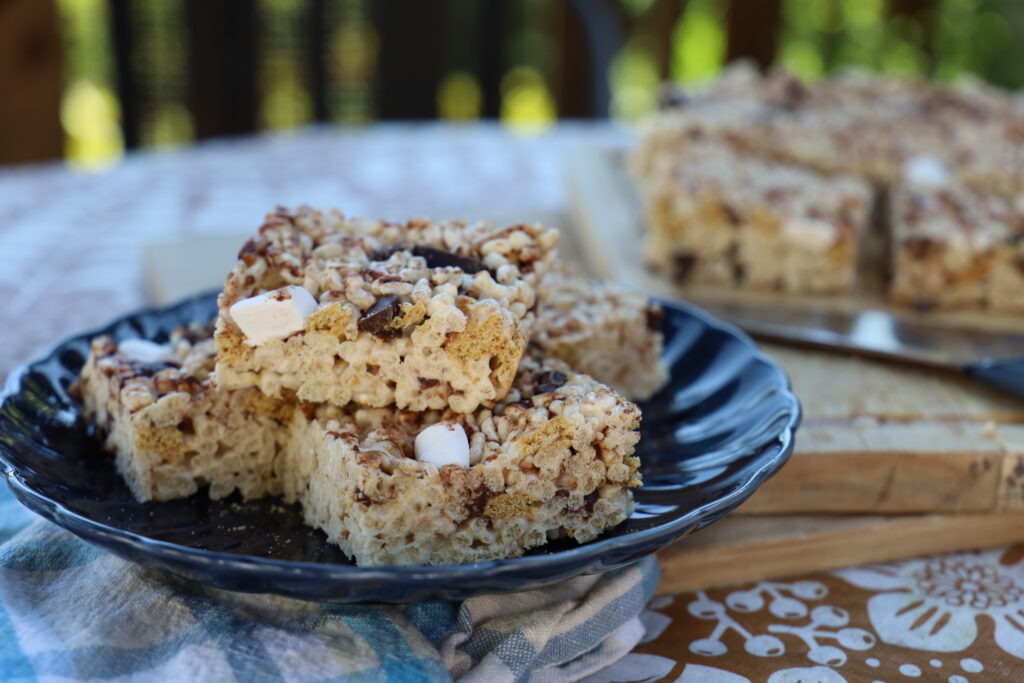 Rice Krispie Treats Variations
With a recipe this simple, you can easily make some variations to the classic s'more Rice Krispie treat. Here are just a few ways you can spice things up.
Cereal Variations
You can completely change the type of cereal you use. Fruit loops or Fruity Pebbles will provide a very fruity flavour. Meanwhile, something like Lucky Charms offers you a different kind of marshmallow and you don't need to mix in the additional mini marshmallows.
Another great substitute for broken graham crackers is Golden Graham's cereal. They're a little sturdier and offer the same s'mores effect.
You can also leave out the additional chocolate chunks by using cocoa Rice Krispies instead of the original.
Cookie Variations
You can omit the graham crackers altogether. Instead, crush up some of your favourite cookies. Some of my personal favourites are Oreos, Chips Ahoy, Biscoff Cookies, Fudgeeos, and Teddy Grahams.
Chocolate
Swapping the chocolate is very easy to do. One of the best ways to keep with the s'more theme but with a twist is using a different type of chocolate chip. I've seen butterscotch, peanut butter, white chocolate, milk chocolate, and more.
You can also crush up your favourite candy bar like Snickers or M&Ms to swap out the chocolate.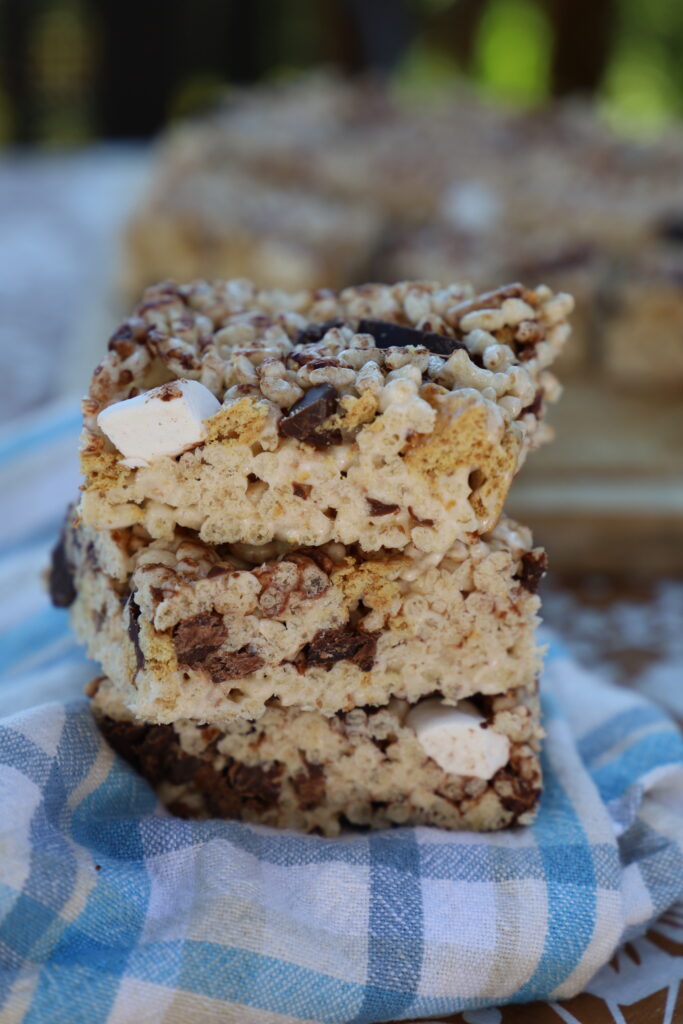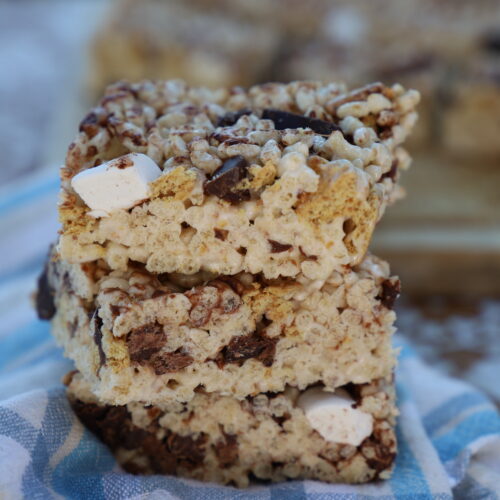 S'more Rice Krispies Treats
Enjoy the taste of camping any time of the year with this tasty variation of the classic camping treat and a family favourite dessert.
Equipment
13×9 baking pan

Spatula

Large pot

Cooking spray
Ingredients
6

cups

Rice Krispies cereal

1

10 oz

package of marshmallows

(about 40 full sized marshmallows)

3

tbsp

butter

1 1/2

cups

mini marshmallows

1

cup

chocolate chunks

1 1/4

cup

broken graham crackers
Instructions
Grease a 13×9 baking pan with butter or a cooking spray and set aside.

In a large pot, heat marshmallows and butter over low-medium heat. Stir consistently.

Once melted, remove from heat. Stir in your Rice Krispie cereal, mixing well and fast until the cereal is evenly coated. Add 1 cup of the mini marshmallows, ¾ cup of broken graham crackers, and ½ cup of chocolate chunks. Mix well.

Press the mixture into the greased pan using a spatula.

Sprinkle the top with the remaining mini marshmallows, graham crackers, and chocolate chunks. Use a spatula to help press in the toppings.

Let cool for 1 hour before cutting or consuming.
More Camping Treats to Try: