While camping, you can expect to experience all four seasons in the course of one weekend! When it gets hot, and there's no electricity or air conditioning unit to cool things down, how do you ensure you don't sweat bucketloads? Lucky for you, I have plenty of tips for keeping cool while camping.
In Vancouver, AC units aren't the norm. Our houses are built to keep in the warmth, and most homes won't have any kind of installed AC. I've gotten so used to it that I forget how cold it can get until I take a trip to the grocery store and am flooded with the frigid air-conditioned air.
Without air conditioning at home, I've mastered staying cool even when it's sweltering outside. This has proven to come in handy very much so while camping!
Whenever we get a heat wave here in the pacific northwest, I usually end up camping during that time. Last year when we had record-breaking heatwaves (like the highest temperature ever recorded in Canada hot), I was out camping at Rathrevor Beach Provincial Park. And yes, it was HOT.
But by employing some of these methods below on how to keep cool while camping, the trip was a fun one and not a sunburnt and dehydrated one. So to save you and your camping trip in the heat, here are my best tips!
Handheld Fan
I'll be the first to admit that when I saw handheld fans for sale, they felt a little gimmicky to me. How could those little fans make a difference? But when I was in the dead heat of the day and I had one of those gimmicky fans, boy, does it make a difference.
There are a few options you can take camping that require no electricity. You can buy either a small battery-powered electric fan, one that is operated by a hand pump, or a good old-fashioned paper fan. Even a thick piece of paper hot glued to a popsicle stick can do wonders.
Cool Towel
You'll quickly discover that water is your best friend when it comes to keeping cool while camping. Take a small towel and dip it in water. Keep this hung around your neck, laid across your forehead, draped across your legs, or anywhere else that you feel the need to keep things cool.
Kiddie Pool
This may take a few trips to the water pump, but it could be the best addition to your campsite. When you're taking a moment to sit in the shade, having your feet soaking in a kiddie pool instantly cools down the whole body.
Kiddie pools work well for the whole family, the dog, and allow multiple people to cool their feet at once. For a smaller alternative, any small basin or tub will do the trick.
Time of Day
When it's hot out, you need to be a little more careful when you plan your day. This may mean waking up earlier to get that hike done or planning to go to the lake in the late afternoon when the sun isn't so strong. You want to avoid being out in the sun in the early afternoon as you'll quickly get depleted of energy, sunburnt, and dehydrated.
Take a Dip
Nothing will cool you down like dunking in some water. Try to take a cold shower (if available) or a dip in a nearby body of water to quickly cool the body, especially when the hair gets wet. Doing this before sleeping can be incredibly effective.
How to Cool a Tent Without Electricity
Tents can quickly feel like ovens when it gets hot out. After a day out in the sweltering sun, the last thing you want to do is get into an oven to fall asleep.
The first thing you want to do is make sure to set up the tent in the shade. When setting up your campsite, pay attention to where the sun currently is and where it will be for the greater part of the day. If you have no immediate shade, see if you can set up a tarp to provide more shade to the area.
During the day, roll up the sides of the fly so that there's plenty of ventilation. Ideally, your tent should have plenty of mesh to allow ventilation for when it's hot.
You can even go as far as removing the fly altogether. If the weather's hot, chances are rain isn't in the forecast, but you'll still want to check regardless. If the skies are all clear, enjoy a night without the fly gazing up at the stars!
Practice Sun Safety
A big part of keeping cool while camping also comes down to being responsible when you are in the sun. Always wear a hat to keep the sun off the face and hairline. Lather yourself head to toe in sunscreen and reapply every couple of hours or after swimming. And don't forget the sunglasses!
Seek shade whenever you can. This means hanging out under an umbrella on the beach and taking breaks in the shade after extended periods of being out in the sun.
If you did get burnt, apply some aloe vera. I always include aloe vera in my camping first aid kit as burns become much more common when you hang outside as much as you do while camping. Also, consider wearing long sleeves to cover the burn if you do have more sun exposure.
Most importantly, stay hydrated! Heat stroke can be very scary when you're camping and away from home and without any immediate medical assistance. Even if you're just sitting in the shade, you need to drink plenty of water to keep the body in the best health during the heat.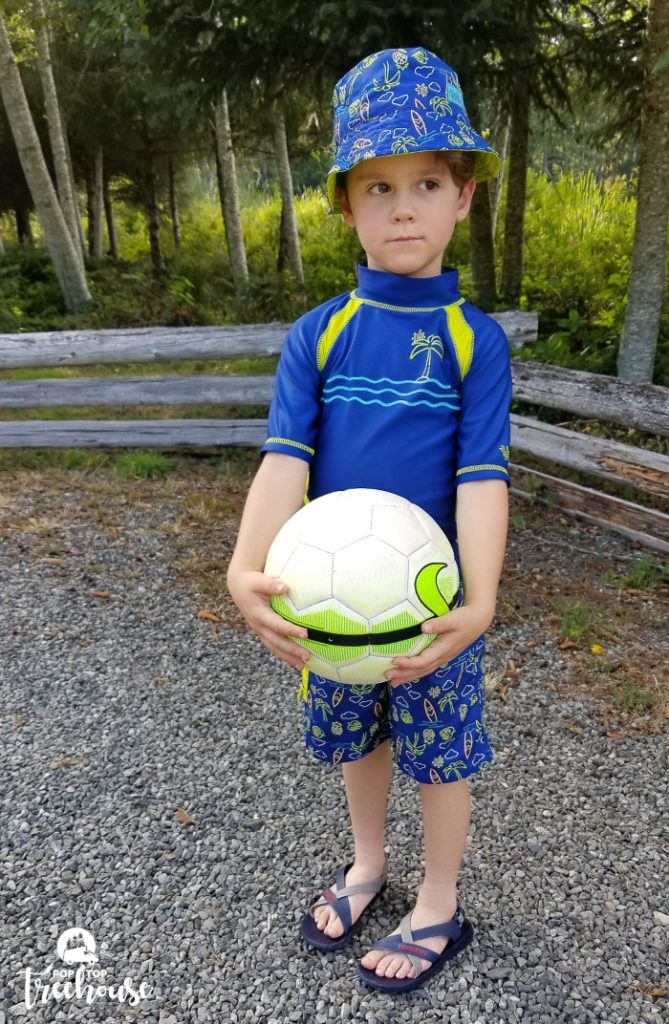 More Camping Tips