Breakfast is the most important meal of the day–this includes camping breakfast! I've gathered fifteen delicious camping breakfast ideas you can prep ahead of time or make on-site. Try them out for yourself!
Cutting corners is never more tempting than when you're camping. When you're wearing the same sweatpants for the third day in a row, breakfast might not seem like the biggest priority (the temptation of grabbing a piece of fruit and calling it a day is STRONG). These camping breakfast ideas are so easy, however, you'll eat like a king with minimal effort!
Camping food should be majorly delicious and require as little prep as possible. These quick & easy camping breakfast ideas fit the bill. Food doesn't have to be a hassle when you're camping–it can make your experience that much better! Cooking or sharing a meal as a family is made that much more special when doing it in the great outdoors.
Camping takes a lot of energy–hiking, swimming, and games all require a hearty breakfast (preferably carbs!). These camping breakfast ideas are going to give you and your family the fuel they need for all of your outdoor activities!
15 Quick & Easy Camping Breakfast Ideas
These camping breakfast ideas will take your camping experience to new heights! Whether you're looking for make-ahead camping breakfast food or options to cook on the campfire, I've got you covered.
This savoury delight will hit the spot every time; it combines eggs, cheddar, and buttery English muffins. The recipe from The Adventure Bite uses leftover barbecued pulled pork, but you can absolutely substitute for a fresh-cooked option or even keep it meatless!
Prep these on-site or pack them frozen for extra convenience.
Bonus–this sandwich is guaranteed to keep you full until lunch because it contains protein, carbs, and a fat source. It's a great option to fuel for a morning hike!
Overnight oats are the pinnacle of quick and easy camping breakfast ideas!
These oats from Cookie and Kate are packed-full of nutritious goodies like chia seeds, nut butter, and fruit. They're also completely customizable based on your favourite toppings.
Cheese fiends rejoice! This sausage and egg breakfast quesadilla from Little Family Adventure is packed full of ooey gooey cheese (can you say delicious?).
These breakfast quesadillas require minimal ingredients and are easily prepared in a cast iron skillet right over the campfire!
They're also a good option for any picky eaters out there because each person can choose their toppings.
Baked goods for breakfast are always welcome!
Try my addicting banana nut muffin recipe for an easy breakfast idea. The bananas keep these muffins fresh for days, so they're totally camping-approved.
These are also great for snacks throughout the day. Throw a few in your backpack to share with friends and family!
I love the flavours in these breakfast burritos from Taste and Tell Blog! The addition of green chiles and cilantro add a major punch to your classic breakfast burrito (with minimum effort!).
Fully commit to the camping spirit by finishing your burritos on the campfire! Once assembled, simply wrap your burritos in tin foil and let them cook on the hot coals next to your campfire.
A breakfast casserole is a perfect choice when camping with a big group! This camping breakfast casserole from Merry About Town serves six and can be made on-site with a grill.
The recipe is really easy with maximum pay-off. Just layer ingredients in an aluminum pan and pop it on the grill. Prepare a few pans to easily serve a crowd!
If you're looking to switch up your usual morning oats, try this delicious chia seed pudding from Feel Good Foodie. It combines just three simple ingredients and can be prepped ahead of time or on-site with a little foresight.
This is one of the smartest camping breakfast ideas because it contains healthy fats and is high in protein and fibre–AKA, a breakfast that'll keep you full!
My orange cranberry scone recipe will rock your world–it combines a super savoury scone with a sweet orange glaze, so it's breakfast appropriate but will still appeal to your sweet tooth!
Scones are the perfect camping breakfast for those of us who want a grab-and-go option that will satisfy. You can even bump up the satiety of this treat with additional fruit and nuts.
This is a make-ahead camping breakfast, so it'll be prepped and ready for munching in the morning (or whenever you're craving a little something sweet!).
A Lemon and blueberry combo is my idea of heaven.
Slice up with breakfast bread from The Comfort of Cooking for a sweet camping breakfast idea. I dare you to stop at just one slice!
Simplify your classic camping breakfast sandwiches with this make-ahead breakfast loaf from Taste of Home.
This is another excellent option for a larger group. It serves six but will go even further if you're feeding kiddos.
Pecans and campfire-grilled peaches elevate a classic breakfast recipe. You can cook these family-favourite pancakes from Fresh Off the Grid over the campfire in a cast iron skillet.
Cooking tip–pre-mix your dry pancake ingredients ahead of time for easy cooking on-site!
These granola bars are packed full of fibre and super tasty! A little extra fibre can go a long way when you're camping, and your gut needs a little bit of extra encouragement.
Try this make-ahead recipe for a quick breakfast, or crumble them on top of yogurt for a bit of extra satiety.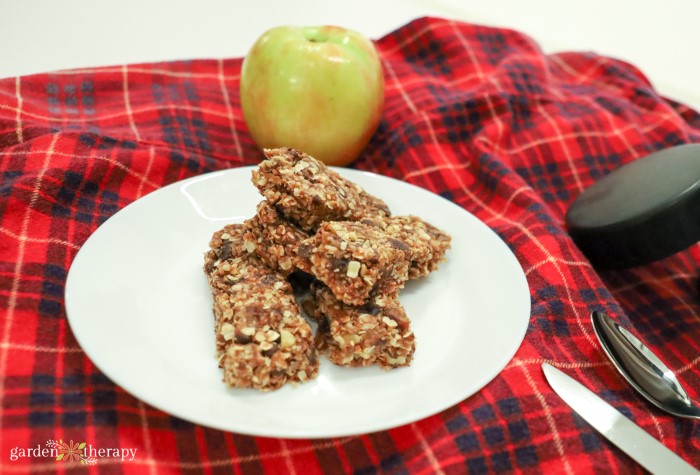 These zip-lock bagged eggs from The Spicy Apron aren't exactly glamorous, but camping rarely is!
Pre-mix your eggs with green onion, cheese, and your choice of diced lunch meat, all in a zip-lock bag. You can boil your eggs right in the bag for ultimate convenience or fry them in a skillet.
This cast iron frittata from Fresh Off the Grid can be cooked right over the campfire. You can customize it with your favourite cheeses and vegetables (or whatever you have on hand!).
I love the idea of a frittata because it has a lot of flavours, and the eggs provide a ton of protein.
Prep these nutritious yogurt and granola parfaits from Ahead of Thyme for a sweet camping breakfast idea. They're one of my favourite camping breakfast ideas because they're packed in individual mason jars and can be easily grabbed from the cooler.
This quick and easy recipe layers greek yogurt, granola, and the fresh fruit of your choice. Add a drizzle of honey for even more yum!
More Camping Cooking