Leave the kitchen at home with these one-pot camping meals. Each one of these camping-friendly recipes is quick and easy to make (and super tasty!). Feed yourself and the whole camping crew with these one-pot camping meal recipes!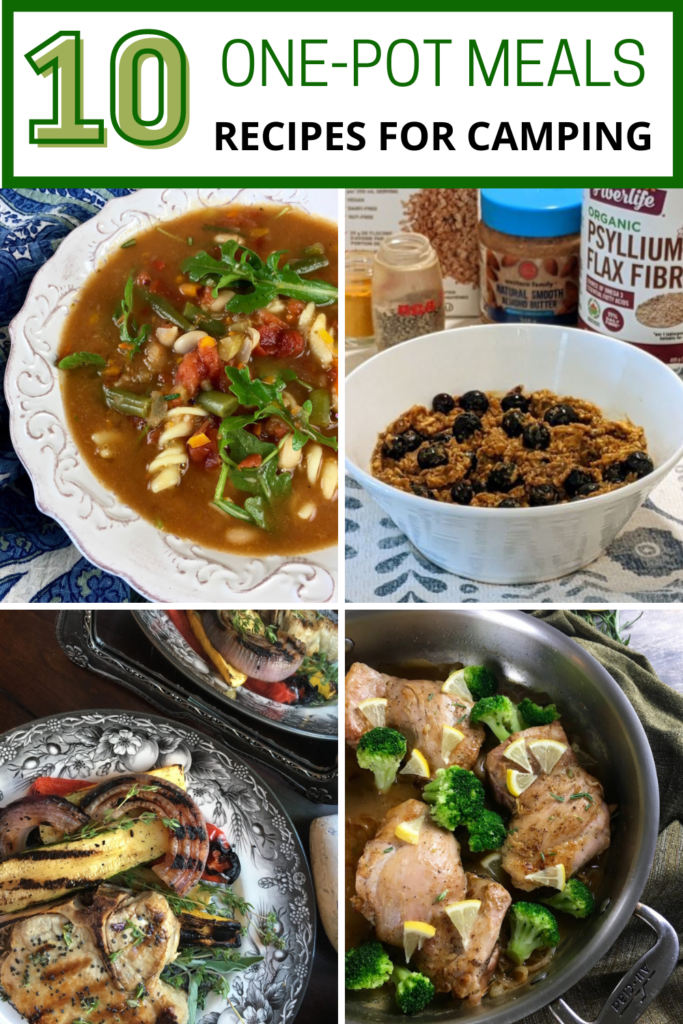 When you're camping, every item counts! With limited trunk space and the potential task of hiking to your site, extra pots and pans are a camping-don't. Luckily, all you need is one tried-and-true pot with these one-pot camping meals.
I have 10 simple camping meals that are quick to make, great to share, and family-approved!
Make any of these easy camping meals for family, friends, and any other friendly faces that stop by the site.
Additional camping tip: when packing your perfect camping pot, make sure you choose one large enough for all the servings you need without being too heavy or cumbersome.
This enamelware pot is lightweight and versatile for all your camp cooking needs.
10 One-Pot Camping Meals
Try any of these one-pot camping meals to simplify your cooking process (and limit dishes!).
My high-protein oatmeal recipe is the perfect camping breakfast to fuel you all day long. And, you guessed it, it's prepped and cooked in a single pot!
This isn't your mother's plain jane oatmeal recipe; it's filled with tons of hunger-satisfying goodies.
Beyond oats, I add banana, soy milk, flaxseed, blueberries, peanut butter, AND protein powder (I wasn't kidding about the high-protein factor!).
You can prep the dry ingredients ahead of time in pre-portioned bags for even easier cooking.
Also, feel free to get creative with this oatmeal recipe! Add fruit, nuts, seeds, and nut butters until you've found your dream combo.
Want dessert on the go? Mid-Life Healthy Living has a one-pot meal the whole family will get behind – 3-ingredient blackberry cobbler!
This is one of those crazy hack recipes that actually work.
You can make your cobbler over the campfire with a boxed cake mix, a can of your favourite pie filling, and a can of ginger ale (you heard me right!).
This quick and dirty recipe is sweet, warm, and totally tasty. Even if you have doubts, this is a must-try to satisfy all the sweet tooths on site.
One-pot camping meals should be more than just convenient…they should be delicious!
These grilled herb-rubbed, bone-in pork chops definitely fit the bill; they're tender and juicy, with a satisfying smokey flavour.
We leave bones in for a low, even grill for the best cook.
This recipe does one better than one-pot, it's a no-pot meal! Throw these pork chops directly on the grill (or in a pan if you prefer).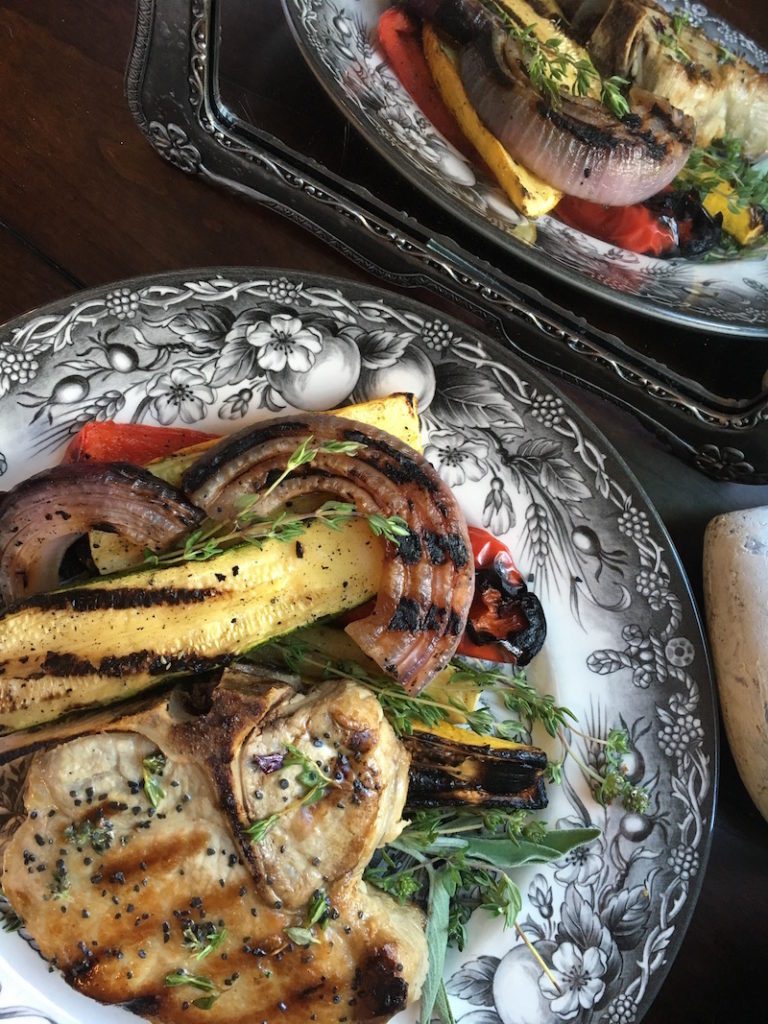 Throw-and-go recipes are my favourite cuisine category. This one-pot American goulash from The Forked Spoon includes tons of savoury ingredients without any complications.
American goulash is a super nutritionally complete meal packed with protein, carbs, and veggies. You can even beef up the nutritional value with extra spinach or kale (just throw it in!).
Want a plant-based option? Sub ground beef and cheddar cheese with veggie ground round and shredded vegan cheddar.
Healthy eating doesn't need to go out the window when you're camping. While it can be tempting to survive off snacks and packaged goods, nothing quite beats a warm cooked meal!
I make these one-skillet lemon rosemary chicken thighs and serve them up with broccoli for a healthy dinner option, no matter where I find myself.
This recipe contains simple, whole ingredients that come together quickly to feed the hungry masses. Fresh rosemary and lemon add unbeatable flavour to this easy dish.
A Saucy Kitchen has an unreal cilantro lime shrimp and rice recipe that comes together in 30 minutes or less!
The key to this recipe is the fresh, minimal ingredients; garlic, cilantro, and lime juice are heavyweight champions when it comes to taste!
Shrimp is also a welcome alternative to the usual campfire protein varieties (I'm looking at you, mystery hotdogs).
Not a cilantro fan? Substitute for parsley or skip it altogether! The recipe holds up.
Though it's not a competition, my hearty minestrone soup is one of the best one-pot camping meals out there!
Soup is great for camping because it's warm, filling, and super comforting on a chilly night. It's also easy to make a HUGE batch to feed anyone and everyone who wants a bowl.
My minestrone recipe contains pasta, cannellini beans, and as many veggies as I can pack in. Top your soup off with some fresh arugula for a more complex flavour profile.
This Dutch oven french toast from Homemade Heather is a breakfast food that transcends meal times. AKA, you're going to want to eat it all day long!
Made with pecans, brown sugar, and French baguette, this is an unfamiliar camping meal that is even better than it looks.
Let your recipe sit overnight (or at least 4 hours before cooking) for maximum flavour potential!
What better food to share around the campfire than a skillet filled with cheesy loaded nachos? Fresh Off The Grid has a one-skillet campfire nacho recipe that is topped with tons of delicious extras!
Nobody can say no to nachos. Customize this one-pot meal to your liking; I recommend some pickled jalapenos for a little extra spice.
Out of all these one-pot camping meals, this easy skillet lasagna from House of Yumm is the most family-friendly (cheese and noodles? I'm sold).
Lasagna is a classic comfort food that'll keep you toasty and satisfied while camping. Layered with Italian sausage, ricotta, and mozzarella cheese, everyone will want a second helping.
Make this homemade staple in 30 minutes or less!
More Camping Recipes: