Before taking off on your next adventure, ensure you have the essentials down! I have all the road trip essentials you'll need to keep the whole family happy until the very end of your trip. Learn important car checks and essential packing items to ensure an amazing drive, no matter where the road takes you. 
Road trips are an exciting way to experience travel, taking in the world around you as you zip down the highway.
They're particularly beautiful in scenic, rural areas. If you're not prepared, however, a fun road trip can quickly become a nightmare. 
To ensure you're ready for whatever comes your way, I have compiled all the road trip essentials you'll need to keep in mind for a successful drive. 
In this post, you'll find a handy road trip checklist, kid-focused essentials, and packing tips for adults. 
Read on before you get on the road!
Car Road Trip Checklist
Before heading out, ensure you're set for the long haul! Though emergencies probably won't happen, you'll never regret being prepared. 
To ensure your vehicle is in tip-top traveling shape, make sure to check its:
Fluid levels
Tire pressure
Engine lights
Headlights
Turn signals
Brake pads & rotors
In emergencies, you'll also want to ensure you have all your roadside essentials. These may vary based on your climate and where you're traveling. Basic essentials include:
GPS
Spare tire
Jumper cables 
Tire chains
Emergency tools
Wiper fluid 
Tire repair kit 
Road Trip Essentials for Kids
Traveling with kids isn't always a walk in the park. Prevent possible conflict with these helpful packing tips.
Food
Nothing stops a road trip quicker than a kid who desperately needs a snack! Make sure there are plenty of food options like packaged snacks and easy-to-eat meals for kids to grab when they need them. 
Keep a cooler underneath the passenger seat, not in the trunk, so everything is easily accessible when hunger hits. 
Also, be sure to have bottled water in the car. While reusable water bottles are always preferable, you never know when you'll have an opportunity to fill up. 
Food options include:
Cooler sandwiches
Lots of water
Packaged snacks
Entertainment
If you think road trips get boring as an adult, this is amplified 100% if you're an overactive child. Ensure you have many entertainment options, so kids don't fly off the wall!
Entertainment options include:
Games
Electronics
Puzzles
Activity books
Chapter books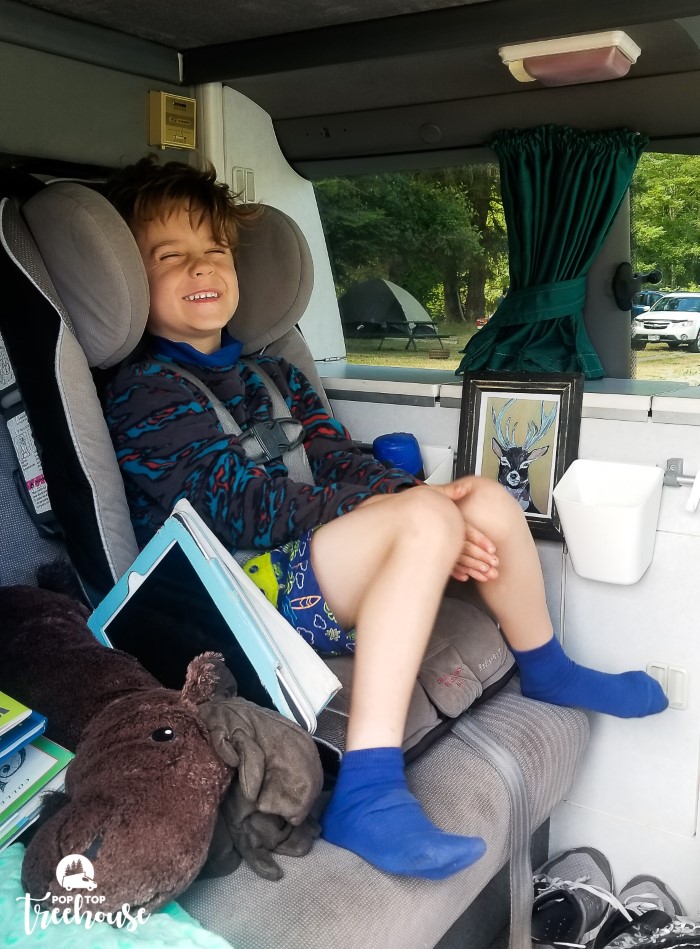 Layered Clothes
You don't want to pull over whenever your child gets too warm or chilly. Make sure they're dressed in comfy, layered clothes so they can easily adjust themselves (or with a little assistance). 
Clothing options include:
Layered sweaters
Light jackets
Tee shirts
Stretchy pants/leggings
Slip off shoes
Summer/winter hat
Mittens for the winter
Sunglasses
Little Essentials
You never want to be caught without! Make sure you have these little essentials within arms reach. These include:
Sunscreen
Baby wipes
Tissues
Comfort Makers 
Make the car ride that much more comfortable with a few simple comfort makers. These small details can make all the difference. Kids may even get a little bit of shut-eye!
Comfort makers include:
Fuzzy blankets
Thick socks
Travel pillow
Favorite stuffed animal
Road Trip Essentials for Adults
Most adult road trip essentials are not far off from the kid's essentials! There are still a few small differences to take into account.
Use these packing tips to help perfect your road trip experience!
Food
Don't get caught hungry on the road! Fast food can do in a pinch, but it never sits all that well in your stomach. 
Pack some easy-to-eat meal options and snacks you can eat on the road. 
Sustenance options include:
A thermos of tea or coffee
Cooler sandwiches or wraps 
Packaged snacks like power bars
Sweet treats to share 
Water bottles & a refillable water bottle 
Entertainment
Adults get bored too! If you're riding passenger seat on this road trip or need some hands-free entertainment, these are some options for you:
Tablet for streaming
Phone games
Puzzle books
Journaling or doodling
Books or readers
Podcasts
Road trip playlists
Clothing Options 
I think that comfort is the most important of all road trip essentials. Being comfortable is imperative for good moods, which is super important when in close quarters for an extended period of time.
Take these clothing options into account for ultimate comfort:
Slides for the car
Waterproof shoes
Comfy pants with an elastic waistband
Loose-fitting tee shirts
Warm flannels
Layered sweaters
Additional jackets
Sun hats
Little Essentials 
These items are essential for every road trip for kids and adults. Make sure you have these items to avoid a lot of future headaches. 
These little essentials include:
Hand sanitizer
Toilet paper 
Umbrella 
Garbage bags 
Quick toiletries 
Sunscreen 
Sunglasses & reading glasses 
Comfort Makers 
Whether you're going to get a turn in the passenger seat or want to be extra cozy while driving, treat yourself to a few comfort makers.
These simple items will make you feel right at home no matter where you are!
Some small comfort makers to pack include:
Pillows
Neck pillows
Blankets
Eye masks if you're a passenger
Fuzzy socks
Final Thoughts on Road Trip Essentials
That rounds up some essential items you need for your next road trip! With these items, both practical and comfort-focused, you're in for one amazing adventure. 
If I left out any other important items, or if you have a clever road trip tip, please leave it in the comments down below.
More from Pop Top Treehouse: