Have a case of wanderlust? It's time for a hike! Prepare for hiking season with my essential hiking packing list—a comprehensive guide for beginner hikers. Use this list for a safe and enjoyable hike wherever you may wander. 
Tolkien famously said, "Not all who wander are lost." An amble into nature can do wonders for the soul. If you need a little rejuvenation, a hike may be in order. 
And while a spontaneous deep dive into the woods may sound appealing, you have a few steps to prepare yourself before diving in head first.
The peace of nature is a double-edged sword; it can turn on you quickly. Whether it be problematic weather, navigation troubles, or other unforeseen circumstances, nature can come back to bite you in the butt. That's why, when hiking, preparedness is paramount.
In this post, I'll share with you my personal hiking packing list with options for day hikes and overnight extras to prepare you for any possible hiccups.
Whether you're a beginner hiker learning the ropes or an experienced hiker looking to perfect their pack, this list is for you.
Things to Consider When Packing
While preparing for your hike, keep these questions in mind to guide your pack.
What is the weather like? How does this change depending on altitudes, time of day, etc?
If I need to stay overnight, would I be prepared?
Does someone know where I'm going? Do they know when I should be back?
Do I have enough time to return before sunset?
What do I know about this hike? Are there important safety factors to consider?
Am I prepared in case of an emergency?
Hiking Packing List
Before you head out, double-check this day hiking pack list (with overnight extras!). I've included important categories like weather-appropriate clothing options, sustenance essentials, and a hiking gear list for beginners.
Hiking Pack
The base of your hiking packing list is your pack, of course!
Your pack size will depend on whether you plan a day hike or an overnight excursion. A 10-25 litre pack should do the trick for day packs. Aim for a pack between 20-35 litres if you stay overnight. 
While you want to be prepared for every possibility, it's still important that you can carry your pack comfortably.
This 20L day pack is a good size to fit all your necessities for a day hike.
Appropriate Clothing 
Packing weather-appropriate clothing is important for comfort and for protecting you from the elements.
When choosing clothing for your hike, remember to note the difference in temperatures between altitudes; a sunny day can turn crisp and snowy when you reach the top of a mountain. 
There can also be dramatic temperature drops at night, so preparedness is essential. 
Good clothing basics include:
Appropriate hiking boots or shoes
Long sleeve tee shirt
Moisture-wicking tee shirt
Lightweight jacket
Pants or shorts
Cotton socks (+ a spare)
Extra set of clothes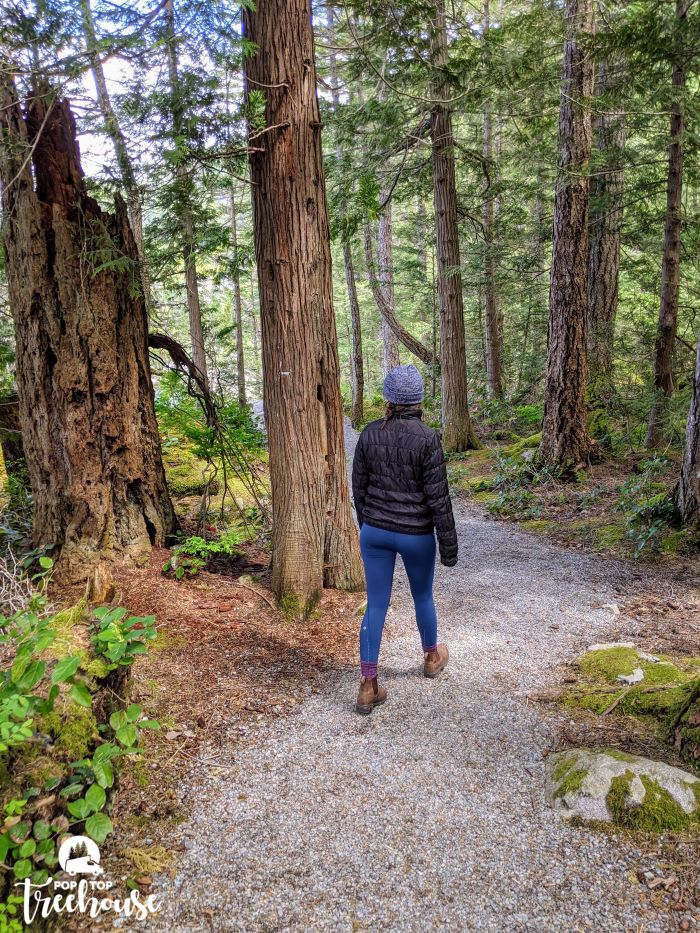 Cold Weather Items
If you're preparing for a crisp day hike or a colder climate as you make your way upwards, include these cold weather items in your pack.
Long underwear for layering
Fleece pants
Gloves
Beanie or toque that covers ears
Insulated jacket
Thick socks
Food and Water
Food and water are obvious essentials on this hiking packing list.
When prepping your food, ensure you include enough for the day plus an extra day's supply. Pack items that will keep overnight, even if exposed to direct heat, for a prolonged period. 
Food & water items to pack include:
Lunch (ex. sandwiches)
Protein bars and packaged snacks
Bottled water
Water treatment tablets
Extra day's supply of food
Emergency Items 
If an emergency of any magnitude occurs, you'll be grateful that you thought ahead. Pack some essential emergency supplies, including:
Lighter, matches, firestarter
Knife or multi-tool
Whistle 
Large trash bags (for waterproofing)
Emergency shelter
An itinerary left with a friend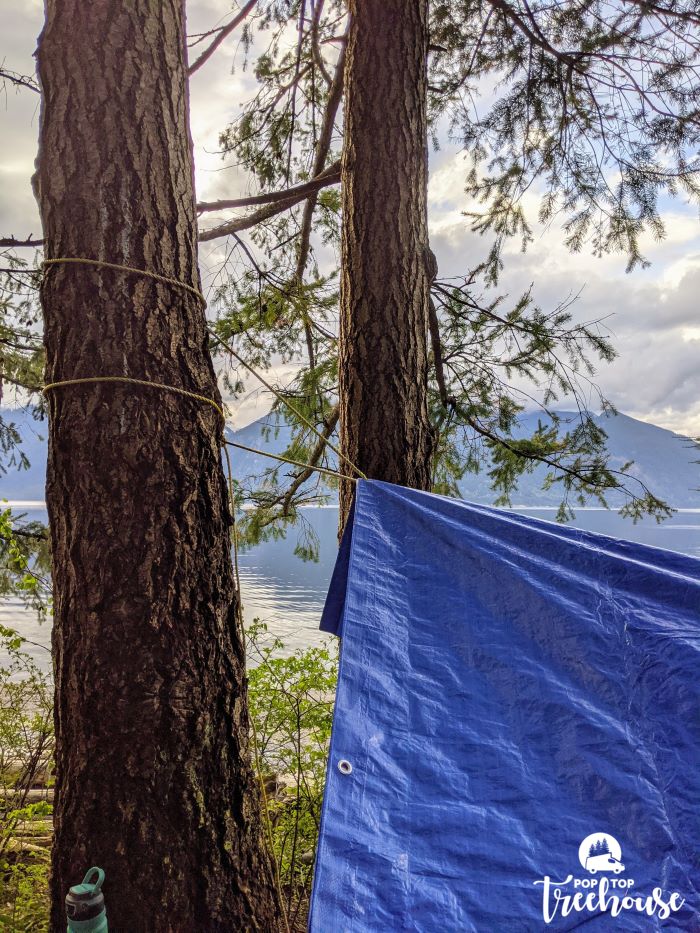 Electronics
Though we usually hike to escape technology, some electronic devices are necessary to keep us safe and prepared.
Electronics you should pack include:
A flashlight or headlamp
Extra batteries
Cell phone
Power bank for your phone
Weather Protection 
Beyond your base layer clothing, include some extra weather protection in your pack. Whether it is sun, rain, or snow, sudden weather changes can make for a miserable (and possibly dangerous) hiking experience. Make sure you stay up-to-date on the weather forecast and pack accordingly.
Weather protection includes:
Sunhat
Sunglasses
Sunscreen (with an SPF of 35 or higher)
SPF lip balm
Rain Jacket/ waterproof pants
Navigation Tools
While you lose yourself in the trees… you don't actually want to get lost! Include these navigation tools in your pack to keep you on track and keep you from losing your way.
Navigation tools include:
Handheld GPS
Map of the area
Compass
Optional Extras
At this point, your pack is probably getting pretty full. If you have room in your day pack, however, these are some worthwhile extras to stuff in the top.
Optional extras include:
Bug spray or wipes
Bandana
Bear spray
Duct tape
Hand sanitizer
Toilet paper
Overnight Items
If you're planning on staying overnight, you'll need to pick a bigger pack and include these items on top of the above.
Overnight packing camping list essentials include:
Tent/tarps
Weatherproof bag
Rope
Sleeping bag
Stove & fuel
Cups, pot, cutlery
Food and drink for your allotted time (+ a day's extra)
Change of clothing
Extra socks/underwear
Hygiene items (toothbrush & paste, deodorant, soap, wipes)
Toilet paper
That covers my comprehensive hiking packing list. Use this guide to inform your packing and stay prepared, no matter the obstacle.
Let me know if I've missed any tried-and-true hiking essentials or if you have any additional hiking tips in the comments down below.
Now, get wandering!
More Pop Top Content: