If you're going camping, you have to build a fire! It's simply a tradition to gather around, roast some s'mores, gaze up at the stars, and return home smelling like campfire smoke. Building a fire isn't tricky to do, but there is an art to it that must be taught!
If you missed the day in Boy Scouts or Girl Guides where they covered how to build a fire, you're not alone. A key survivalist skill a lot of people don't know how to build a campfire. It should be just as important as learning how to swim!
There's much more to building a camping fire than just piling wood in a firepit and igniting it with a match. There's a technique to starting a fire. But luckily, it's a pretty easy technique to learn! Here's the scoop on how to build a camping fire.
How Campfires Work
Before you learn how to build a fire to impress all your camping buddies, you need to know the science behind how fire works. Fire needs three things to happen: oxygen, fuel, and a spark.
Oxygen
Fire is technically a chemical reaction between the oxygen in the air and the fuel that feeds the fire. Of course, you also need some form of combustion to initiate the chemical reaction as well.
Ensuring that there's airflow in your fire is key. That's why people will stack the wood in certain shapes like the log cabin style (more on that later!).
Likewise, when you add a log to a fire, you don't want to smother a flame. Instead, you lean it over another already burning log to allow airflow under and over the log.
The need for oxygen is also why waving a fan or paper plate by a dying fire can help to revive it.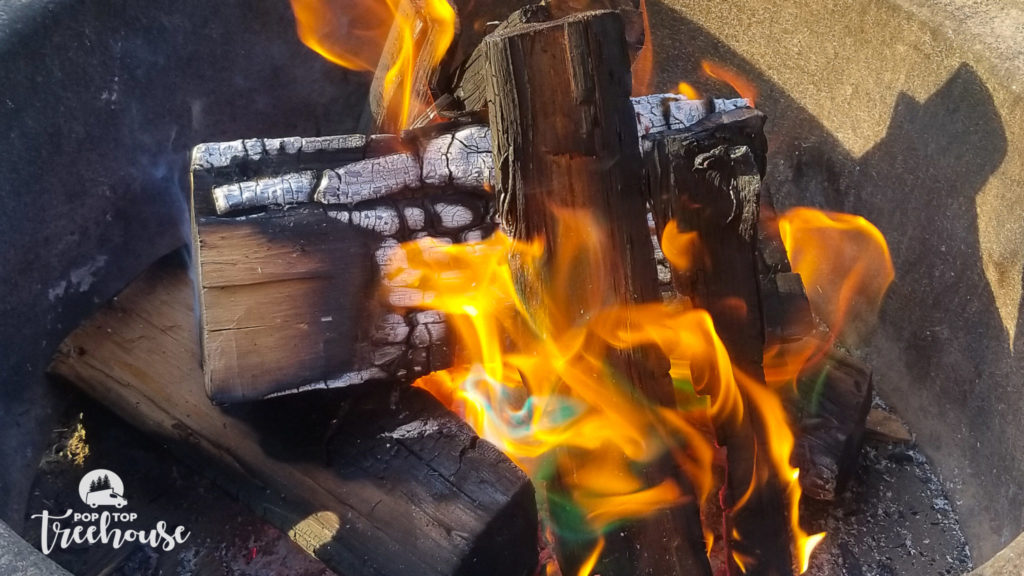 Fuel
The second component of the chemical reaction is having the right fuel. Now when making a camping fire, this is typically going to be wood. But fuel can many other things, including gasoline, pinecones, newspaper, etc.
Wood needs to reach about 300°F (150°C) for its cellulose material to decompose. This releases gas, which we know as smoke. But a side effect of the chemical reaction and decomposition is heat! Yes, why we gather around the fire in the first place.
The size and shape of the fuel will greatly affect how easily it catches fire and burns. For instance, a thick log can absorb lots of heat before it reaches that desired 300°F, taking longer to catch fire. This is why you need something that burns easier to start the fire first and then add the larger logs on.
As for shape, the greater the surface area, the more oxygen it's exposed to and the faster it will burn. So thin kindling will not only start fire easily but burn quicker.
Here are the best kinds of firewood for camping, and how much you actually need.
Find more funny camping memes here.
Spark
To start your chemical reaction, you need a spark. Something needs to set off the combustion. This can be all kinds of things, but we most often use a match, lighter, or flint stick for the true outdoor survivalists.
A fire can also start from focused light (think of kids holding magnifying glasses), lightning, or something already burning.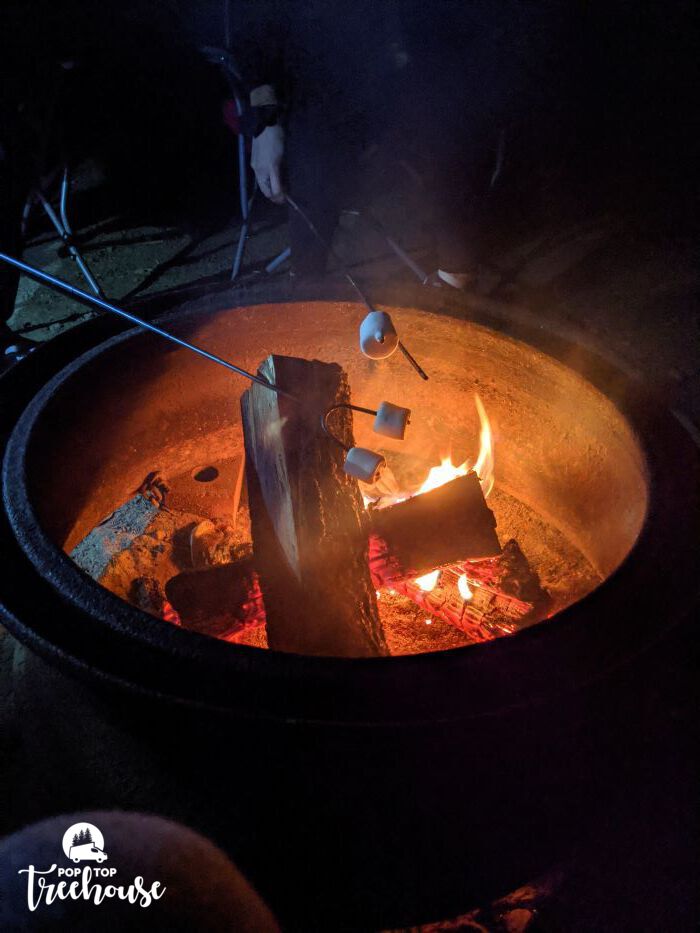 How to Build a Camp Fire
Now that we know all the components of a fire and better understand how a successful fire burns, here's how to structure and start your fire.
Chop Your Kindling
As mentioned above, getting a large log to start on fire is more difficult. Before you get any sparks going, you'll need to chop larger log pieces into smaller pieces. These thin pieces of the log are known as kindling. A hatchet can help get these smaller pieces of wood.
You'll need a few handfuls of kindling to get started. You can also use small twigs and sticks that you may have on hand (gathered responsibly, as some parks and areas have rules against gathering debris).
Build a Fire Ring
If you have a fire pit, you can skip this step. But if you need somewhere to burn your fire, you must make a fire ring rather than burning it on any flat ground. A fire ring helps to contain the heat and keep the fire from spreading.
Use whatever non-flammable materials you have on hand to make a fire ring, such as rocks, bricks, or packed-up sand.
When there's a heavy wind, you'll want to dig a trench first. Dig a hole about two feet wide and then dig one side so there's an incline from the bottom of the pit that slowly levels its way to the ground. Then, line the bottom of the trend with dry rocks. You'll build the fire in the trench.
Use a Firestarter
You need something that ignites very easily to get the fire going. I like to crumple newspaper that I've saved and brought with me and pile it in the center of the fire.
You can also use other fire starters bought online or more creative DIY methods like cotton balls and Vaseline. I have a whole list of DIY fire starters you can make yourself that are super easy to catch fire.
Stack Your Fuel
Place your fire starter of choice in the center of the fire pit. Then, you're going to stack your kindling around it.
There are two super popular campfire lays (ways to assemble your wood). The first is the teepee method. In this lay, you will lean small pieces of kindling against each other, circling the fire starter in the center. Make sure to leave room for oxygen to reach and an entrance for you to start the fire starter.
The second lay is the log house. In this method, you'll make a small teepee with kindling in the center, as mentioned above. Then, you'll take two larger logs and place one on either side, running parallel with each other. Then, you'll stack two more on top of and perpendicular to the first logs. You can do another layer of logs depending on how large you want your fire.
Ensure your wood is as dry as possible, as wet wood is much harder to catch fire.
Start Your Fire
This is the easy part. Start your fire using a match or lighter. I like barbeque lighters as they allow me to safely reach the fire starter as everything ignites. You ideally want to ignite the tinder on a few different sides, bringing the lighter or match to all sides of the campfire lay for an even burn.
Note: Always check to make sure there isn't a camping fire ban in your area before you start a fire.
Feed Your Fire
If you used the teepee method, you'll soon have to add some larger logs to the fire. Start with small logs and work your way up to larger ones. When adding logs to a fire, make sure to either lean or stack them on existing pieces of wood, allowing enough oxygen to circulate. As the wood stays in the fire, it gets hotter and hotter until it catches fire and gives off heat.
How to Put Out a Camping Fire
A big part of fire safety and avoiding forest fires is learning how to properly put out a fire. You should never leave a fire unattended or burning while you head off to sleep.
Wait until the fire has burned down. Avoid adding logs when you know you won't be around the campfire for much longer.
Once a majority of the wood has burned, use a shovel or roasting stick to spread the coals.
Douse all the coals, red and black with either water, sand, or dirt.
Stir the embers until everything has been doused. Turn over logs and scrape off any remaining embers and douse them again.
Keep dousing until the fire is cold, fully mixed, and there are no signs of red embers.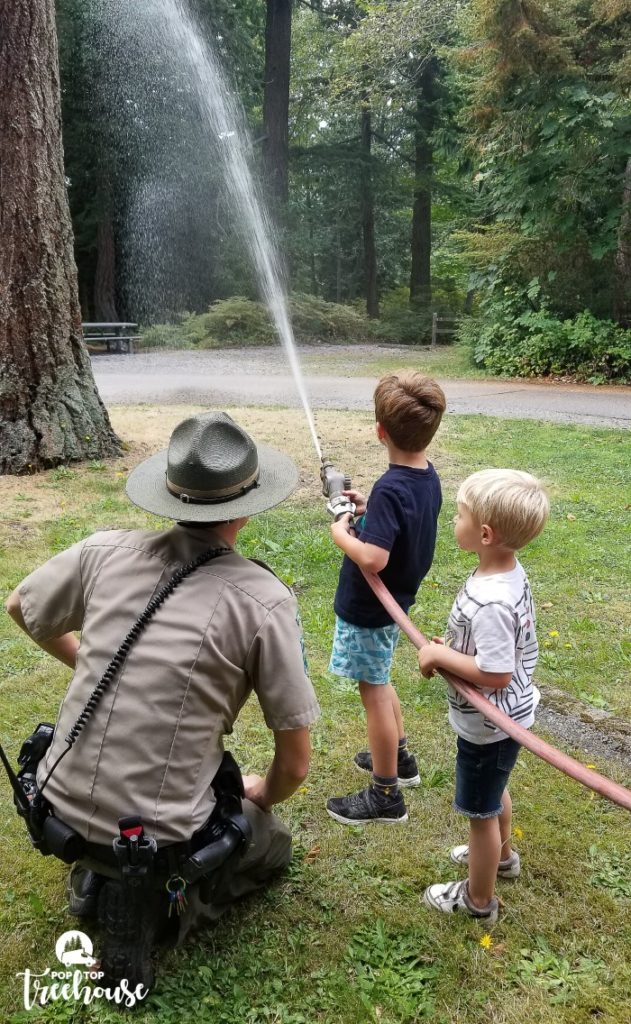 More Helpful Camping Tips