Even if you've camped before on your own, with friends, or with a partner, it's a whole other ball game camping with kids. When you come prepared, you can help create some of your kid's fondest childhood memories. Camping as a family is really one of the most rewarding experiences. Follow these tips for a seamless camping trip with the kiddos.
Family camping trips produce some of the fondest childhood memories. While I wish I camped more as a child with my family, I am thrilled I can give my son plenty of camping memories to look back on. I hope that it instills a love for the activity that he will pass on to his kids one day as well.
Even the most disastrous trips transform into funny stories. And if you haven't had one of those yet, it is bound to happen eventually…coming from me, make sure you have a spare tire and a rain jacket!
Camping with kids also teaches them an appreciation for nature and adventure from an early age. An education that extends beyond a classroom will always have a larger impact. I want to ensure my son knows how lucky we are to live on mother earth and appreciate how beautiful she and all her creatures are. 
Whether you've got a few littles coming with you on the journey or you're like me and my son, a dynamic duo, these tips for camping with kids will help your journey be successful and fun.
My Top Tips for Camping With Kids
Going on a family camping trip is certainly more complicated than camping by yourself or with your partner, but it's absolutely worth it. These tips will make camping with kids your favourite family trip yet.
Take a Practice Run
Especially for little ones, spending the night in a tent for the first time can be daunting. They're in a sleeping bag instead of their familiar bed, and nature produces plenty of strange sounds at night that can make the imagination run wild.
Take a practice run at home to help them get more comfortable with the idea of camping. If you have a backyard, set up your tent there and spend the night outside as a family.
You can pitch your tent in the living room if you don't have a backyard. It's not quite the same, but at least parts of the experience will feel more familiar to your kids when you're on your camping trip.
If it's legal in your area, build a campfire in a fire pit and spend the evening around it. Alternatively, head out to a site for a day trip and get used to being in the outdoors. Your kids can practice building fires and cook over them. You can also start campfire traditions like telling tall tales, singing songs, and making s'mores.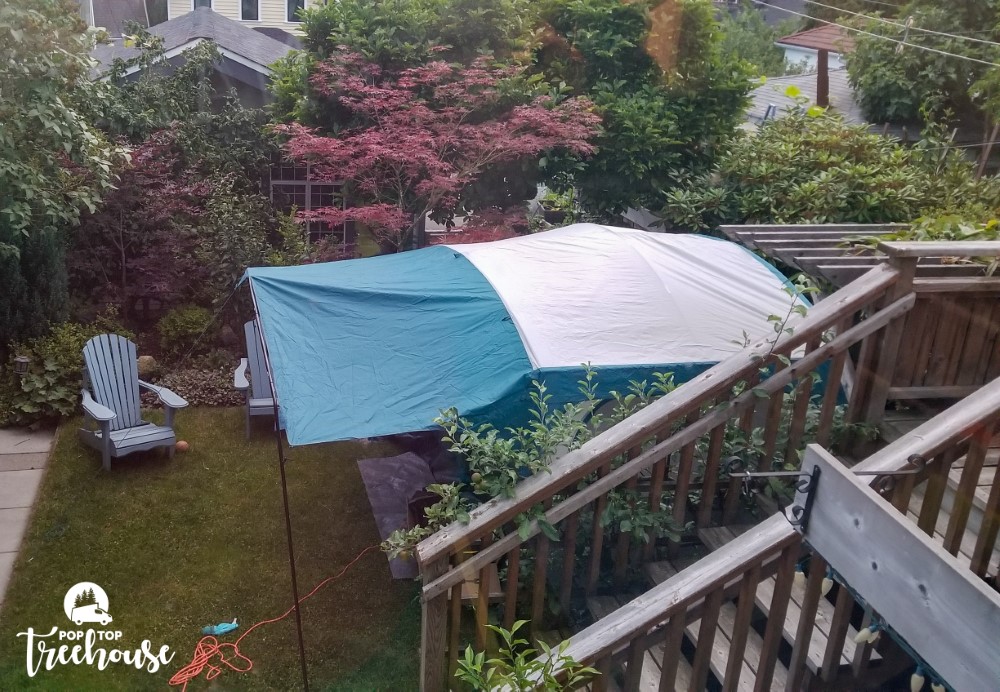 Involve Kids in Planning and Packing
Depending on their age, allow kids to pack their own gear by giving them a list (check their packing job before you leave, just in case).
Ask them to choose a game to bring along or an audiobook to listen to in the car. Also, be sure to ask for their opinion on campsites and activities during the trip. These contributions will give them a sense of pride as well as something to look forward to if the car ride gets a little long.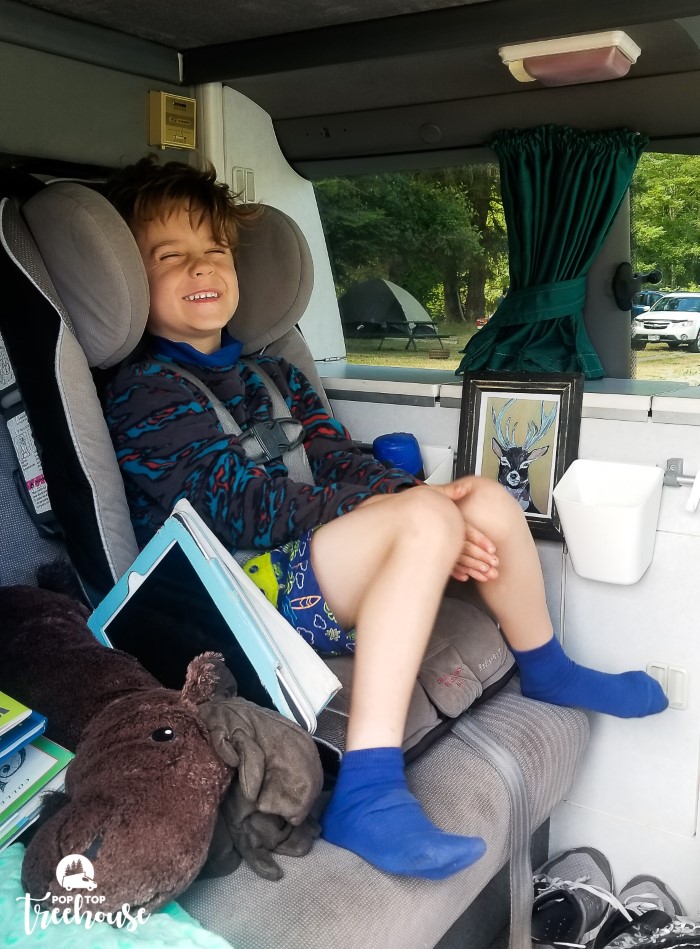 Pack Intentionally
The way you pack can make or break a trip, especially when camping with kids. Make a camping checklist to ensure you don't forget anything important.
Get organized by packing gear and supplies into lidded boxes or bins. Separate them by type of supply (kitchen, sleeping, etc.) and label them. And once you're finished using something, put it back in its bin.
Try not to overpack clothing, but do bring plenty of layers. Temperatures can change drastically between the day and night. Dress your kids in layers so they don't need to completely change their outfits if they start to feel too hot or cold.
Check the forecast ahead of time and come prepared with rain jackets and any other bad weather necessities.
Rent Gear
If you're new to camping with kids or have a growing family, renting high-priced gear like a tent can be a good idea. Renting allows you to figure out what your family really needs or to save up for something larger.
You certainly don't want to be stuck with a tent that is too small to fit your family, gear, and pets comfortably!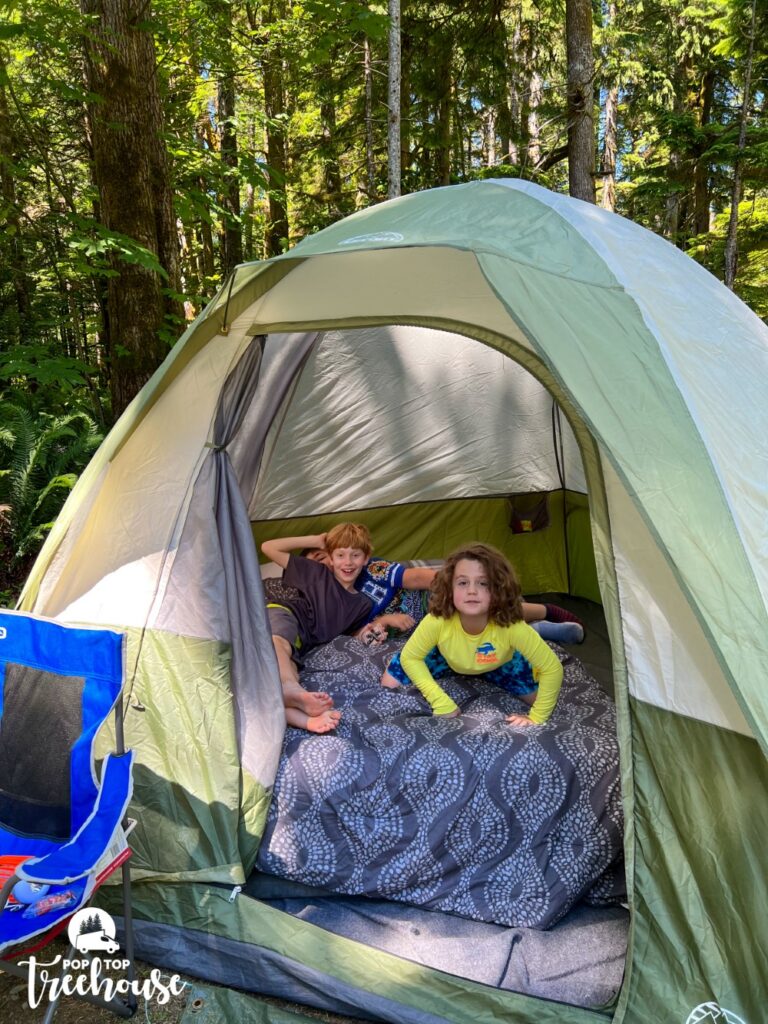 Drive to a Campsite
If you have a Scout's memory of carrying a canoe on your back through the Boundary Waters, you might dream that you'll take a similar trip with your kids. That's a wonderful goal, but for your first time camping with kids, keep it simple and drive into your campsite.
Not overcomplicating things makes it less likely that something disastrous will happen. And that means your kids will probably want to go camping again. Plus, camping as a family requires a lot of stuff. I promise you'll thank yourself for driving in.
Book Your Campsite Ahead of Time
Pick a campsite with the amenities your family needs to have an enjoyable trip. You can look for sites with sand volleyball pits, baseball fields, rivers or lakes, beaches, swimming areas, and playgrounds.
You can also check to see if they have flushing toilets and hot showers. While simple campsites are lovely, sometimes having some extra amenities can help you to keep your kids entertained and enjoying the trip.
Once you find your ideal campsite, book it ahead of time. Some sites even need reservations six to nine months in advance to secure a spot.
If the campsite is first come, first served, ask them when they are most likely to fill up so you can show up on time. If you can only go camping during busy times, such as long weekends, this is especially important to ensure you get a spot after spending the time preparing and driving out.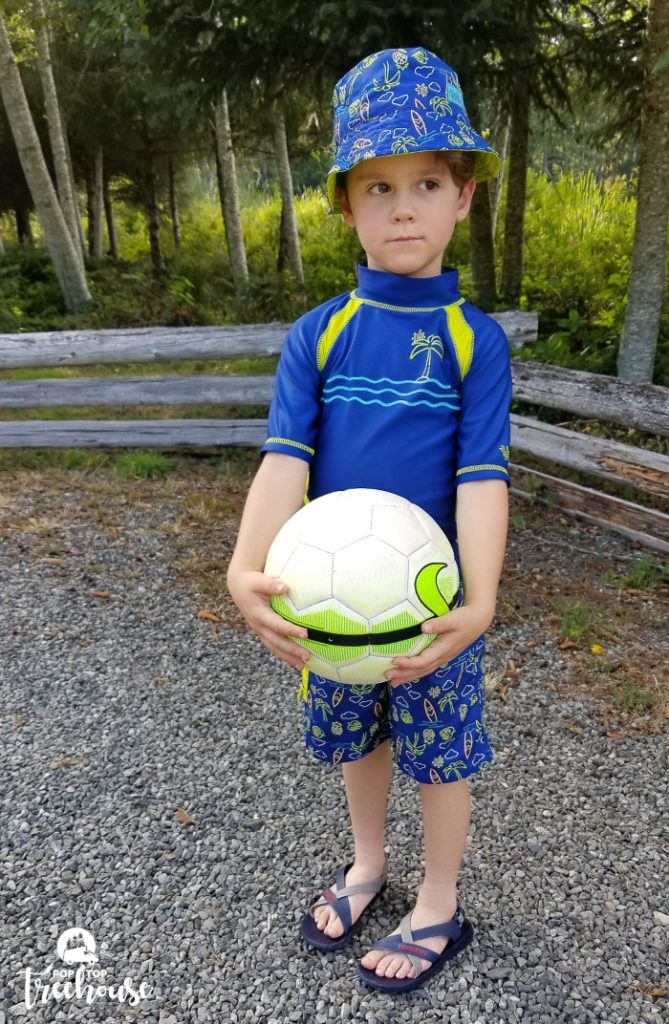 Involve Your Kids as Much as Possible
Once you get to your campsite, involve your kids as much as possible. Give them age-appropriate tasks, like unpacking the pillows and sleeping bags, helping set up the tent, and gathering kindling.
When their hands are busy, kids will feel involved and important instead of bored. Slowly and surely, they will also become more and more helpful during the setting up phase, which we can all appreciate!
Build a Campfire
While camp stoves are convenient, there's just something magical about a campfire. Even if you cook over a stove, build a campfire later in the evening as a place to gather and make s'mores.
This skill is important for anyone who spends time outdoors and can be a great opportunity to teach your child this survival essential.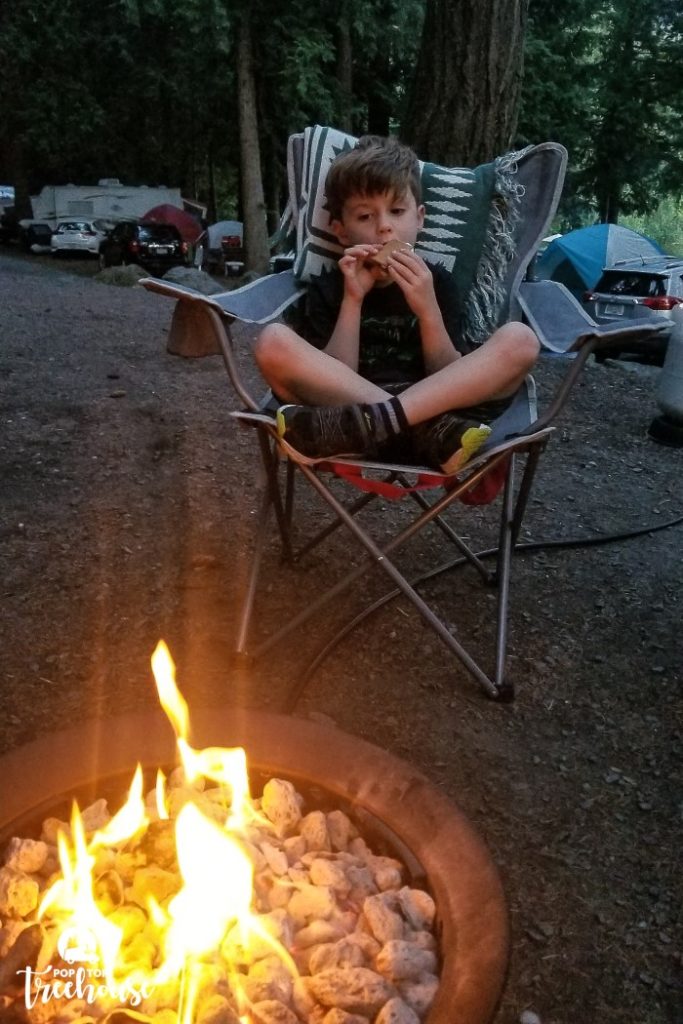 Cook Special Meals
Before you leave, ask the kids what meals they want to eat on your camping trip and what snacks they'd like you to bring. If there's a tough day on the trip, familiar food can provide comfort as well as something to look forward to.
As appropriate, allow your children to help you cook over the stove or campfire. And keep it simple for the first night. You've already driven to the campsite and set up camp. You'll probably be tired and not want to cook a complicated meal.
To make your life easier, I recommend making or prepping as much food as possible before you set out camping. Less cooking time and dishes give you more time to enjoy being together as a family.
Plan Tons of Activities
To avoid boredom, plan more activities than you'll have time for. This also lets kids choose what they do, giving them agency on the trip. Some kid's camping activities include:
Kid-appropriate hikes.
Nature scavenger hunts.
Canoeing or kayaking. Some campsites rent out kayaks, canoes, and life vests. If the campsite is on the river, many will even drive you upriver so you can canoe back to your campsite. And, if you decide to start from camp, they will often pick you up from a designated spot downstream.
Birdwatching. Bring a book about birds in the area. You can also buy inexpensive kids' binoculars so children can keep an eye out for birds on a hike or back at camp.
Fishing.
Crafts. Bring your own summer camp-style crafts, or some parks have their own craft cabin. Try some of these kids' craft ideas.
Sports. Pack a soccer ball or baseball and gloves, whatever your family likes to do at home.
Books, waterproof playing cards, board games without too many pieces, and colouring books for downtime at the campsite.
Shadow puppets in the tent.
Brush up on your best ghost stories…but not too scary!
Have a Screen-Free Trip
Our devices are omnipresent these days. What better way to communicate to your kids that being in nature is special than to have a screen-free trip?
Leave the tablet and laptop at home. Turn off your phone and turn it on only for emergencies or the navigation feature.
Teach your children to look up at the trees rather than down at a screen when they visit the wilderness. There are few opportunities in life where we can have a no-screen experience, so embrace it!
Consider Safety
Pack a first aid kit and set boundaries for your kids when you get to the campsite. Let them know exactly when and where they're allowed to wander.
Give them a whistle and teach them to blow it if they get lost or separated from you. It's also a good idea to provide them with a flashlight or headlamp so they can safely move around in the dark.
Camping with kids definitely takes extra planning, but it's worth it to introduce your children to all nature has to offer. It is rare that we get to spend so much one-on-one time with our families, distraction-free, in such a beautiful place as the outdoors.
Take plenty of photos of your outdoor family adventures to look back on years from now. Come prepared, stay flexible, and enjoy the opportunity to go camping as a family.
More Awesome Camping Tips!