Having one of those big camping tents is like bringing a house to your campsite. It's the epitome of a luxurious tent, where there's plenty of space for all your gear and ample room to hang out in a rain and bug-free zone. Here's everything you need to consider if you're thinking of buying a large camping tent.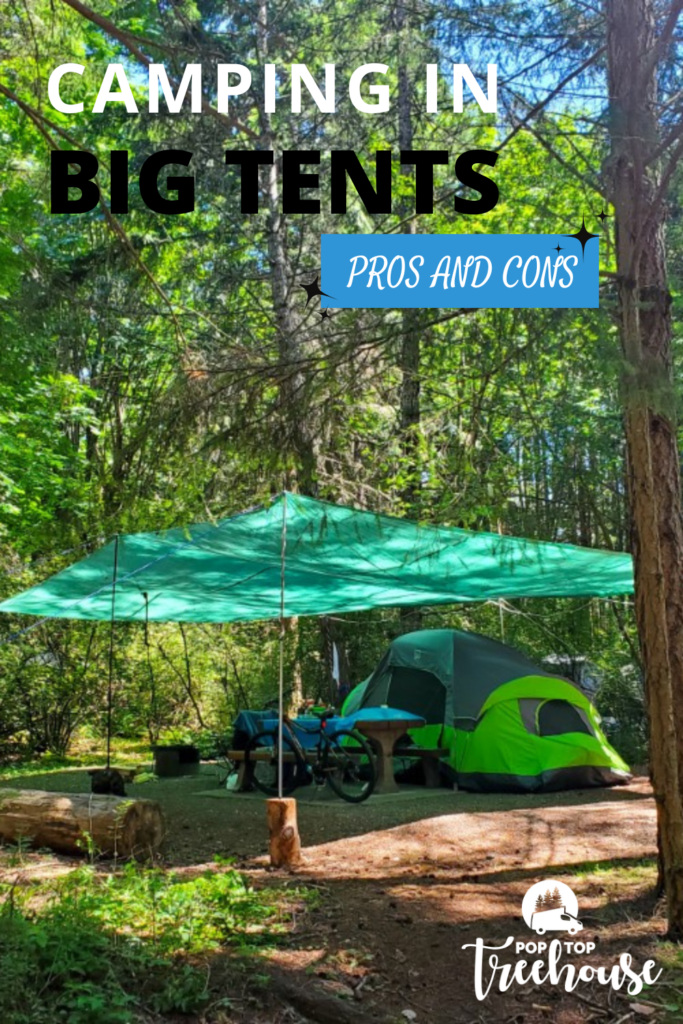 Whether you're an experienced camper or new to the adventure, choosing the right tent can significantly impact your camping experience.
In this post, we'll explore the pros and cons of camping in big tents, helping you make an informed decision when selecting your ideal tent.
From spacious comfort to logistical considerations, we'll cover it all. So, grab your camping gear, and let's dive into the wonderful world of big tents!
The Pros of Big Camping Tents
So why would you want to use a large camping tent in the first place? Here are all the reasons why a big, epic tent is the way to go.
Room for Everyone
One of the most significant advantages of big tents is their ample space. Whether you're camping with family or friends, these tents offer enough room for everyone to stretch out comfortably.
You can have separate rooms altogether for changing, lounging, and storing gear. In some, you may even be able to stand. No more squeezing into cramped quarters or battling for elbow space!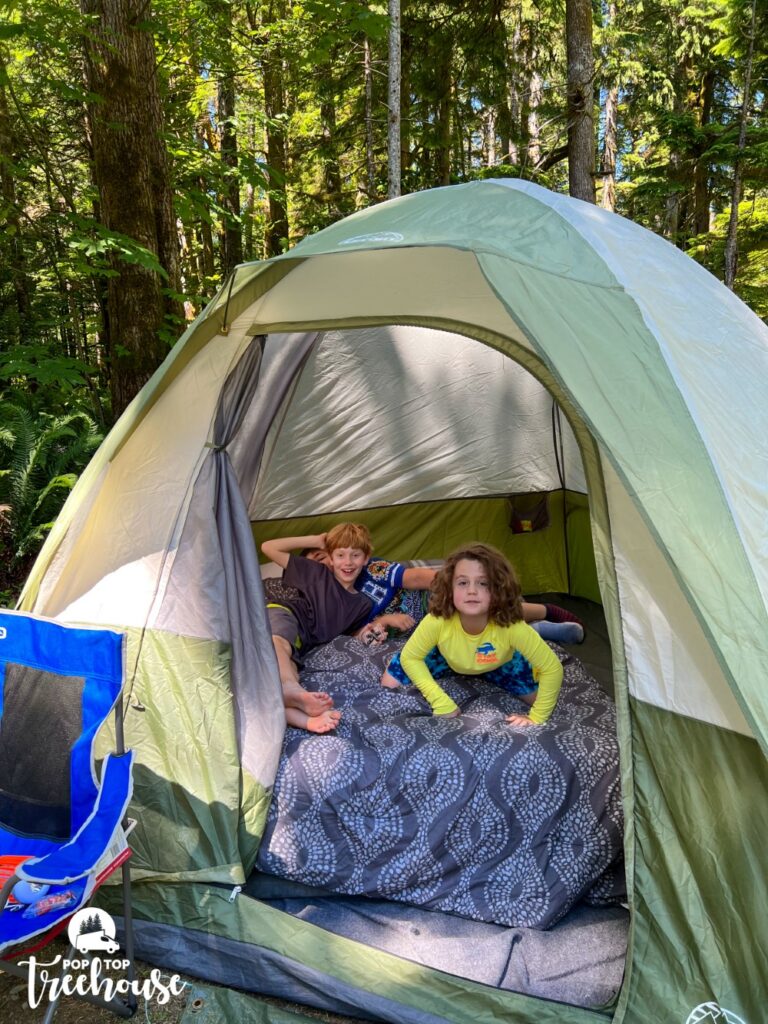 Comfort and Convenience
Big tents often come equipped with extra features that enhance your camping experience. From multiple entry points and spacious vestibules for storing gear to built-in pockets and dividers for organization, these tents are designed with your comfort and convenience in mind.
Protection from the Elements
With larger tents, you can enjoy added protection from the elements. These tents are usually sturdier and offer better resistance to wind, rain, and even pesky insects.
I think they're great, especially for the rain, as you can have an entrance sheltered from the rain where you can remove your wet clothes and footwear without bringing them into the tent. Plus, you have more room to keep your sleeping gear away from the tent walls and potentially getting wet.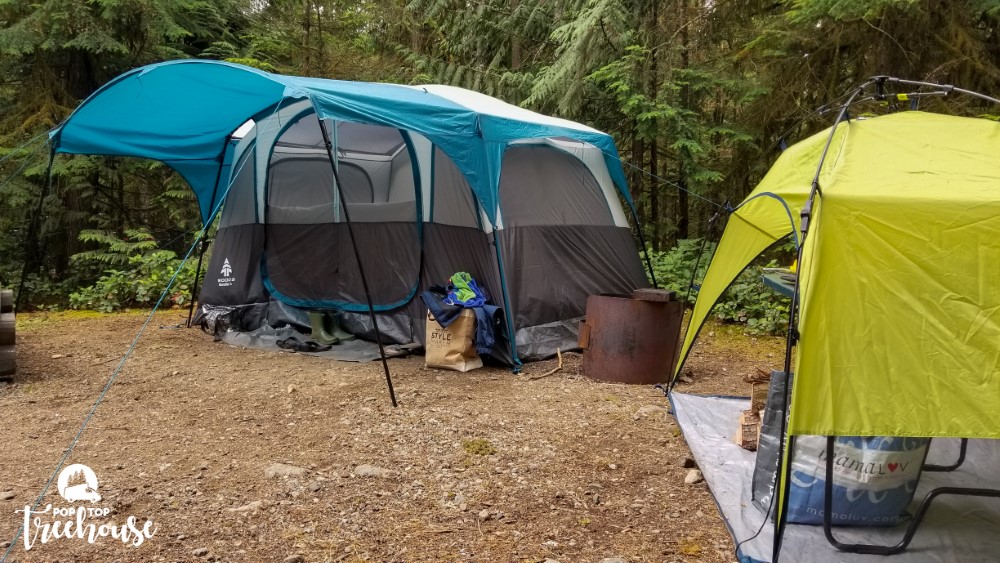 Versatile Use
Big tents aren't just for camping. They can also be used for backyard gatherings, beach outings, or even as temporary shelters during events. Their versatility makes them a valuable investment you can enjoy in various settings.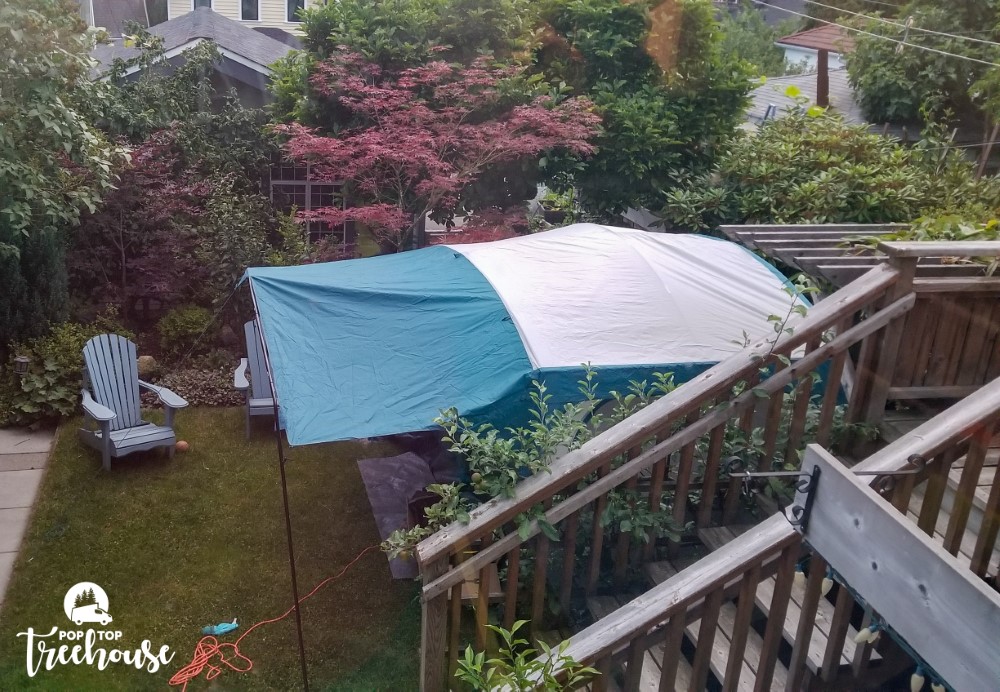 Cons of Big Camping Tents
For every pro, there's always going to be some cons. Here are all the reasons why you might want to go with a smaller tent instead.
Bulkier and Heavier
The larger size of big tents means they are bulkier and heavier to transport than smaller ones. If you plan to hike to your camping spot or have limited vehicle space, you may need to consider the logistics of carrying and setting up a big tent.
Setup Time and Effort
The bigger, the more complex things will get. Setting up a big tent can take more time and effort compared to smaller tents, especially if the kiddos are too young to help you with setup. A smaller tent might be a better option if you're looking for a quick and hassle-free setup.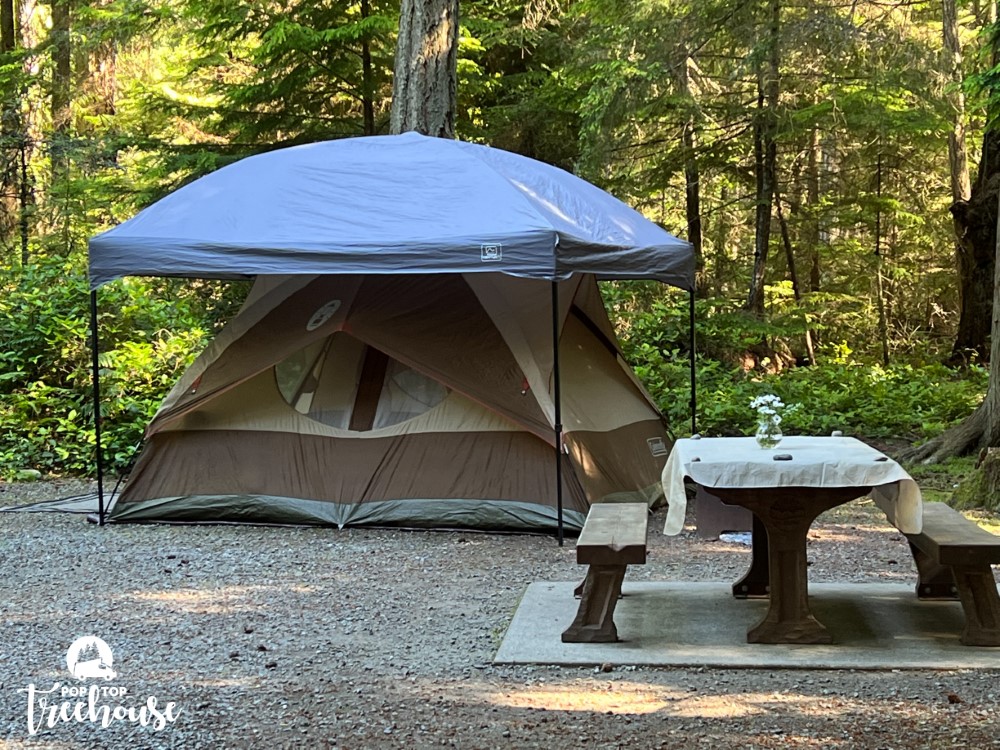 Limited Camping Spot Options
Big tents require a more substantial camping area due to their size. Finding a suitable spot for your tent might be a challenge in crowded campgrounds or remote locations with limited space, especially for walk-in sites that are often more cramped. Planning and checking the campsite's regulations regarding tent sizes is essential.
Cost Considerations
Big tents generally have a higher price tag than smaller ones due to their size and added features. If you're on a tight budget or only plan to go camping occasionally, investing in a big tent might not be the most cost-effective choice.
Not as Insulated
These big camping tents can get colder than the smaller ones because there is less heat insulation. Body heat may not be enough to warm the space when the space is so large.
If you really want a big tent, you can bring a small 2-person pop-up tent to set up inside the larger tent as a sleeping pod to keep you warm at night. But at that point, usually, it's just easier to bring the smaller tent.
The Verdict: Big Tent or Small Tent?
Personally, I'm team small, medium-sized tent. You're there to live outside, and that's the point of camping, after all! The big tent feels too much like a house to me. But I also know I'm not the target user for them.
If you want something spacious enough for a whole family to fit in or a semi-permanent structure, a big camping tent could be a great option.
My Favourite Big Camping Tents
If I were to get a large camping tent, these are the ones that I gravitate to.
So, gather your friends and family, pitch that big tent, and get ready to create unforgettable memories as you embark on your camping escapades under the vast night sky!
More Camping Tips for Tenters